Readers React: Hey, Stanford, why stop at scrubbing out Father Serra? Your name comes with plenty of baggage too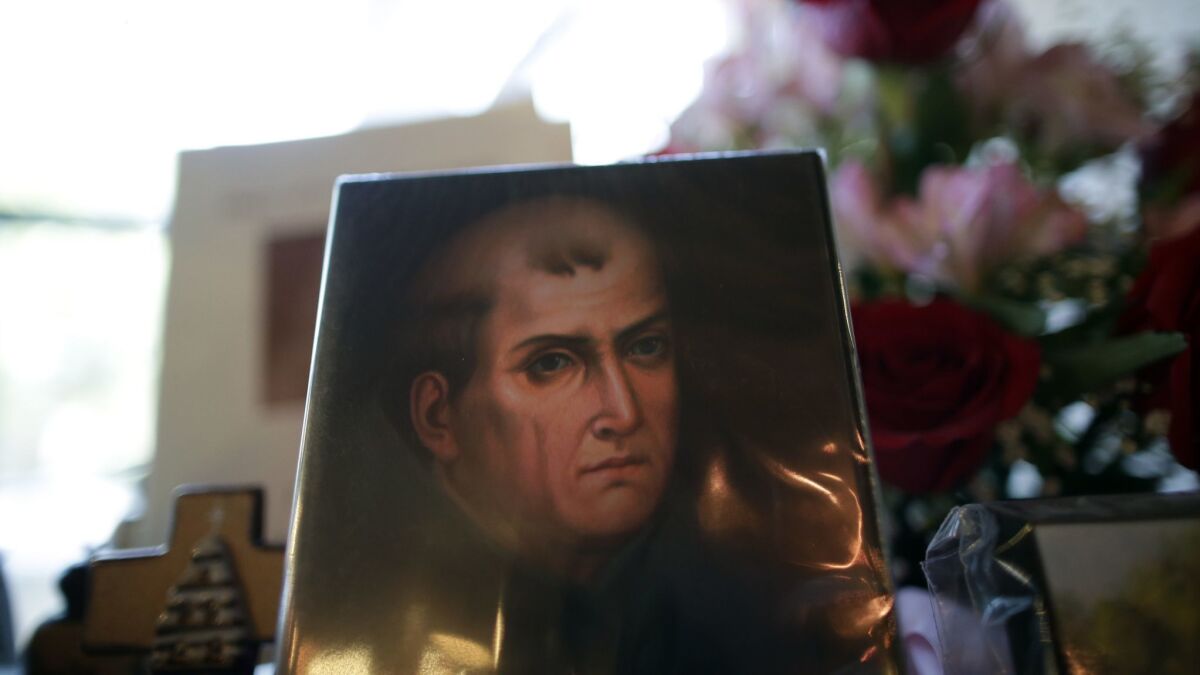 To the editor: I remember when Stanford University changed its mascot's name from the Indians to the Cardinal to maintain political correctness. It appears time to change again — to the Hypocrites.
The school's leaders are planning "to strip prominent campus references to Junipero Serra" because he used harsh methods on Native Americans while establishing the California mission system. If only he had become a wealthy robber baron and exploited Chinese immigrants to build railroads during the late 1800s, they would have named a university after him.
Oh, wait, that person was a fellow named Leland Stanford, who named the university after his son, Leland Stanford Jr.
Casey Hamlin, Bell Canyon
..
To the editor: Kudos to Stanford for removing the name of Junipero Serra from campus.
However, instead of replacing his name on a street with that of Jane Stanford, the wife of the founder of the university, school leaders might instead select the names of the local Native American tribes that suffered so badly under Serra.
Or perhaps they could use the name of Ishi, the native who was the last member of his tribe in that area.
Don Fisher, Claremont
..
To the editor: The Times' article notes that Serra, who established the California mission system blamed for decimating Native American communities, is seen as an oppressor of early Californians. Today, Stanford community members tell of "visceral feelings of harm, trauma, emotional damage, and damage to their mental health" from seeing Serra's name around campus.
So it follows that statues referencing the U.S. Army and westward pioneers should also be removed. Don't forget any mention of Columbus or the people who followed him to North America.
Land has been taken by force for millenniums; just ask the Ukrainians. It may not be acceptable here today, but it once was. Move on.
Suzanne Brugman, La Habra Heights
..
To the editor: Let's be clear: The California mission system was based on the enslavement of Native Americans.
Jedediah Smith, who led an expedition to explore the southwestern U.S. in 1826-27, kept a journal of his travels. When he arrived at the Mission San Gabriel, having been led there by two 16-year-old Indian boys, he recounted, "My two Indian guides were put in prison immediately on my arrival charged with being runaways from the mission."
Smith describes the treatment of the mission Indians, who were "kept in the strictest order being punished severely for the most trifling offense or neglect. They are whipped like slaves."
The California missions weren't the wonderfully beneficial establishments that some would have you believe.
Trent Sanders, La Cañada Flintridge
Follow the Opinion section on Twitter @latimesopinion and Facebook
Our six-week newsletter will help you make the right decision for you and your property.
You may occasionally receive promotional content from the Los Angeles Times.