Readers React: An employer's religion should not justify discrimination against transgender workers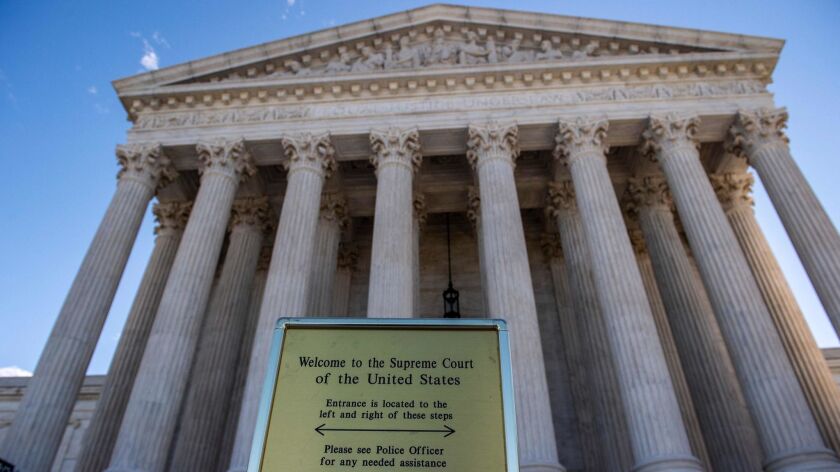 To the editor: The U.S. Supreme Court should set straight a devout funeral home manager who contends that an employee's transgender status gives religious adherents cause to fire her.
Consider how funeral homes routinely lay to rest our nation's deceased military heroes. Should they be allowed to assert religious beliefs to refrain from entombing fallen transgender vets?
Many of these stalwart souls have rendered honorable military service. They typically opt for standard Veterans Administration headstones that don't display the birth name, but rather the names indicative of the gender under which they served.
This is yet another reason why the high court should rebuke the funeral home appellant. Whether transgender people are civilian employees or military service members, they should not suffer faith-based discrimination.
Kendra Strozyk, Cameron Park, Calif.
..
To the editor: You wrongly conflate interpreting the Constitution with interpreting legislation, in this case whether the 1964 Civil Rights Act's prohibition of "sex" discrimination protects transgender people.
Regarding the Constitution, the courts generally take into account the difficulty, if not impossibility, of amending it in their effort to keep up with changing social norms. But when it comes to applying legislative action, it is not necessary to contort or even stretch the terms to achieve a desired result.
"Sex" can actually mean sex and not gender or whatever the lawmakers might intend if they were around today. Twenty-one states have not had difficulty in adopting laws prohibiting discrimination in the workplace against gay, lesbian and transgender people.
This is not the first time federal says one thing, and various state laws say something much broader on a particular subject.
George A. Vandeman, Playa del Rey
Follow the Opinion section on Twitter @latimesopinion and Facebook
---
A cure for the common opinion
Get thought-provoking perspectives with our weekly newsletter.
You may occasionally receive promotional content from the Los Angeles Times.