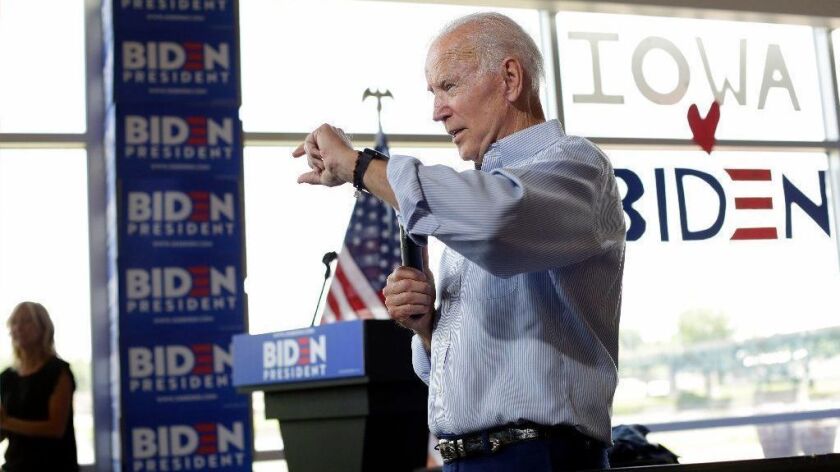 To the editor: When I saw the headline in the June 12 print edition, "Biden, Trump trade barbs in Iowa," I thought that former Vice President Joe Biden had changed his strategy of fairly polite criticism and was instead lobbing insults at Trump.
What I read in the article instead was that Biden had said Trump was an "existential threat." As the report by former Justice Department special counsel Robert S. Mueller III did not exonerate Trump of obstruction of justice, I think this is a reasonable, if arguable, statement.
Biden also stated, "He's seen the Lord. He had, as we say in Delaware, an altar call," and, "He is a threat to our core values."
Meanwhile, Trump is quoted as calling Biden a "loser," a "dummy" and "weak mentally"; saying Biden "reminds me of 'Crooked Hillary'" and was part of the "Obama-'Sleepy Joe'" administration; and remarking that the former vice president was a "sleepy guy."
I fail to see the equivalency here. The Los Angeles Times can do better than this.
David Jones, Los Angeles
..
To the editor: As article after article and poll after poll continue to treat Biden as the presumptive Democratic nominee, I am compelled to wonder if we have once again forgotten what Edmund Burke tried to teach us: "Those who don't know history are destined to repeat it."
Al Gore, John Kerry and Hillary Clinton were all party stalwarts whose "time had come" to be president. They lost.
Jimmy Carter, Bill Clinton and Barack Obama were the candidates thought to be unelectable. They won.
Stu Krieger, Los Angeles
..
To the editor: And so it begins.
In the article about Biden's and Trump's campaigning in Iowa, Biden is referenced as calling Trump an "existential threat" and discussing the negative economic impact of Trump's tariffs on average Americans. Trump calls Biden a "loser" and a "dummy."
And what is the print headline? "Biden, Trump trade barbs in Iowa."
Really? You're equating "loser" and "dummy" with "Iowa farmers have been crushed by his tariff war on China"? Nice to see The Times perpetuate the "both sides do it" media perspective of 2016.
Sandra Willard, Los Angeles
Follow the Opinion section on Twitter @latimesopinion and Facebook
---