Readers React: Trump's rhetoric didn't cause the New Zealand attack, but it isn't helping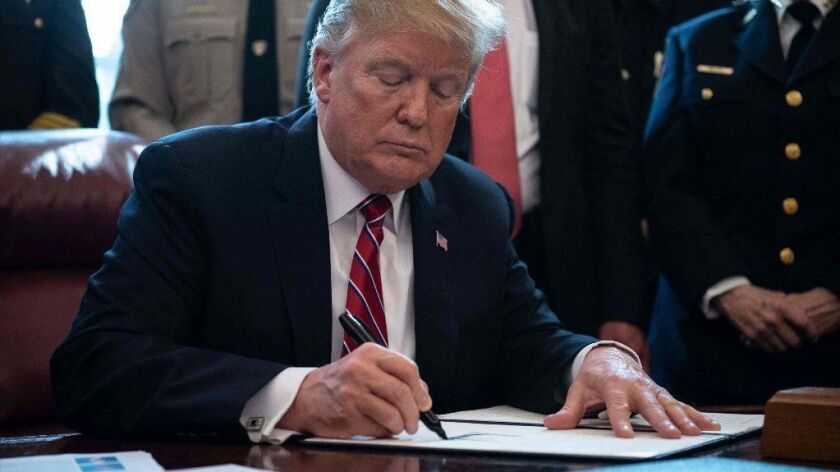 To the editor: Fifty people are dead at the hands of a terrorist in New Zealand, and what have we learned? Words do indeed matter.
While expressing condolences, President Trump once again failed to address the underlying cause of the violence. The largest proportion of these kinds of killings are committed by white nationalists, not Muslims and immigrants. Yet the president insisted Friday that white nationalism is not a rising threat, despite the report that the suspected gunman behind the two mosque shootings wrote in a manifesto that he supported Trump "as a symbol of renewed white identity and common purpose."
The question remains: Why won't Trump forcefully denounce white supremacy?
While Trump may not be the direct cause of what happened, his anti-immigrant rhetoric incites division and fear. This in turn enables, emboldens and empowers hatred — a hatred that inevitably leads to violence. Trump is at least in part responsible.
Moreover, historians will write that those who refuse to stand up and hold Trump accountable for his bigoted rhetoric, including many Republicans in Congress, are complicit.
Richard Cherwitz, Austin, Texas
The writer is a professor of rhetoric at the University of Texas.
..
To the editor: This is how low we have set the bar.
Acting White House Chief of Staff Mick Mulvaney and other spokespeople for Trump are defending him by saying there is no causal link between his rhetoric and the actions of white supremacist terrorists.
This is absurd. The president of the United States, arguably the most powerful and most influential person on Earth, does not personify a "causal link" to terrorism.
My grandchildren are going to grow up and look back and say, "For goodness sakes, what was wrong with you people? Were you blind, deaf and dumb?"
Michael Davidson, Altadena
Follow the Opinion section on Twitter @latimesopinion and Facebook
---
A cure for the common opinion
Get thought-provoking perspectives with our weekly newsletter.
You may occasionally receive promotional content from the Los Angeles Times.