Readers React: The shutdown fight is about winning and losing, not what's best for this country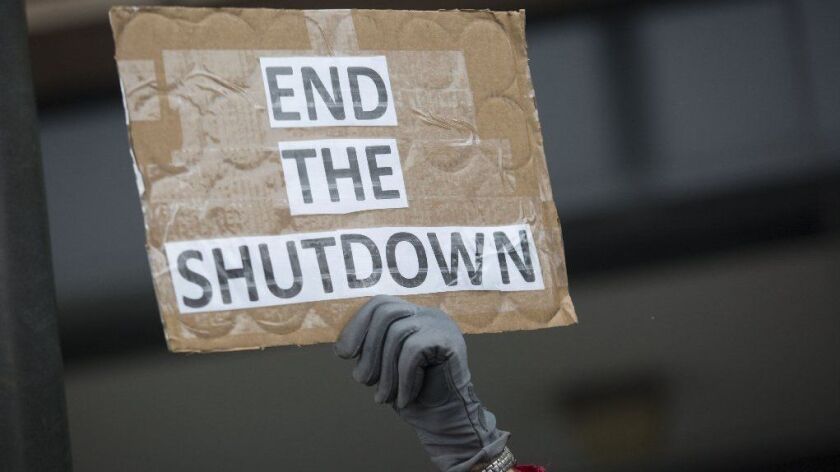 To the editor: After watching President Trump's prime-time address to the nation on the alleged border crisis, as well as Wednesday's very personal admonishments by both congressional Democratic and Republican leaders following another unsuccessful meeting with the president, one thing is clear: The issue of the proposed wall and the debate over how to end the government shutdown are not genuine public policy disputes.
They are better characterized as two competing public relations campaigns — a rhetorical war, if you will. Regardless of one's political stances on these issues, for both sides, arguably the Republicans more so, this seems to boil down to a concern for winning and losing, where controlling the narrative supersedes finding a solution.
As someone who has studied and taught political communication and argument for more than 40 years, for me this is a sad realization in a democracy that was founded and premised on the practice of thoughtful deliberation, reason and compromise. If this state of affairs does not change, our nation's great experiment may not survive.
Richard Cherwitz, Austin, Texas
The writer is a professor of rhetoric at the University of Texas.
..
To the editor: It is an absolute fact that on Dec. 14, 1999, Ahmed Ressam, an Al Qaeda operative, was arrested trying to cross the border into the U.S. with a large amount of explosives hidden in the trunk of his car. His intent was to cause death and destruction at Los Angeles International Airport.
If Trump wants to use actual incidents of terrorists being caught at the border as justification to build his wall, he should use the example of Ressam. Of course, Ressam was caught trying to enter the U.S. from Canada.
If Trump's motive is truly the safety of the U.S. and not another bigoted gesture, he should build his wall on the northern border.
Brian Lipson, Beverly Hills
..
To the editor: Every nation has the right to secure its borders and determine who is allowed to enter.
It's amazing to me that our politicians could squander trillions of dollars fighting wars in the Middle East, the former Yugoslavia, Libya and elsewhere, but they do not wish to spend $5 billion to go toward protecting our nation's territorial integrity.
Now, government agencies are being held hostage by very strong-willed and fickle personalities on both sides of the aisle.
Though any border wall can ultimately be circumvented or otherwise crossed, the key point here is to create a deterrent that will at least reduce the traffic of illegal immigrants and even spare them the grave danger of traversing the desert regions of our border.
Our nation is in crisis with illegal immigration. We need to do something to resolve it.
Michael Pravica, Las Vegas
..
To the editor: Shutting down parts of the federal government as a negotiating strategy is wrong and should be an impeachable offense. The havoc wreaked by Trump also ought to be impeachable.
The government of the United States is at a standstill, and nothing can be accomplished with Trump at the helm.
Marcia Barnett, Laguna Beach
..
To the editor: Democrats should agree to fund a wall in any area where it is the most efficient solution. How could Trump refuse this?
Just end the shutdown.
Bob Gould, Palm Desert
Follow the Opinion section on Twitter @latimesopinion and Facebook
---
Life is stressful. Our weekly mental wellness newsletter can help.
You may occasionally receive promotional content from the Los Angeles Times.