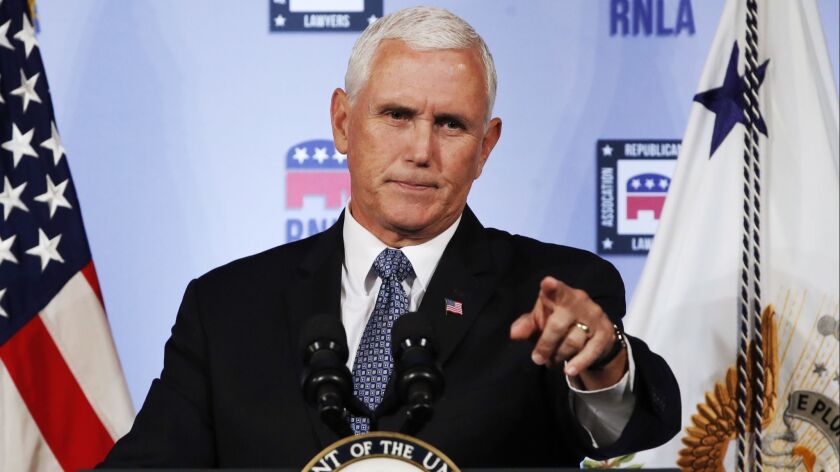 Good morning. I'm Paul Thornton, and it is Saturday, Aug. 25, 2018. Let's take a look back at the week in Opinion.
Permit me a brief biographical digression. I grew up in the world of evangelical Christianity, having attended schools that promoted things like biblical literalism, doubts about Darwinism, and abstinence-only education, including the lie that condoms contained microscopic pores that allowed transmission of the HIV virus (more on that in a bit). Each week, we attended chapel services that often ended with calls to rededicate ourselves to Jesus Christ, even if we were already professed Christians.
It is this background that helps me understand the behavior of Vice President Mike Pence, the pious man who faithfully serves the famously non-penitent President Trump. Just as the faithful Christians at my school were happy to perpetuate falsehoods about disease-spreading condoms if it served the greater godliness of abstinence before marriage, Pence is willing to abide Trump's constant lying and personal moral failings if it puts him in the best position to do God's will by becoming president.
And that ascension became orders of magnitude more likely this week, making his moral capitulation to Trumpism justifiable in the eyes of God. In an L.A. Times op-ed article, Michael D'Antonio and Peter Eisner, authors of a book on Pence, explain the vice president's theocratic calculations:
Things changed for Trump this week. Do Republicans realize this? Even by the standards set under this presidency, Tuesday was an ominous day for Trump. Within hours, his former campaign manager, Paul Manafort, had been convicted on multiple counts of tax and bank fraud, and his former personal attorney Michael Cohen entered a guilty plea in federal court and proceeded to implicate the president in a crime. "Events this week — and Trump's reaction to them — bring matters to a crisis point," says the Los Angeles Times Editorial Board. "It is time for those who have averted their eyes to face facts." L.A. Times
Los Angeles teachers may soon go on strike. Here's why: Among the reasons, writes L.A. Unified educator Glenn Sacks, are salaries insufficient for living in a city as expensive as Los Angeles, larger class sizes, not enough school nurses and librarians, and an insanely high ratio of students to counselors. Members of United Teachers Los Angeles want the district to mitigate each of these problems with sensible fixes, Sacks says, and if the L.A. Unified School District fails to meet these demands, a strike will be necessary to bring about changes that will serve mostly students. L.A. Times
Stand down, Duncan Hunter. The Republican, a five-term incumbent member of Congress from San Diego County, and his wife were indicted this week on multiple counts of fraud, including misusing campaign funds for personal spending and lying on reports to hide their pilfering. Hunter probably won't do the right thing, having already blamed the charges on a Democratic Party conspiracy, so the editorial board hopes voters in the 50th congressional district decline to send him back to Washington. L.A. Times
California doesn't feel like a "sanctuary state." Despite the best efforts of state legislators to protect immigrants who are in the country illegally by making it difficult for local law enforcement agencies to work with federal immigration officials, the menacing public statements coming from Washington and certain enforcement actions by U.S. Immigration and Customs Enforcement officers has triggered a perpetual state of fear among unauthorized immigrants in California. New York Times
Happy birthday, Pedro. Gustavo Arellano wishes former Gov. Pete Wilson a pleasant 85th birthday and thanks him for his accomplishments — if you can call them that — including: raising taxes to offset crushing budget deficits, protecting the wetlands of San Diego as mayor, and for trashing his legacy as a consensus-building centrist by supporting Proposition 187 and inspiring a generation of young Latinos to be politically active, changing California politics forever. L.A. Times
Reach me: paul.thornton@latimes.com
---