Op-Ed: Sacramento's army of interns deserves to be paid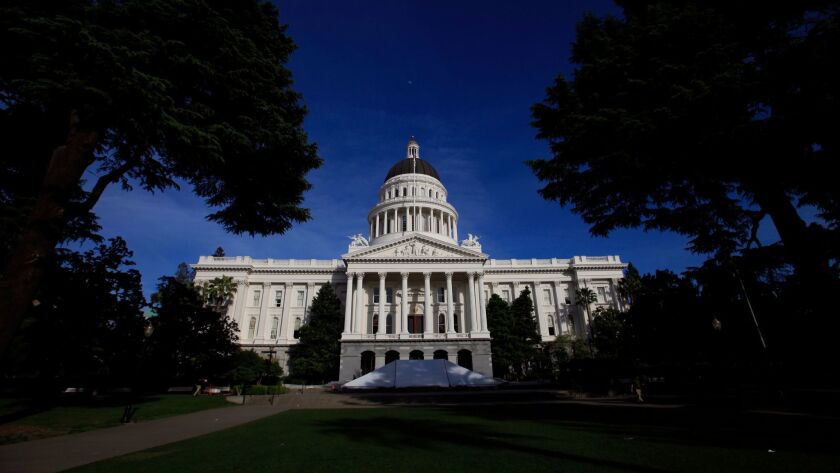 There are interns in almost every office at the Capitol in Sacramento, and very few of them are paid. They answer phones, write press releases, research legislation and track constituent requests. The privilege of gaining experience — and an advantage in their later job hunt — will cost most of them hundreds, even thousands of dollars in living expenses and lost wages from the paying jobs they forgo. Work experience when you're starting out is theoretically more valuable than a paycheck, but that doesn't make it any easier to pay rent, student fees or your lunch tab.
In 2019, California passed landmark legislation protecting workers' rights by expanding collective bargaining and addressing worker misclassification and workplace harassment. Yet the unpaid interns that keep Sacramento lawmakers' offices running are proof that state government's commitment to labor rights comes up short inside its very own walls.
No state agency tracks internships, paid or unpaid. Some universities and nonprofits sponsor paid public-service internships; assembly members and senators may, on their own, pay interns as well. But most of this work, especially at the district office level, is unpaid; some internships don't even include academic credit.
Last summer, I was an intern in the district office of a state senator. I was thrilled to be offered the opportunity, but there was one problem: It was unpaid. Taking the position limited the hours I could work at my part-time summer job. Like many college students, I work in the summer to help pay for tuition and living expenses. As a public policy major, I felt like I had no choice but to take the hit. I knew that without the experience, I would jeopardize my chances of landing a job in my field after graduation.
I spent hundreds of dollars just on gas to get from my home to the district office. I was fortunate that I could live with my family and my living expenses were minimal. For those who move to Sacramento for an unpaid internship, the cost-benefit calculation is likely to be much rougher. Imagine being accepted for a prized position but ultimately turning it down because you can't afford to work 10-30 hours for free.
Matthew T. Hora, a professor and director of the Center for Research on College-Work Transitions at the University of Wisconsin-Madison, surveyed students at five colleges and universities about why they chose not to intern as undergraduates. Nearly two-thirds of the respondents cited cost barriers related to tuition and living expenses. Their quandary could prove a big long-term disadvantage. The B.A. Rudolph Foundation found that only 17% of college students have a job offer at graduation; however, among those with internship experience, 51.7% graduate into work.
All the statistics add up to an advantage for those who already have an economic leg up. Intern Bridge, Inc. — a for-profit firm that researches internships nationally and helps companies and schools set up programs — found that students from families whose household income was more than $120,000 are more likely to be unpaid interns than students coming from families who make $80,000 or less. I observed this dynamic at the state senator's district office. Some of my intern peers didn't have to juggle part-time summer jobs. Not surprisingly, Intern Bridge also found that nearly 70% of white students but only 53% of Latinos participate in internships, with African Americans at 59.5% and Asian Americans at 63.2%.
In 2018, the advocacy group Pay Our Interns convinced Congress to pass legislation that created a fund to pay House and Senate interns. Until then, in Washington, as in Sacramento, paid internships were rare, a constant casualty of budget cuts.
Now the House allots $25,000 to each member's office for internships; the figure for senators is based on the population of their states. In the first year of the program, the maximum stipend for House interns in Washington was only $1,800 a month; the Senate, when it pays, is more generous. It's a start.
Pay Our Interns is researching internship programs in state legislatures. We know a few states have robust programs: Arizona, Indiana, New York and Maryland. There is every reason for California to join them. Setting aside money, by law, to pay stipends to interns is a worthy investment in the next generation of leaders. And it's only right to make it possible for all students, no matter their family income, to take advantage of such an opportunity.
Victoria Pfau is a junior at UCLA and chairs the Student Advisory Committee for the Pay Our Interns California Action Fund. She earned her associate degree at Los Angeles Mission College. Victoria@payourinternsaction.org

---
Life is stressful. Our weekly mental wellness newsletter can help.
You may occasionally receive promotional content from the Los Angeles Times.