Op-Ed: Opioids don't do enough for chronic pain sufferers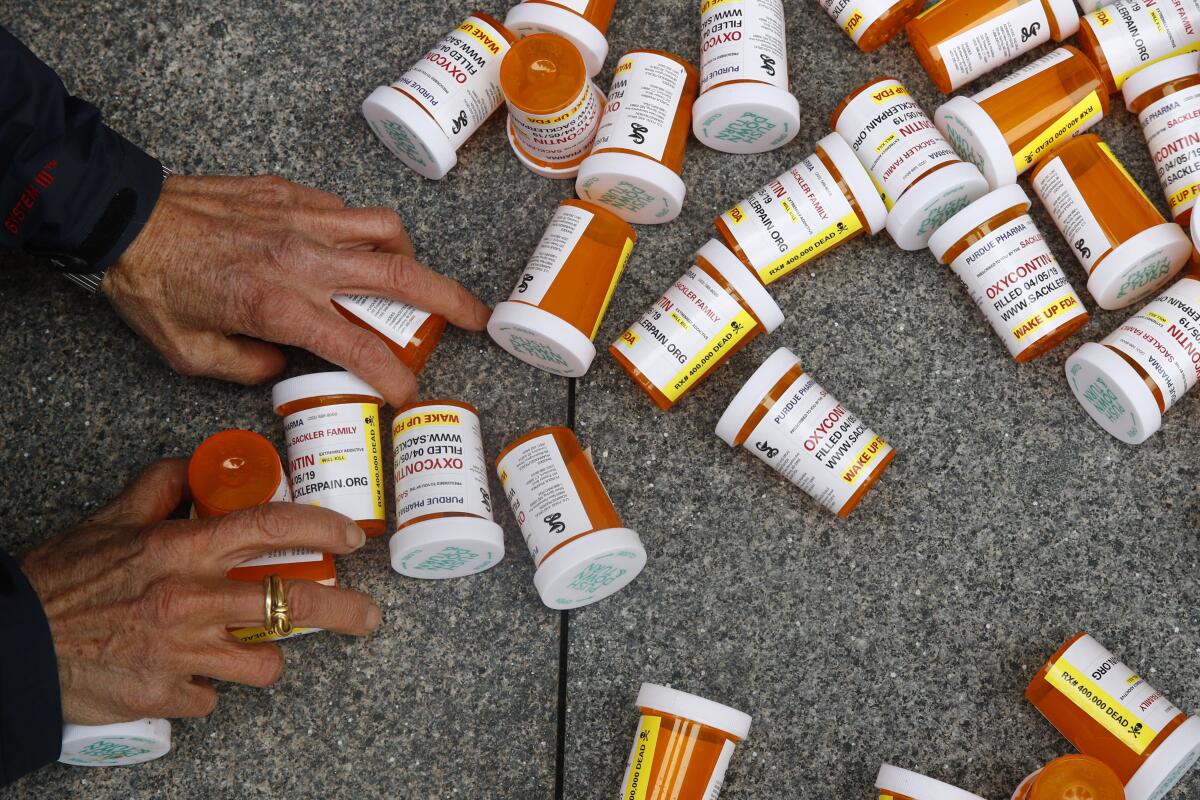 Chronic pain affects 1 in 6 people in the United States and around the world, and is the most common cause of disability. Yet medicine's desperate attempts to treat chronic pain sparked the opioid epidemic. And while many promising non-opioid therapies exist, some of them newly developed, patients face innumerable barriers in accessing them.
To overcome the opioid epidemic, it is not enough to just reduce how many opioids physicians prescribe. We need to be able to offer patients evidence-based alternatives. Yet for that to happen, we must also better understand the fundamental nature of chronic pain, which is as much an emotion we feel in our minds as it is a physical sensation experienced by our body.
Acceptance and commitment therapy and exercise are both safer and more effective for chronic pain than opioids, which can actually increase how much those with chronic pain hurt.
"As a hospice nurse, I feel I have a pretty good understanding of pain management," said Jeanne Dietrich-Harrison, whose son died of an opioid overdose last year after he was prescribed the drugs for chronic pain that resulted from pancreatitis. "Even with dying patients we use a multidimensional approach, not just opioids."
This year brought progress for safely getting opioids to people with debilitating pain.
Unfortunately, services such as physical and cognitive therapy were hit hard by the COVID-19 pandemic, with the closure of many pain rehabilitation facilities. And given that there are only 74 certified pain rehab centers in the entire United States, the need and demand far exceeds the supply of these potent remedies even in the best of times.
Advances that seek to defang the emotional and psychological aspects of pain offer a ray of hope for those who hurt endlessly. Online multidisciplinary programs have been shown to be effective for chronic pain. Other innovations include telemedicine for harm reduction services for patients who are prescribed opioids; expansion of online group therapy and pain education sessions; and greater flexibility in home delivery of prescriptions.
A new form of cognitive therapy called pain reprocessing therapy — which according to researchers teaches people that "the brain actively constructs primary chronic pain in the absence of tissue damage and that reappraising the causes and threat value of pain can reduce or eliminate it" — led to 52% of back pain patients being pain-free, compared with just 16% of those who received conventional care.
The search for alternative treatments for chronic pain has begun to push the very boundary of what constitutes treatment. In November 2021, the Food and Drug Administration approved the first virtual reality system shown in randomized clinical trials to help people with chronic lower back pain. The system incorporates techniques such as distraction, relaxation, behavior modification and increasing bodily awareness, in daily virtual reality sessions over an 8-week course.
As we face this mounting opioid crisis, it will be critical to not repeat prior mistakes. The major reason patients with chronic pain have suffered is because they have been treated by a system that prioritized fast prescriptions or profitable procedures, neither of which actually relieve chronic pain. The White House unveiled its National Drug Control Strategy last April, which while quite comprehensive, does little about ensuring patients with chronic pain receive broader access to interdisciplinary pain management.
As deplorably as Sackler family members are alleged to have behaved, this epidemic was too complex for one group to have created.
Both the federal government and individual states should push public and private insurance programs to provide more ready access to interdisciplinary and alternative pain care, and should perhaps even consider mandating coverage for certain services.
At the same time, it is important to revisit practices that offer limited benefits. For example, according to physician Steven Atlas, spinal fusion surgeries have "become the poster child for expensive, risky, and unnecessary back surgery," and a Medicare advisory committee gave an extremely tepid assessment of the evidence in support of the procedures. Yet Medicare and other insurers continue to waste billions of dollars per year on them.
Many living with pain have found working from home a boon, and employers should continue such flexibility for disabled people and their caregivers.
Funding for research into innovative approaches for chronic pain needs to be increased, but at the same time, the FDA needs to maintain a high level of scrutiny to ensure only the safest and most effective therapies are promoted.
The U.S. Centers for Disease Control and Prevention recently updated its guidelines for chronic pain. The agency removed certain restrictions on opioid prescriptions and recommend non-opioid therapies as front-line treatments for chronic pain, but the guidelines could have provided clinicians with more guidance about how best to incorporate these options in the care of patients with chronic pain.
People in chronic pain have to show great resilience. They need medical providers who can offer innovative, holistic approaches — beyond medications — that have been shown to deliver relief.
Haider Warraich is a physician at Brigham and Women's Hospital, Harvard Medical School and the Veterans Affairs Boston Healthcare System, and is the author of "The Song of Our Scars: The Untold Story of Pain."
A cure for the common opinion
Get thought-provoking perspectives with our weekly newsletter.
You may occasionally receive promotional content from the Los Angeles Times.