It's a campaign frenzy as House candidates make their final dash across Central Valley and Southern California
Actress Kristen Bell speaks to volunteers for Democratic congressional candidate Katie Hill on Sunday in Simi Valley.
(Michael Finnegan / Los Angeles Times)
Congressman Dana Rohrabacher, center, poses for a photo with supporters Emma Macias, left, and husband Humberto Macias, right during a thank-you event for campaign volunteers.
(Brian van der Brug / Los Angeles Times)
Inglewood Mayor James T. Butts makes his last pitch to the city's largest black congregation Sunday on why they should reelect him.
(Maria Alejandra Cardona / Los Angeles Times)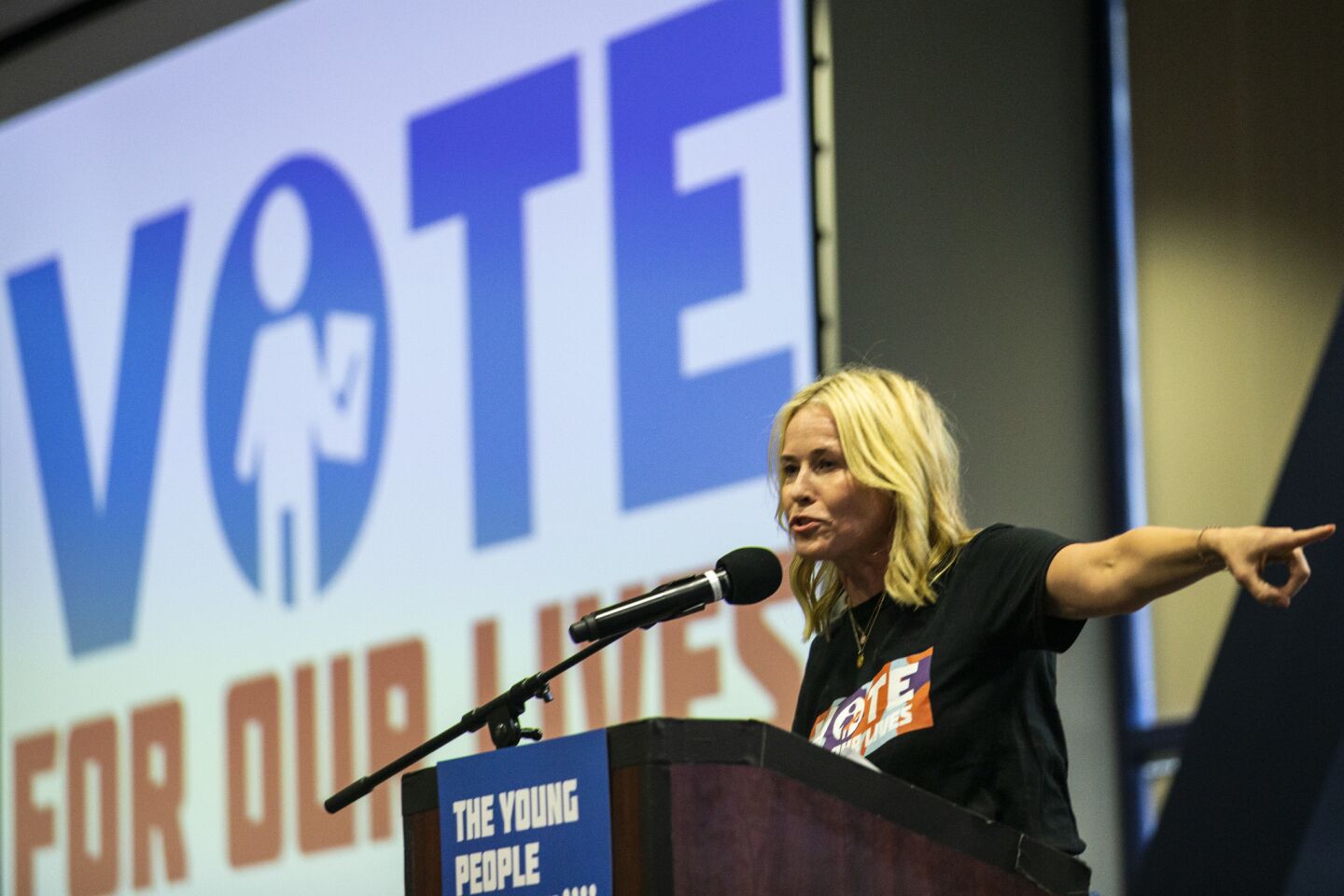 Comedian Chelsea Handler speaks during a Vote for Our Lives rally at the UC Irvine Student Center on Sunday.
(Kent Nishimura / Los Angeles Times)
Democratic gubernatorial candidate Gavin Newsom joined more than 100 members of over a dozen local unions — including, nurses, janitors, grocery store workers and security officers — at a get-out-the-vote rally Sunday.
(Maria Alejandra Cardona / Los Angeles Times)
Michele Reed, left, cheers for Democratic gubernatorial candidate Gavin Newsom at a Sunday get-out-the-vote rally in Los Angeles attended by more than 100 members of over a dozen local unions.
(Maria Alejandra Cardona / Los Angeles Times)
Supporters of Congressional candidate Katie Porter cheer at a rally attended by Sen. Kamala Harris and Chelsea Handler.
(Jay L. Clendenin / Los Angeles Times)
Congressional candidate Young Kim, left, attends rally with gubernatorial candidate John Coxin Rowland Heights.
(Irfan Khan / Los Angeles Times)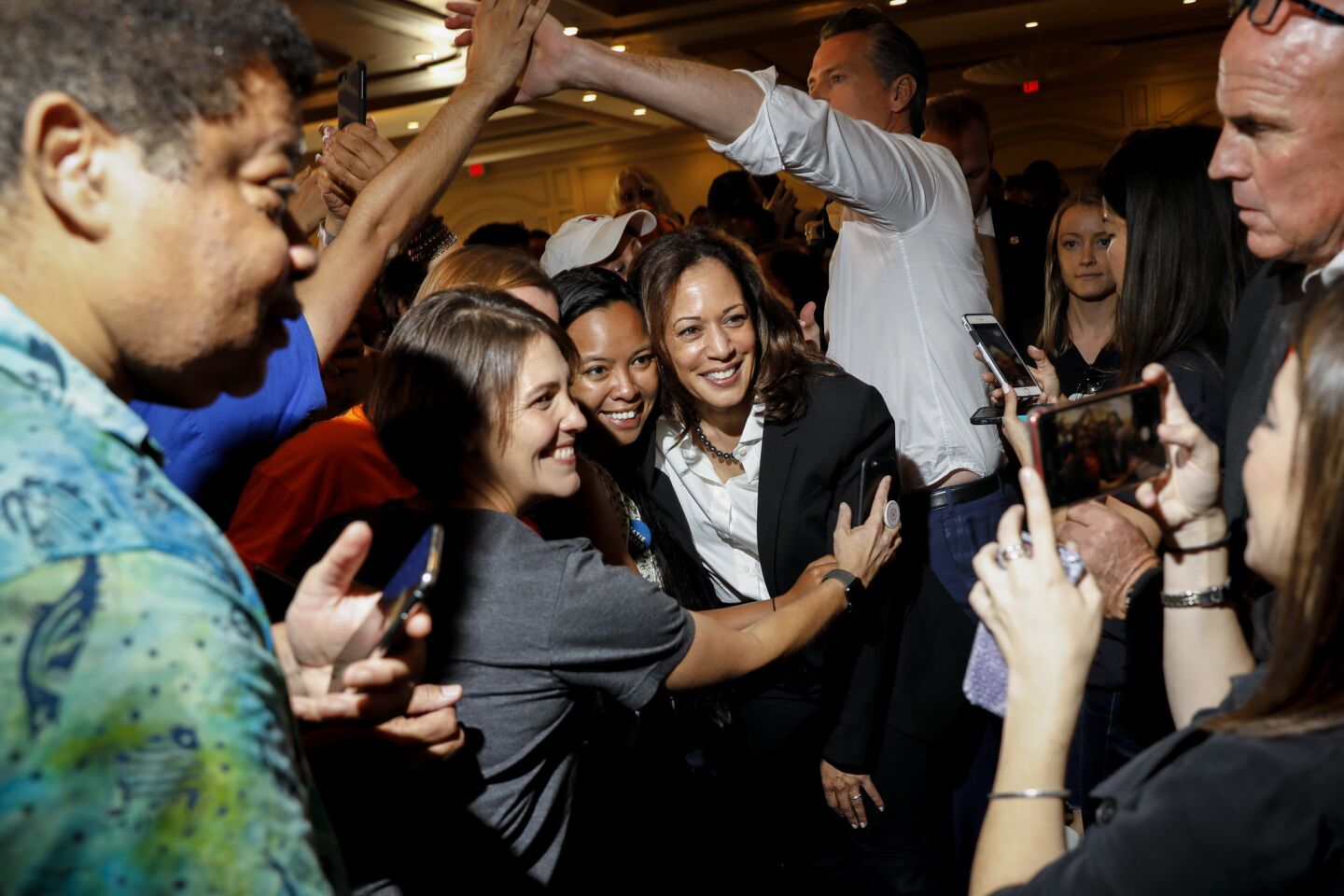 Sen. Kamala Harris attends a rally for congressional candidate Katie Porter.
(Jay L. Clendenin / Los Angeles Times)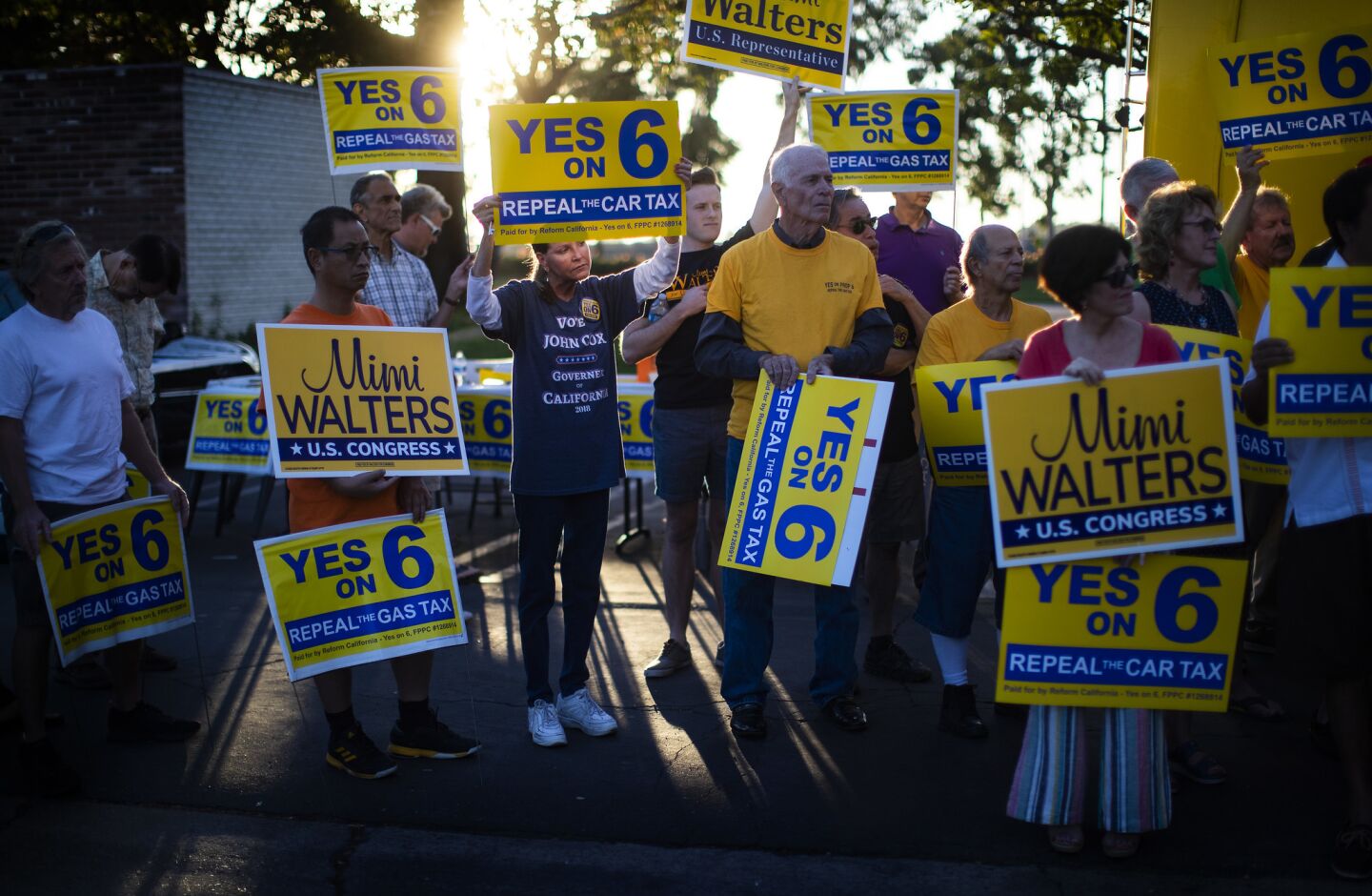 Supporters of Proposition 6, which would repeal the gas tax increase, rally outside GOP Rep. Mimi Walters' campaign headquarters in Irvine.
(Gina Ferazzi / Los Angeles Times)
Sen. Kamala Harris, left, and Lt. Gov. Gavin Newsom bring pizzas to the campaign office of Democratic congressional candidate Harley Rouda and greet his wife, Kaira Rouda.
(Jay L. Clendenin / Los Angeles Times)
Ione Kauser of La Habra campaigns for gubernatorial candidate John Cox, who stopped in Rowland Heights on his statewide bus tour for a rally with congressional candidate Young Kim.
(Irfan Khan / Los Angeles Times)
Supporters attend a rally for Democratic congressional candidate Gil Cisneros.
(Jay L. Clendenin / Los Angeles Times)
Rep. Mimi Walters (R-Laguna Beach) mingles with volunteers working the phones at her campaign office in Newport Beach.
(Irfan Khan / Los Angeles Times)
Democratic congressional candidate Katie Hill greets supporters as she arrives at the Newhall Family Theatre in Santa Clarita for a rally.
(Jay L. Clendenin / Los Angeles Times)
Gil Cisneros didn't just amble into the final weekend of the midterm election. He ran.
The Democratic congressional hopeful, vying in a tight contest for an open Orange County seat, began a final flurry of get-out-the-vote activities by participating in the O.C. Pumpkin Run, a 5K charity race in Fullerton.
Immediately after, still in running clothes, Cisneros raced to a Buena Park union hall to address more than 100 supporters gathered to make phone calls and knock on doors on his behalf.
"I'm a little underdressed," the 47-year-old Cisneros said, "but right now we're in the fourth-quarter, two-minute drill. It's about getting people out to vote."
Democrats need a gain of 23 seats to flip control of the House on Tuesday, thrusting California — with at least a half-dozen strongly competitive races — to the fore of the political fight.
In a final dash across the Central Valley and Southern California, rival candidates focused the waning hours of their campaigns on the most rudimentary of chores: ensuring supporters cast their ballots.
The candidates — or most of them, anyway — walked precincts, manned phone banks, revved up coffee- and pizza-fueled volunteers and stood in front of TV cameras urging anyone within earshot to vote for their party and its slate of candidates, of course.
"Can you imagine Gavin Newsom being our governor," Young Kim, who is running against Cisneros, said at a Saturday rally in Rowland Heights alongside John Cox, the GOP gubernatorial hopeful. "Can you imagine Gil Cisneros being your representative?"
The crowd outside her field office responded with loud boos and cries of "Noooo!"
In Simi Valley, Katie Hill turned to actress Kristen Bell in her bid to oust Republican Rep. Steve Knight of Palmdale.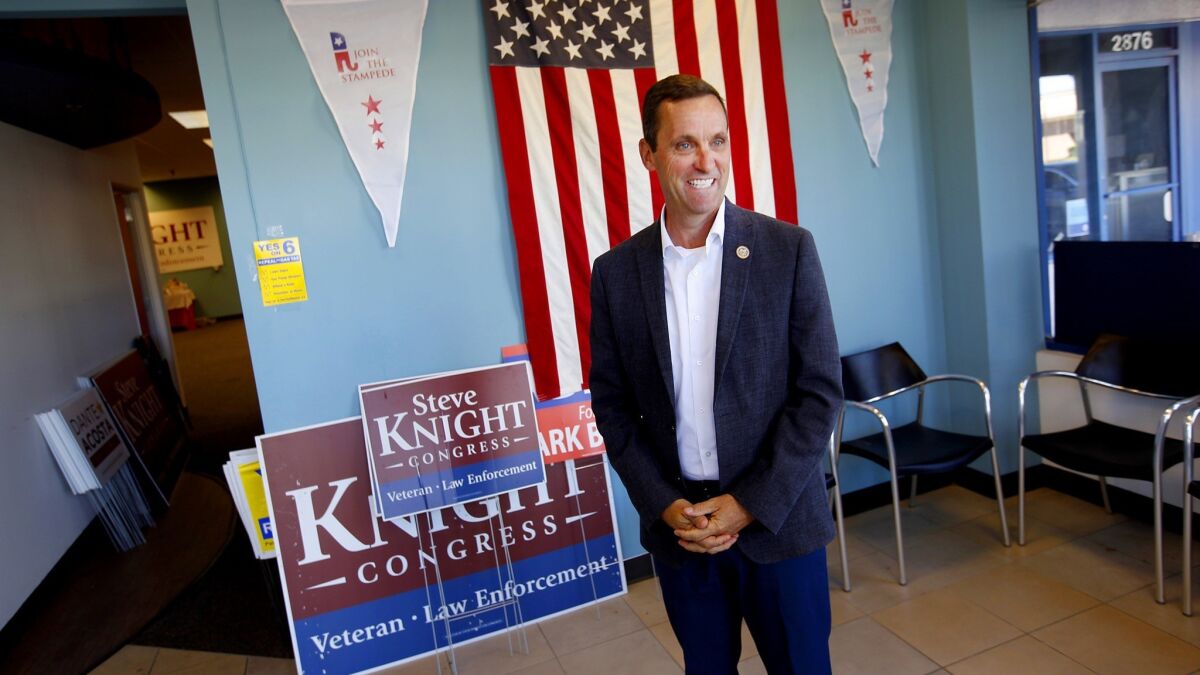 The star of "The Good Place" and "Veronica Mars" told a crowd of 150 Democratic volunteers that she'd known Hill for more than a decade through her support for PATH, a Los Angeles nonprofit that provides services to the homeless. Hill, 31, was one of PATH's top executives before launching her congressional bid.
"I actually said to myself at one point, I was like, 'Oh my goodness, is she the real-life Veronica Mars?'" Bell joked from a platform outside a bustling Hill campaign office. "Because truly she's always fought for the underdog."
Knight's only public event over the weekend was a sunrise visit Saturday to the starting line of the Santa Clarita Marathon. The main point he's trying to get across to voters, the 51-year-old incumbent said during a speed-walking interview, is constituent service.
"We worked very hard to make sure that the needs of this district are being taken care of," Knight said.
Another embattled GOP incumbent, Jeff Denham, stumped with Cox in Modesto on Sunday, making little mention of President Trump in an area where Democrats hold a slight edge in registered voters.
Denham's most passionate pleas were to bring water to Central Valley farmers and to build not a wall along the border with Mexico but greater storage capacity. "We need to have our water, and we need to make sure that we have a candidate that will fight for the Valley," Denham said.
His Democratic rival, Josh Harder, stressed healthcare, citing Denham's vote to repeal the Affordable Care Act.
"Every person you will be talking to today has a loved one who would be affected and hurt by that vote," Harder told a group of more than two dozen people gathered at a Turlock home for a canvass kickoff.
Will California flip the House? The key races to watch »
A gusher of campaign cash and geyser of boiling anti-Trump passions have made Democratic candidates viable in places such as the Central Valley and Orange County that, normally, would offer little hope.
In Mission Viejo, Katie Porter appeared alongside Jon "Bowzer" Bauman of the 1950s tribute band Sha Na Na, who delivered a pitch focused on issues affecting seniors — retirement, Social Security — before delivering a custom-tailored version of the Spaniels' "Goodnite, Sweetheart, Goodnite."
"Good night, Mimi Walters," Bauman crooned, a reference to Porter's opponent, the two-term Republican incumbent.
Porter, a UC Irvine law professor and first-time candidate, urged supporters to campaign without letup. "This election is going to be close," she said. "If we don't fight all the way to the finish line, until 8 o'clock on Tuesday, this could slip away."
At one point, pro-Trump hecklers could be heard shouting from a nearby hillside. "We love Trump," a voice cried out.
"We love him, too. He makes great fodder," retorted Bauman's nephew, California Democratic Party Chairman Eric Bauman.
While Porter attended raucous rallies, Walters took a quieter approach.
"We've been staying on the phone, turning out the vote," Walters said during a brief break at her Irvine campaign headquarters as she contemplated her pizza choices before settling on pepperoni and sausage. "The Republicans are enthused, the Democrats are enthused. We have to get the independents."
Nearby, Democratic hopeful Harley Rouda exhorted his battalion of volunteers not to surrender to fatigue in the campaign's final hours. "When you're out there knocking on doors and getting tired," Rouda told canvassers packed into his Costa Mesa office, "your democracy is at stake."
His rival in the coastal Orange County district, incumbent Republican Dana Rohrabacher, brought an In-N-Out food truck to the parking lot of the local GOP headquarters to thank volunteers. The congressman told a crowd of about 50 supporters that outsiders were trying to undermine local sentiment.
"They are shipping people in from Los Angeles County," Rohrabacher said. "They've got mercenaries that they've hired to come down and try to steal this election from the patriots who actually live here."
As suspense shrouds several contests, Republicans have all but conceded the contest to fill the seat being vacated by retiring GOP Rep. Darrell Issa of Vista.
Still, Democrat Mike Levin rallied about 200 people before they set out to canvass neighborhoods around Oceanside.
A majority of the casual and youthful attendees at the event just blocks from the beach were women. They wore T-shirts promoting the Sierra Club, defending legalized abortion and celebrating civil rights icons. Levin moved through the crowd, posing for photographs with volunteers.
"You can see from all the people here there is a lot of enthusiasm for the campaign in the last few days," he said. "I put my faith in the turnout over the polls."
His rival, Diane Harkey, has been orphaned by the Republican Party, which is being vastly outspent by Democrats and forced to defend a number of candidates whose prospects, in the estimation of GOP strategists, appear far better.
In an interview, Harkey said she's gotten "zip" from the party and its leaders. "If you really thought it was an important seat, don't you think you'd be here?" Harkey said, questioning the GOP.
But she wasn't giving up. Addressing a small crowd of supporters in the parking lot of her Carlsbad campaign office, Harkey sounded an ominous note for Republicans. "If the seat goes," Harkey warned of her contest, "so goes Orange County."
Times staff writers Mark Z. Barabak, Victoria Kim, Dakota Smith, Maya Sweedler and Jazmine Ulloa contributed to this report.
Twitter: @cmaiduc
Twitter: @finneganLAT
---
Life is stressful. Our weekly mental wellness newsletter can help.
You may occasionally receive promotional content from the Los Angeles Times.