In Iowa, 19 Democrats times 5 minutes equals 2020 campaign 'speed-dating'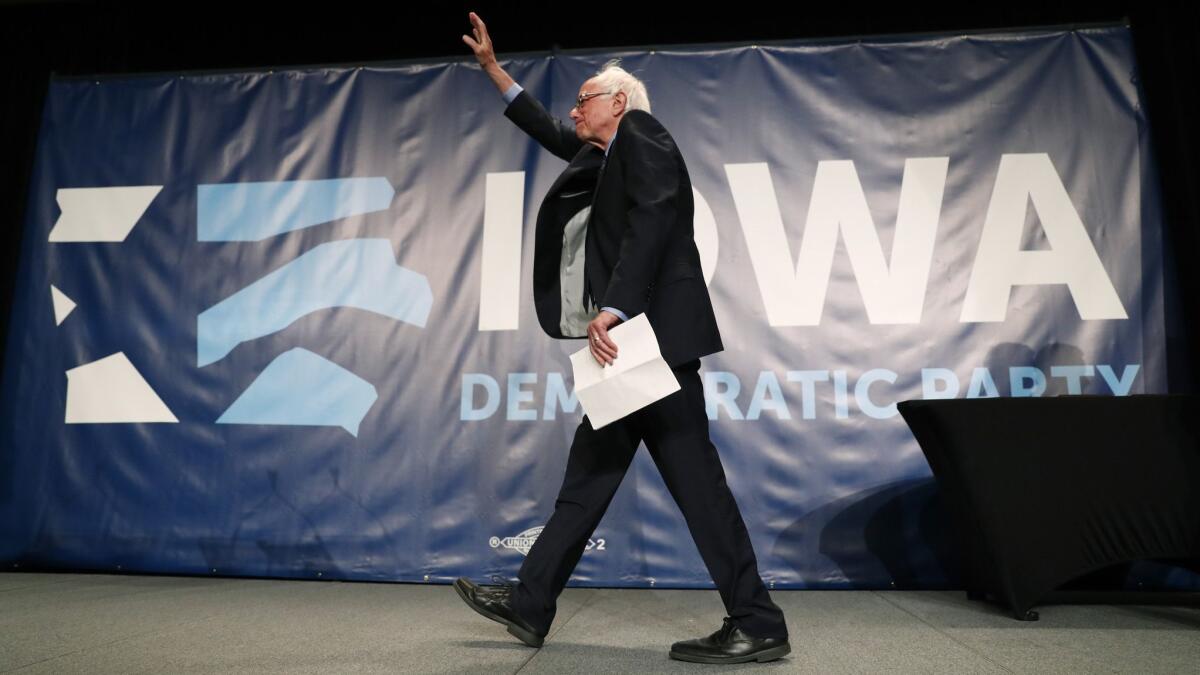 Reporting from Cedar Rapids, Iowa —
Nineteen candidates. Five minutes each. The math of an unwieldy field of Democrats added up to a procession of White House hopefuls across an Iowa stage, where they wooed the voters and activists who could decide their fates and swiped at the rival besting them in state polls.
Sunday's fundraiser for Iowa's Democratic Party was the largest gathering of the 2020 candidates to date, in the state that will kick off the nominating process next year. Only four candidates seeking the Democratic presidential nomination skipped it.
A few candidates took veiled shots at one of them — Iowa front-runner and former Vice President Joe Biden, who did not attend the event because he was celebrating his granddaughter's high school graduation.
"I understand there are some well-intentioned Democrats and candidates who believe the best way forward is a middle-ground strategy that antagonizes no one, that stands up to nobody and that changes nothing," said Sen. Bernie Sanders (I-Vt.). Sanders said he feared such a strategy could lead to President Trump's reelection.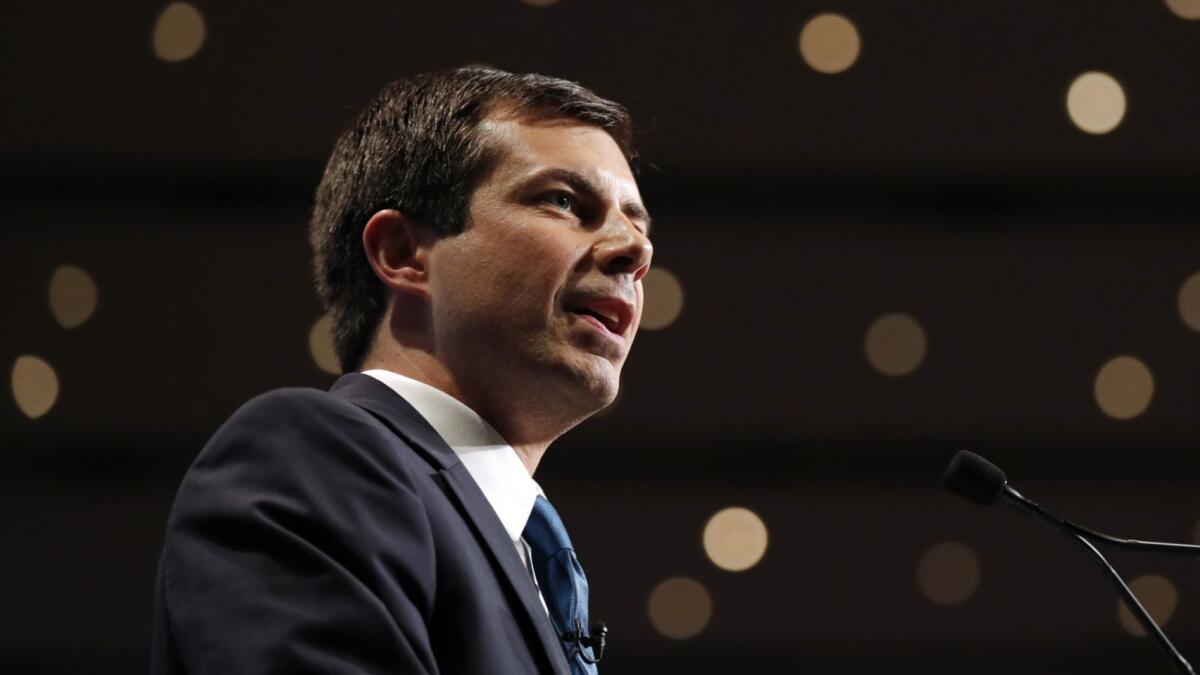 Mayor Pete Buttigieg of South Bend, Ind., continued the theme.
"We're not going to win by playing it safe or promising a return to normal. We are where we are because normal broke," he said. "We Democrats can no more promise to return to the '90s than Republicans can deliver on their promise to return to the '50s."
Sen. Elizabeth Warren of Massachusetts noted that she had taken thousands of questions at more than 90 town halls in 20 states and Puerto Rico and was coming up on the 30,000th selfie of her campaign.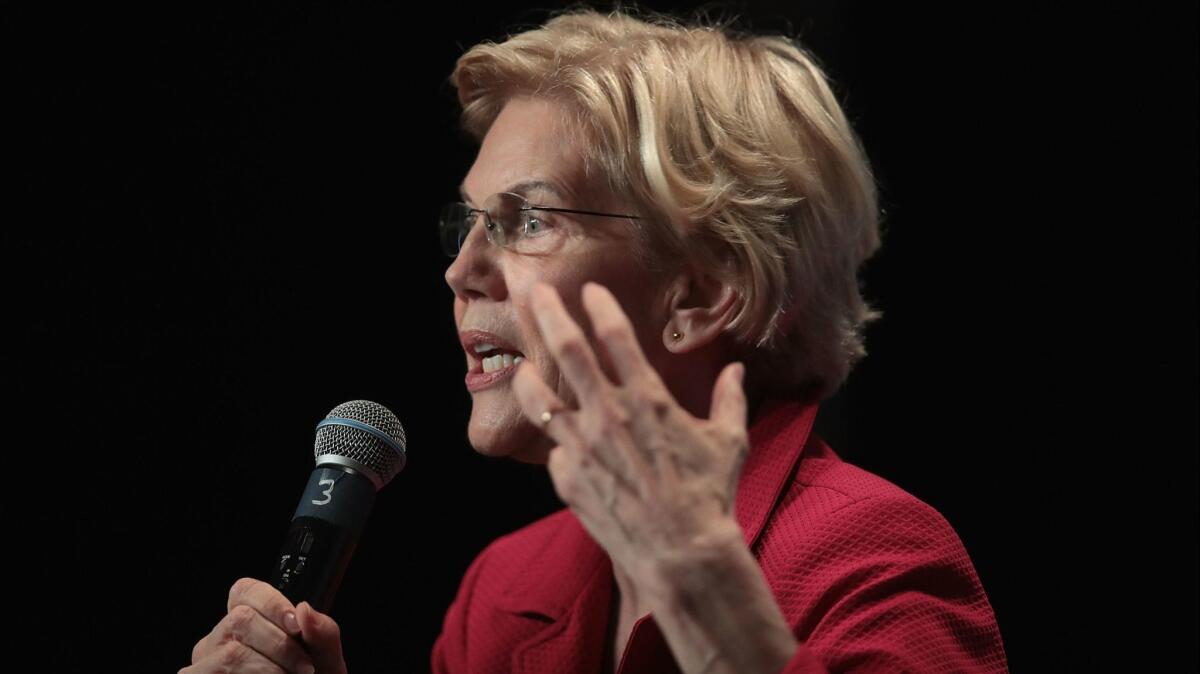 "Why do I have the time to do that? Because I'm not spending my time with high-dollar donors and with corporate lobbyists," Warren said. "I'm spending my time with you. That's how we build a grass-roots movement in America, one that will make a real difference."
Iowa voters won't caucus until February, but the gathering at the Cedar Rapids convention center took place during a critical period of the primary. It's the first major cattle call in Iowa, and the party's first debates and a key fundraising deadline are weeks away.
Subscribe to the Los Angeles Times 2020 election calendar »
Each candidate was given just minutes to speak, making it difficult to differentiate themselves.
"It's been a pleasure speed-dating tonight," Rep. Tim Ryan of Ohio joked. "If you want a second date, go to timryanforamerica.com."
The candidates largely agreed on policies such as cracking down on the easy availability of guns, protecting abortion rights and fighting climate change.
California Sen. Kamala Harris said Democrats must make the case for the type of America they envision: "An America where healthcare is a right, not a privilege; an American where teachers are paid their value; an America where women have the right to make decisions about their own bodies…."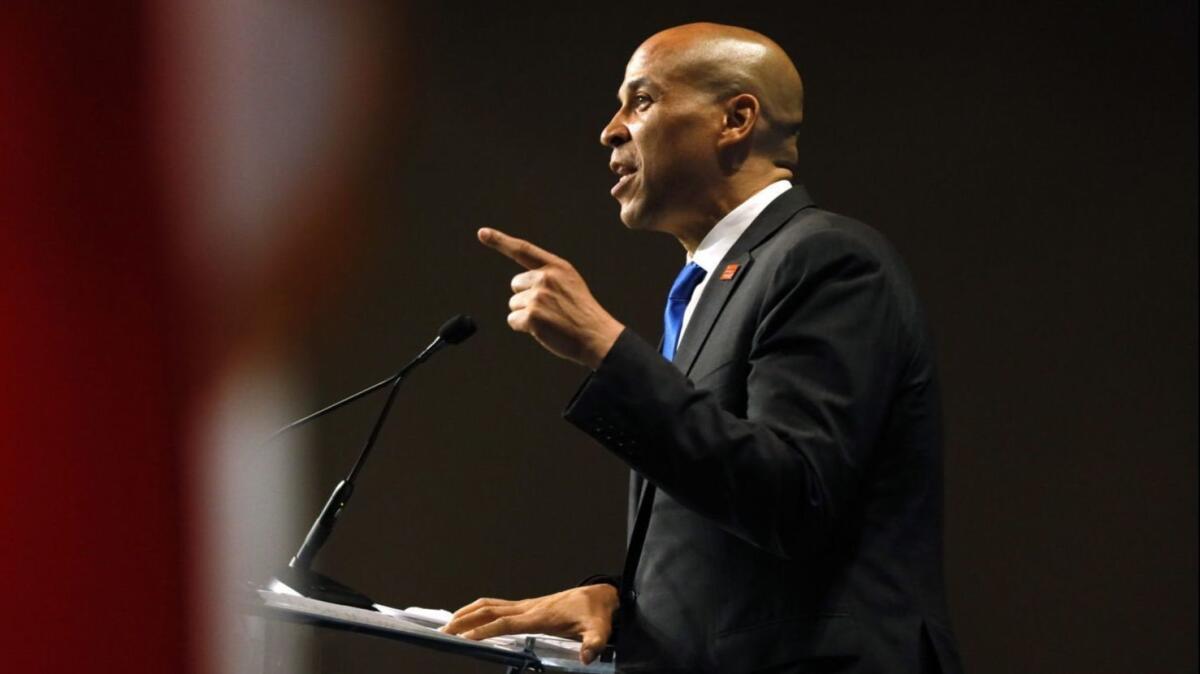 Candidates highlighted their personal ties to Iowa.
New Jersey Sen. Cory Booker noted his grandmother was born and raised in the state.
"My family comes from a mining town called Buxton, where blacks and whites went down into the mines together to carve out of the earth their American dream," he said. "They built a community together … But today those bonds are being tested."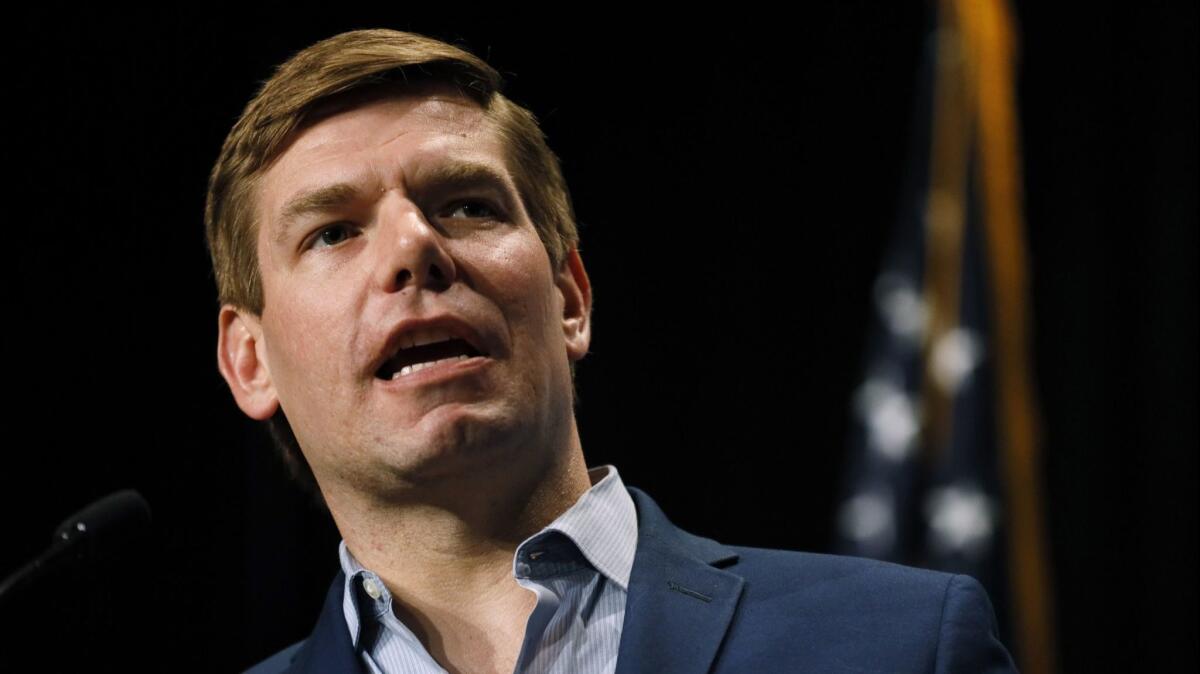 Bay Area Rep. Eric Swalwell pointed to his childhood in the western part of Iowa, where his father was a police officer and his mother worked odd jobs.
"They worked hard enough, dug deep enough, sacrificed enough so their first-born son could be the first in the family to go to college," he said. "Their hard work paid off. We're at risk of being the first generation that does worse than our parents. The only way to change that is to be big on the issues, be bold in solutions and do good in the way you treat each other."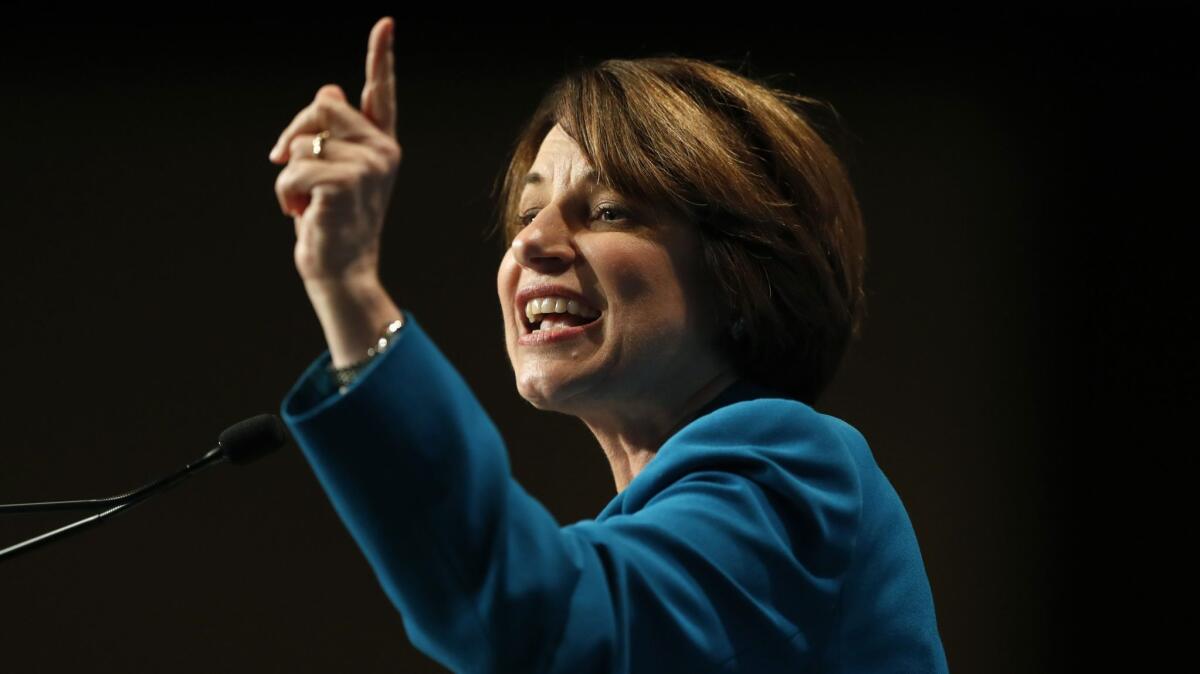 Sen. Amy Klobuchar noted that she hailed from neighboring Minnesota, earning laughs with a reference to a "Saturday Night Live" gag about former GOP vice presidential nominee Sarah Palin: "I'm your senator next door, and I can see Iowa from my porch."
About 1,400 people attended the event, known as the Hall of Fame gathering because it celebrates Democratic volunteers and activists.
For many black voters, 2020 isn't about pride or making history. It's about beating Trump »
Campaigns in Iowa require a large, loyal cadre of volunteers willing to knock on doors during the freezing winter. And Sunday was as much about projecting organizational strength as the messages the candidates made from the stage.
Evidence of that organizing came early Sunday, as sign-waving supporters massed in front of the convention center, banging on drums, ringing cowbells and chanting their candidate's name.
Tickets to the three-hour affair cost $75, with campaigns buying tables for their supporters. Booker and Harris were among the candidates with the largest organized support in the ballroom.
In addition to Biden, former Housing and Urban Development Secretary Julián Castro; Rep. Seth Moulton of Massachusetts; and Mayor Wayne Messam of Miramar, Fla., did not attend.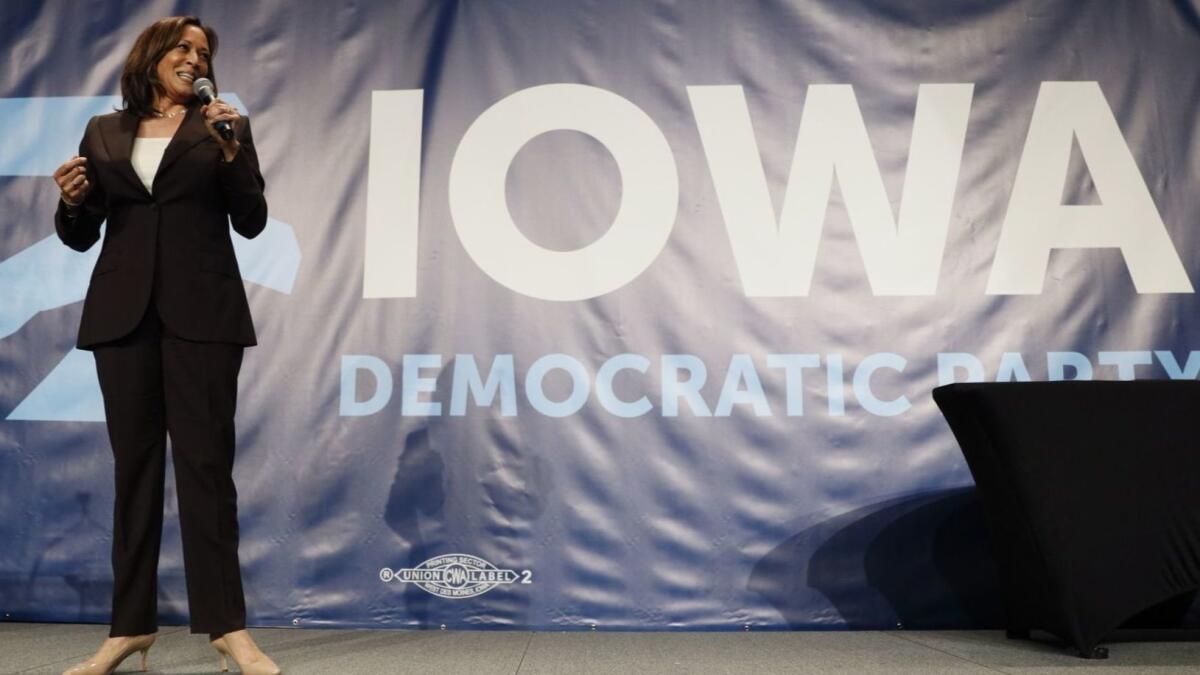 A poll by the Des Moines Register and CNN released Saturday night found Biden leading in Iowa with the support of 24% of likely caucus-goers. Sanders polled at 16%, Warren at 15% and Buttigieg at 14%. Harris came next with 7%, and the rest had 2% or less. Biden's campaign declined to comment on remarks made by other candidates on Sunday.
Barb Dewald, a college administrator from Orange City, Iowa, collected every campaign sign she could find after the event. She'd arrived undecided and was leaving the same way.
"I know that all of these candidates will come around again. I love to go hear them and see how they've progressed," the 61-year-old said. "This is the beginning of the process."
Get our Essential Politics newsletter
The latest news, analysis and insights from our politics team.
You may occasionally receive promotional content from the Los Angeles Times.