Kamala Harris defends her record as prosecutor: 'It matters who is in those rooms'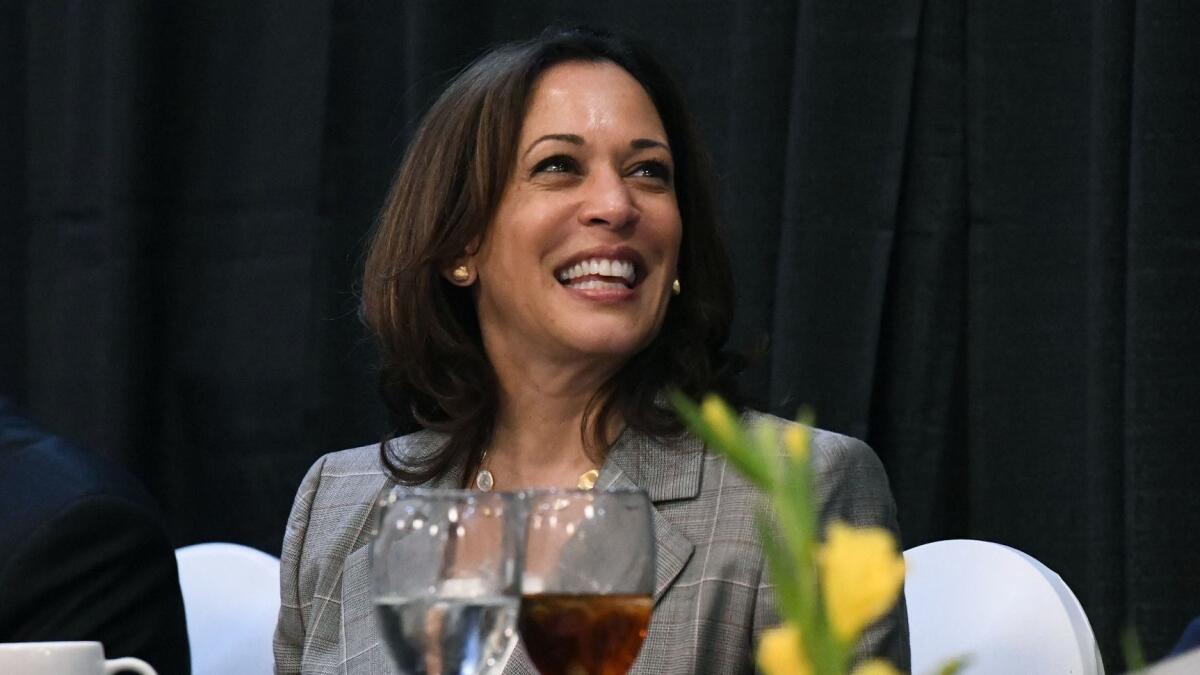 Reporting from West COLUMBIA, S.C. —
Kamala Harris offered perhaps her most vehement justification yet for her prosecutorial career on Saturday, saying she sought to reshape a criminal justice system that many minorities consider fundamentally biased against them.
"Why is it that we should only be on the outside of the system?" she told an audience of 650 at a gala for the South Carolina National Assn. for the Advancement of Colored People. "Isn't there a role for us to play being on the inside, where the decisions are made?"
The speech marked an attempt by the Democratic senator from California to find firmer footing in talking about her law enforcement record, which she has struggled to defend in the early months of her presidential campaign.
"In this election, regarding my background as a prosecutor, there have been those who have questioned my motivations, my beliefs and what I've done. But my mother used to say, you don't let people tell them who you are. You tell them who you are," Harris told a rapt crowd, adding, "Self-appointed political commentators do not get to define who we are and what we believe."
Harris offered a frank assessment of the judicial system she worked in, telling the audience she was "cleareyed" when she chose to pursue her career.
"I knew prosecutors have not always done the work of justice," Harris said, to approving murmurs in the audience. "There have been prosecutors that refused to seat black jurors, refused to prosecute lynchings, disproportionately condemned young black men to death row, and looked the other way in the face of police brutality."
As a biracial woman, Harris argued, she injected a little-heard perspective into decisions on how criminal cases were prosecuted.
"It matters who is in those rooms. I knew I had to be in those rooms," Harris said. "We always have to be in those rooms, especially and even when there aren't many like us there."
Harris' prosecutorial past has been a recurring motif in her presidential run. Her campaign slogan, "For the people," recalls how Harris would introduce herself in court as a county prosecutor early in her career.
She has displayed the interrogative skills honed in court in the U.S. Senate, where her rapid-fire grilling of Trump administration officials such as Atty. Gen. William Barr has earned her widespread acclaim among Democrats.
Win back Trump voters or rally the base? Democrats wrestle with 2020 strategy in Michigan »
But her law enforcement ties have been eyed warily by some on the left, who have increasingly called for wholesale overhaul of the criminal justice system and question whether Harris did enough to advance such changes.
Harris has found herself on the defensive for her anti-truancy efforts, a signature initiative during her tenure as San Francisco district attorney and then as California attorney general. Earlier this year she said she regretted the "unintended consequence" of some parents being jailed under a law she championed to crack down on chronic absenteeism among schoolchildren.
Harris also said last month that she now backs independent investigations in cases of police use of force, a tool she resisted in the past in deference to local prosecutors.
In her speech on Saturday, Harris articulated her vision of an ideal criminal justice system, one that is premised on the notion that "safety is a civil right."
"Let's talk about a myth — the myth that black people don't want public safety," she said. "That is simply not true. Every community wants to be safe."
Harris spoke largely in a deliberate, almost subdued tone, appearing to want her audience to catch every word of her explanation of her career rather than get swept away.
The restrained delivery surprised Gwendolyn P. Finley, a retiree from Rock Hill, who said she appreciated the contents of Harris' address but found it lacking verve.
"To be a prosecutor, I expected a little more bite," said Finley, 63. "Like you're pleading a case."
Overall, Harris got a warm reception from the NAACP audience, which broke in numerous times to applaud, particularly once she turned her attention to President Trump.
"We've got to hold this guy accountable by prosecuting the case in front of the American people against four more years of this administration," Harris said.
"And I've prosecuted a lot of cases. But rarely one with this much evidence," she added to enthusiastic cheers.
Attendees said they were largely unfamiliar with Harris' history in law enforcement, but said that having that experience on her resume would not be a drawback.
"In South Carolina, it's an asset," said Chris Simmons, 58, a fraud investigator from Columbia. "As far as the more educated voters, it'll play well."
Subscribe to the Los Angeles Times 2020 election calendar »
South Carolina, which holds the fourth Democratic contest, has a pivotal role in the nominating process, and black voters, who account for at least 60% of the primary electorate, are the state's most courted constituency.
Minnie P. Thomas, a social worker from the Columbia suburbs, agreed that Harris' legal experience could appeal to voters, but she wanted assurance that Harris, if elected, would use her presidential pardon power to tackle racial disparities among the incarcerated.
"We do not want her to come in and allow our vote to get her there, and then turn around and be an oppressor to the African American race," said Thomas, 61.
For Thomas and others in the audience, the hurdle Harris faces in the race is not backlash over her past experience, but skepticism that she could win in the general election.
Julia Patterson, an elementary school secretary from Camden, gushed after the speech that Harris was "wonderful, sincere, honest — a genuine spirit."
But that did not mean Harris had won her support.
"I don't think the United States is ready for a woman," Patterson said. "Especially a black woman."

Get our Essential Politics newsletter
The latest news, analysis and insights from our politics team.
You may occasionally receive promotional content from the Los Angeles Times.