Trump gets booed by crowd at New York charity dinner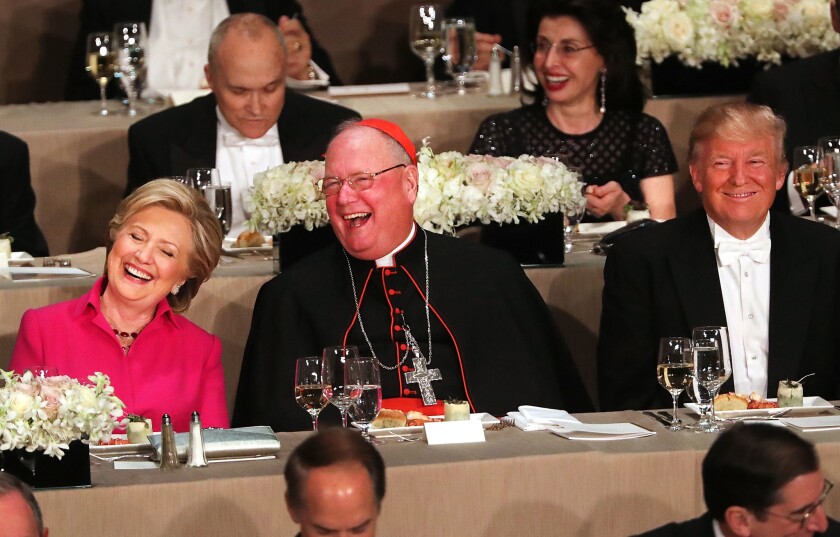 Reporting from New York —
The day after the final presidential debate, where each charged the other with being a crook, a liar and a puppet, Donald Trump and Hillary Clinton honored a tradition that had them sitting down to dinner together to exchange jokes.
It was an awkward night.
The customary self-deprecating addresses candidates have been giving at the Alfred E. Smith dinner for decades had a much sharper edge this year. At times, the crowd was outright booing and hissing at Trump as the Republican presidential nominee delivered lines that sounded more like angry campaign rants than humor, even as he sought to deliver them with a smile.
"Here she is tonight in public, pretending not to hate Catholics," he said to an audience largely consisting of Catholics, including Cardinal Timothy Dolan, archbishop of New York, who sat between the two candidates in hopes of brokering a temporary peace.
"Last night, I called Hillary a nasty woman," Trump said at another point. "But this stuff is all relative. After listening to Hillary rattle on and on and on, I don't think so badly of Rosie O'Donnell anymore. In fact, I am actually starting to like Rosie a lot."
Clinton, his Democratic rival, smiled through most of it, laughing uproariously at some of the tamer jokes, nodding her head at others. Trump smiled at Clinton's jokes too, sometimes with his arms crossed.
Not all of Clinton's jokes landed either, but she did not get as rough of a time from the crowd or use quite as sharp a knife as Trump wielded.
"Donald really is as healthy as a horse," she said. "You know, the one Vladimir Putin rides around on."
"Many don't know this, but Rudy actually got his start as a prosecutor, going after wealthy New Yorkers who avoided paying taxes," she said, referring to former New York Mayor Rudolph W. Giuliani, a Trump supporter sitting on the large dais of dignitaries. "But as the saying goes: if you can't beat 'em, go on Fox News and call 'em a genius."
There was some question about whether these stern candidates who so openly detest one another would be able to pull off an evening of self-deprecating jokes. Indeed, each told a few, along with the sharp barbs aimed at each other.
"Many people tell me that modesty is perhaps my best quality," Trump said at the opening. "Even better than my temperament."
Clinton joked that the event was a treat for the audience "because I usually charge a lot for speeches like these," noting that it was "such a special event that I took a break from my rigorous nap schedule to be here."
Trump drew his most laughs with a joke about his wife, Melania.
"I have to say the media is more biased this year than ever before," he said. "Want proof? Michelle Obama gives a speech and everyone loves it. They think she is absolutely great. My wife Melania gives the exact same speech and people get on her case. I don't get it. I don't know why."
Melania Trump grinned.
Even the emcee of the annual Smith dinner, a glitzy fundraiser for children in need held at the Waldorf Astoria in honor of the former New York governor, launched into the evening with a nod to how bleak the presidential race has been.
"In less than a month, one of these two will be elected president of the United States," said Alfred E. Smith IV. "Boy, that was a real buzz kill."
The candidates did, however, shake hands at the end of the evening, prompting Smith to joke that Dolan deserved a Nobel Peace Prize for uniting the bitter enemies, if even briefly.
As the candidates shared the stage for the final time before the election — and very possibly the final time ever — the guests assembled on the dais along with them resembled the cast of a highlights reel from the rough-and-tumble of the race.
Among them was the New York Atty. Gen. Eric Schneiderman, who launched an investigation into Trump's charitable foundation and has sued Trump University, calling it "a scheme to fleece thousands of people all over America out of millions of dollars."
Former New York Mayor Michael R. Bloomberg, who went to the Democratic National Convention to declare Trump a "con man," was seated near the GOP nominee. Nearby was Mort Zuckerman, the publisher of the New York Daily News, which famously splashed "I'm with Stupid" on its cover when Sarah Palin endorsed Trump.
There were also Trump loyalists among the New York political glitterati assembled at the charity event. The most notable was Giuliani, the top Trump surrogate who calls Clinton a criminal and her family foundation a "racketeering enterprise." He sat a few seats down from Senate Democratic leader Charles E. Schumer and former Secretary of State Henry Kissinger, who joined the movement of GOP refuseniks declining to endorse Trump.
Twitter: @evanhalper, @noahbierman
ALSO
Donald Trump has a Mormon problem and here's how it could cost him
It's not easy living in a Trump building these days
Chris Wallace said Trump's debate answers didn't surprise him
---
For reporting and exclusive analysis from bureau chief John Myers, get our California Politics newsletter.
You may occasionally receive promotional content from the Los Angeles Times.