With long-sought criminal justice bill expected to become law, Kushner gets bipartisan credit for his role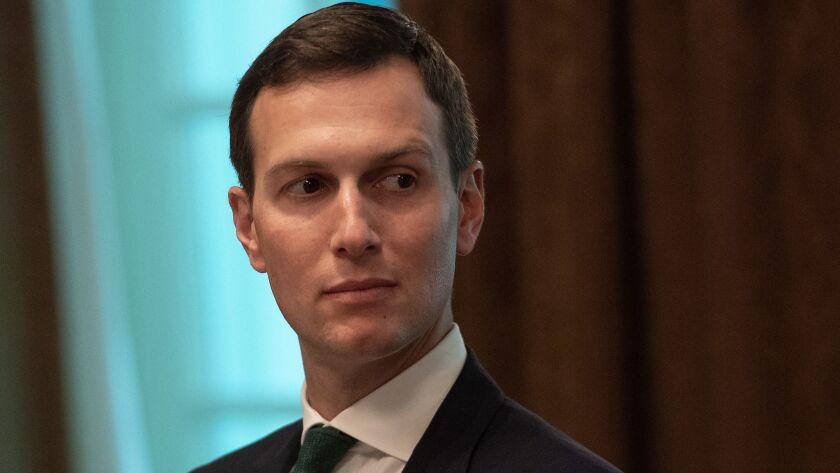 Reporting from Washington —
Jared Kushner may finally get a win.
President Trump's son-in-law has been a drag on the administration for his friendship with Saudi Crown Prince Mohammed bin Salman since the Oct. 2 killing of a U.S.-based dissident Saudi journalist. His family business continues to raise questions of conflicts of interest, he repeatedly has amended financial disclosure reports to remedy omissions, and he endured an embarrassing yearlong delay in obtaining a security clearance. Meanwhile, his chief assignment, a Mideast peace plan, is as elusive as ever.
Lately, however, Kushner has been instrumental in helping his father-in-law secure a rare bipartisan victory: a long-sought overhaul of the criminal justice system.
Both Republicans and Democrats who've worked on the bill in Congress credit Kushner as a key architect. He helped convince the two most powerful Republicans in Washington — his father-in-law and Senate Majority Leader Mitch McConnell, both of whom embrace the traditionally Republican tough-on-crime stance — to make the criminal justice system less punitive.
The bill cleared a procedural hurdle in the Senate on Monday evening, 82 to 12, a vote margin that belies the arduous effort to overcome initial opposition from conservatives. Final Senate passage is expected later this week and the legislation is expected to easily get through the House and to the White House for Trump's signature.
Called the First Step Act, the legislation would undo some of the sentencing crackdowns of the 1990s and create programs to reduce prisoner recidivism.
It would allow low- and minimum-risk prisoners to earn time credits for early release to either reentry centers or home confinement; reduce some mandatory minimum sentences, including those imposed by so-called three-strikes laws that automatically result in life imprisonment; and allow reviews of sentences that reflect significant disparities between harsh punishments for crack cocaine use, which disproportionately involve minorities, and lesser penalties for powder cocaine.
Kushner, driven by the experience of his father's 14-month prison sentence for tax evasion and other crimes, has made prison and sentencing changes a priority since the beginning of the Trump administration. But unlike loftier goals Kushner has embraced, such as peace between Israel and Palestinians, criminal justice reform is likely to be signed by the president.
Kushner helped work on policy details and knew where the political fault lines would be, according to lawmakers. He was on the phone repeatedly with other advocates to discuss strategy and next steps. He personally lobbied senators, including McConnell, who openly was not eager to make time for a Senate vote. And he served as a bridge to conservative media, which could have blown up the effort with even a whiff of opposition.
"There would be some very outspoken right-wing [opponent] and [Kushner] would tell me, 'I called him this morning. I straightened him out and now he's going to be OK,'" said Democratic supporter Sen. Richard J. Durbin of Illinois, declining to name the commentator. "I'm thinking, 'Who would have dreamed that a bill I'm cosponsoring would be OK with this person?'"
Advocates of the criminal justice overhaul tried to pass a similar bill at the end of the Obama administration, only to be stymied by congressional Republicans. They had little hope of getting it through during the Trump administration given the president's campaign rhetoric on crime, including a call to execute drug dealers, and because of the fierce opposition of his first attorney general, Jeff Sessions.
"This is a president that ran on American 'carnage,'" said Jessica Jackson, a Mill Valley, Calif., City Council member who started the advocacy group #cut50 with liberal CNN host and commentator Van Jones. "I thought everything was over."
"I'm a Democrat," Jackson said, but "Jared is politically brilliant and he's relentless and he's also extremely loyal. If he tells you he's going to do something, he does it."
Kushner started early. He made his support for criminal justice changes known to the leaders of the bipartisan congressional effort — including Durbin, the Senate's second-ranking Democrat, and Republican Sen. Charles E. Grassley of Iowa, chairman of the Senate Judiciary Committee — within weeks of Trump's inauguration.
Sen. Mike Lee (R-Utah), another architect of the plan, knew Kushner was taking the issue seriously when Kushner started dropping "the very precise nomenclature thrown around by criminal justice reform geeks" — for example, citing the relevant U.S. criminal code lines by their numbers.
While Kushner's initial goal was prison reform, which is an easier sell with conservatives, it quickly became clear that had to be paired with sentencing reform to get the backing of Grassley and Durbin.
Perhaps the biggest obstacle was McConnell's reluctance to bring up a bill that would unify Democrats and divide Republicans, handing the opposition a potential political cudgel in the 2020 campaign. He told a group of Republican advocates in September that he would bring the bill to the Senate floor only if it was endorsed by Trump and they secured 65 votes — five more than the minimum number needed to overcome procedural roadblocks.
Given the goal, Kushner relentlessly lobbied reluctant Republican senators to get on board, according to sources familiar with the discussions.
He called "everybody — and often," said Sen. John Cornyn of Texas, the No. 2 Senate Republican, whose late endorsement was part of a groundswell that made clear that enough Republicans would support the legislation. "He was dogged."
On numerous occasions he lobbied McConnell directly, even trying to figure out the Republican leader's dinner companions so that he could lobby them before their meal.
Advocates of the First Step Act also rallied high-profile celebrity supporters, such as Kim Kardashian West, which demonstrated to the media-obsessed Trump the positive publicity he could get. Kushner worked with Jones, and eventually got support from celebrities including Alyssa Milano and former Fox News host Eric Bolling.
"Jared Kushner absolutely was one of the main conduits," Bolling said.
The dam broke this month when Trump tweeted "go for it, Mitch" and several noteworthy conservatives backed the bill, including Sens. Cornyn, Thom Tillis of North Carolina and Ted Cruz of Texas.
Lee, the Republican senator allied with Kushner, said: "One of the things I've appreciated about him is he doesn't cut corners with this. I haven't seen him abuse the position of trust as the president's son-in-law. He doesn't throw that around."
Everyone in Washington knows Kushner's trusted place in the Trump orbit; members of Congress return his phone calls and know he speaks for the president, at least as much as anyone can. Yet when Vice President Mike Pence came to a meeting of Senate Republicans to lobby on the bill last month, Kushner was deferential; attendees said he sat in the room but barely said a word.
The bill does have significant critics. Sens. Tom Cotton (R-Ark.) and John Kennedy (R-La.) argue that it could allow dangerous criminals to get early release, and have proposed a series of amendments that could get votes this week. Still, passage is considered all but certain.
jennifer.haberkorn@latimes.com
---
Life is stressful. Our weekly mental wellness newsletter can help.
You may occasionally receive promotional content from the Los Angeles Times.