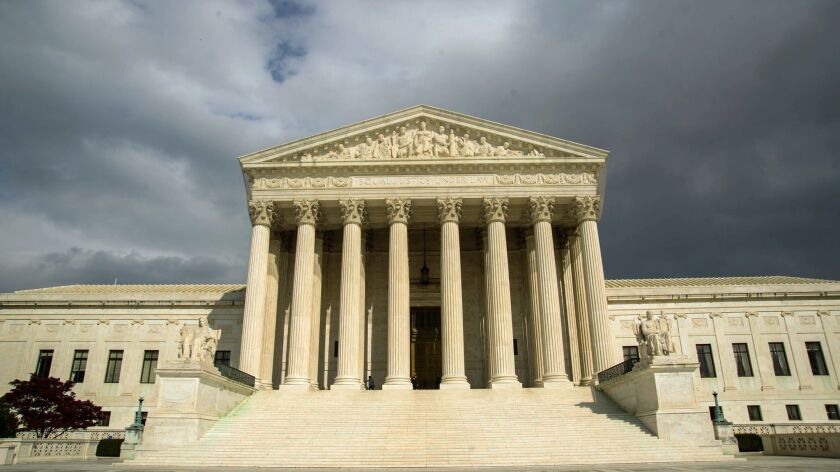 Reporting from Washington —
The Supreme Court refused Tuesday to block a subpoena issued to an unnamed corporation, owned by a foreign government, ending a mystery dispute in the courts reportedly involving the investigation into Russian election meddling.
The outcome is believed to be a victory for special counsel Robert S. Mueller III, who is seeking to learn about the flow of foreign money that may have played a role in the 2016 campaign.
But most of the details of the dispute, including the name of the foreign country, remain unknown.
Like other federal investigations, Mueller presented evidence to a grand jury, and by law, the proceedings of the grand jury are kept secret to shield people who are innocent of wrongdoing.
Sometimes people or companies object to providing testimony or documents to the grand jury, and if so, they can appeal to a federal judge. These proceedings, too, are kept secret.
A federal judge in Washington and the U.S. Court of Appeals here refused to quash the subpoena. The mystery company filed an appeal under seal with Chief Justice John G. Roberts Jr. It was the rare case in which the legal issues — and even the party to the case — were not revealed.
The Washington Post, CNN and others have reported that the subpoena was issued by the grand jury that has been reviewing evidence in the Russia investigation.
Lawyers who had followed the dispute speculated that the foreign company could have argued that federal law provides legal immunity for foreign nations. However, that immunity can be waived if the entity does business in the United States.
Last month, Roberts granted a temporary stay to the foreign firm, signaling the court may be willing to take up its claims.
But on Tuesday, the court issued a brief order titled "In Re Grand Jury subpoena."
"The application for stay, presented to the chief justice and by him referred to the court, is denied. The administrative stay previously entered by the chief justice is vacated," it said. This returns the case to the federal court and allows Mueller to enforce the subpoena.
Jonathan Turley, a George Washington University law professor, said he wasn't surprised that Mueller's office refused to give up the legal scuffle.
"Prosecutors don't usually abandon subpoena fights," he said.
It's unclear how important the subpoena will be. "You can't say this is the holy grail of the special counsel investigation," Turley said. But it "reinforces the view that Mueller is diving deeply into potential financial crimes."
The secrecy is not surprising, he added. "It's not as unusual as people may think," he said. "The court does not want to compromise a grand jury investigation."
More stories from David G. Savage »
Twitter: DavidGSavage
---