The nation mourns Sen. John McCain, and Trump takes it as a rebuke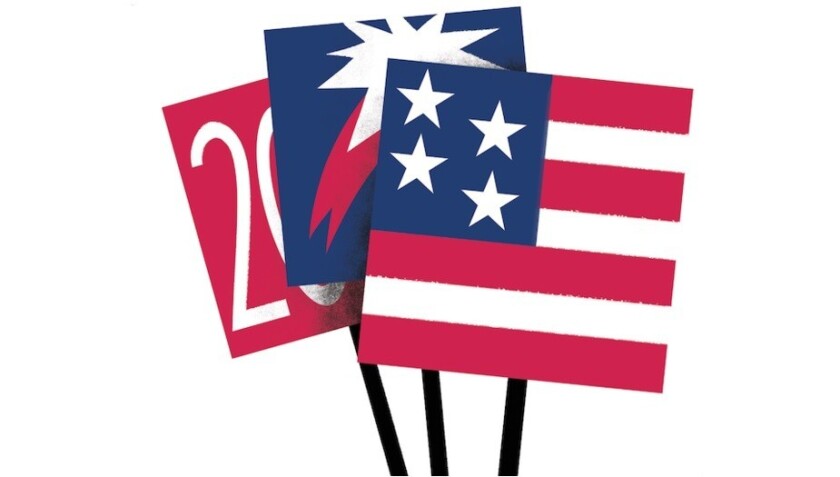 Reporting from Washington —
The deaths of senators — even prominent ones — seldom dominate headlines outside of their home states, which makes the weeklong memorial to Sen. John McCain all the more extraordinary.
In eulogizing McCain, one speaker after another has mourned the passing of a style of politics he represented — not bipartisan, because he wasn't, but open to working with the other side. The remarks formed an implicit, sometimes explicit, criticism of the president whose feud with the senator has survived even death.
President Trump clearly resents the attention McCain has received. His public shows of pique have served only to draw more attention to the Arizona senator.
Sign up for the Essential Politics newsletter »
IF YOU CAN'T SAY SOMETHING NICE
Candidate Trump's campaign-season attack against McCain — "He's not a war hero … I like people that weren't captured" — provided a signature moment during the early days of the presidential contest. His political success after that remark alerted Republican operatives that voters they had thought of as theirs were really his.
Thereafter, Trump never made much effort to mend relations with the senator. McCain returned the favor, publicly not endorsing Trump.
The enmity only deepened last year when McCain, with a dramatic late-night thumbs down, killed the Republican effort to repeal the Affordable Care Act — the administration's most damaging legislative defeat.
Whatever mix of jealousy, political differences and personal pique drove the feud clearly extended beyond McCain's death.
The senator carefully planned his memorials as, in part, an extended public rebuke to Trump. The president responded in kind, not ordering the American flag at the White House lowered until veterans' groups chastised him, as Eli Stokols wrote, and repeatedly refusing to publicly comment about McCain.
In an interview Thursday with Bloomberg, Trump even refused to answer when asked if McCain would have made a better president than Barack Obama, whom he typically disparages.
"I don't want to comment on it .… I have a very strong opinion, all right," he said. He joked that his press secretary, Sarah Huckabee Sanders, was "having a nervous breakdown" as she watched how he handled the question.
Trump's recalcitrance has only heightened the attention on McCain, whose memorials have dominated news coverage all week. The celebration of the senator is scheduled to reach a peak on Saturday, when Obama and fellow former President George W. Bush will eulogize him at the National Cathedral.
We'll be reporting on the memorial as it happens. Follow the event with us at latimes.com.
Trump, of course, was not invited. As Noah Bierman wrote, his exclusion from such public events, including Prince Harry's wedding in Great Britain and the funeral of Barbara Bush, illustrates the near-pariah status to which Trump has sunk in elite circles.
That sort of elite shunning, of course, has stoked the sense of grievance and exclusion that Trump uses to form a bond with his conservative, working-class supporters.
Meanwhile, as Jennifer Haberkorn wrote, Arizona Gov. Doug Ducey faces a difficult task in picking McCain's temporary successor.
And as Don Lee wrote, McCain's death means that a powerful Senate committee will become more pro-Trump, assuming that Republicans keep control of the Senate in this fall's election.
PROXY WARS — TRUMP VS. THE DEMOCRATIC LEFT
Whether Republicans will maintain Senate control — they're currently favored to do so — will depend in part on what happens in McCain's home state.
In Tuesday's primary to replace Sen. Jeff Flake, who's retiring, Rep. Martha McSally easily defeated two candidates from the Republican far right to win the GOP nomination. She'll face Rep. Kyrsten Sinema in a contest that's currently a toss-up.
As Mark Barabak wrote, McSally has refused to say if she voted for Trump in 2016, a silence widely interpreted as evidence that she did not. She had little choice, however, but to embrace Trump to win the nomination.
In the general election, McSally hopes to keep the loyalty of more conservative voters by portraying Sinema as a candidate of the left, despite the Democrat's fairly moderate voting record. Democrats hope that Trump's unpopularity outside of Republican ranks will motivate a big turnout of minority voters to help push their side over the top.
A similar dynamic will shape the governor's race in Florida, which saw a major upset in its primary Tuesday. Andrew Gillum, the 39-year-old mayor of Tallahassee, won the Democratic nomination, defeating several other candidates, including the establishment favorite, former Rep. Gwen Graham.
Gillum is the first African American to win a major party's nomination for governor in Florida — one of three black Democrats seeking governorships this year. His race against Rep. Ron DeSantis, a Trump acolyte and Fox News commentator, will be among the most intensely watched contests of the year. The battle immediately started out on a racially charged note, Jennie Jarvie wrote.
A TRADE DEAL, OR A HEAD FAKE?
The administration made a big show on Monday of announcing a preliminary deal with Mexico to revise NAFTA, as Don Lee wrote. But, as he noted, "preliminary deal" is a bit of an oxymoron — the parties either have a deal or they don't, and as of Monday, they didn't, with lots of important details yet to be resolved.
The biggest issue now is whether Canada will join the tentative agreement. Trump is hoping to use the announcement with Mexico as leverage against the Canadians.
As Lee wrote, Trump's threat to cut Canada out of the new NAFTA isn't really credible — neither Mexico nor Congress seems willing to go along with that. Still, the pace of negotiations has put a lot of pressure on Canadian Prime Minister Justin Trudeau and his government.
Negotiators have been working all week, and a Canada deal could be announced today, although talk of a Friday deadline has been mostly for show.
WHEN IS IT LITERAL?
The debate over trade policy provides another window into one of the toughest questions for those who observe Trump: When does he actually mean what he says?
As Stokols and Bierman wrote, even Trump's aides often wonder if he serious or just venting.
Sometimes, as when he threatened to take away security clearances from his critics, he means exactly what he says, even if others insist that he's just blowing off steam. Other times, his statements are exercises in pure fantasy.
White House staff members spend a lot of their time trying to figure out whether their boss expects them to take his words literally.
"There are definitely times you come out of meetings and say, 'How did you take that?'" said Marc Short, until recently Trump's director of legislative affairs.
MORE TURNOVER
The Trump White House has seen more high level departures more quickly than any other administration in memory. This week, White House Counsel Donald McGahn became the latest, with his dismissal announced by Trump on Twitter.
McGahn had been widely reported to be planning to leave sometime this fall, but Trump's tweet, taking the decision out of his hands, caught him by surprise. Trump's been stewing over a New York Times story that detailed the lengthy cooperation McGahn has provided to prosecutors from special counsel Robert S. Mueller III's investigation.
Speaking of the investigation, we know it's hard to keep up with all of the developments in the case. So for those who want a refresher, Chris Megerian offers answers to your questions about the Russia investigation.
KAVANAUGH SAILING FORWARD
McGahn's biggest impact at the White House has come from his successful effort to get large numbers of young, conservative judges placed on the federal bench.
The crowning achievement would be the confirmation of a second Supreme Court justice. Hearings for the administration's nominee, Brett Kavanaugh, are scheduled to begin Tuesday.
We have extensive coverage planned, follow it all at latimes.com.
As Haberkorn reported, Kavanaugh has signaled skepticism over the GOP's latest bid to overturn Obamacare in the courts. That's reassured some Democrats, but could trouble some conservative Republicans.
Still, the issue doesn't seem likely to change any senators' votes. Barring new information, Kavanaugh appears set to be confirmed later in the month by a narrow margin.
Issues related to Obamacare could easily end up in front of him. As Noam Levey wrote, there are several court cases that could change healthcare nationwide that may land at the Supreme Court.
Voters, meantime, appear likely to further expand a key part of the healthcare law. Measures to expand Medicaid are on several state ballots this fall in conservative states and have drawn considerable support, Levey wrote.
A SPACE FORCE BOOST, A 9/11 LEGACY
Trump's proposed 'space force' could be a big boost for Southern California's aerospace industry, David Cloud writes. That would be an ironic result, given Trump's consistent hostility to all things Californian.
The Justice Department weighed in on a major affirmative action case, backing Asian Americans suing Harvard over its admissions policy, Jaweed Kaleem and Teresa Watanabe write.
And Del Wilber offers a reminder that Sept. 11 is still killing FBI agents, with 15 deaths from cancer so far among agents who were first responders.
"It's like Bin Laden reaching out from the grave," said FBI agent Thomas O'Connor, president of the FBI Agents Assn.
LOGISTICS
That wraps up this week. Until next time, keep track of all the developments in national politics and the Trump administration with our Essential Washington blog, at our Politics page and on Twitter @latimespolitics.
Send your comments, suggestions and news tips to politics@latimes.com.
If you like this newsletter, tell your friends to sign up.
---
Get our Essential Politics newsletter
The latest news, analysis and insights from our politics teams from Sacramento to D.C.
You may occasionally receive promotional content from the Los Angeles Times.