Trump, in Japan, sides with Kim Jong Un in war of insults with Joe Biden
Reporting from Tokyo —
President Trump spent his first morning in Japan on Sunday stoking new controversies, as he sided with North Korean leader Kim Jong Un in a war of words with former Vice President Joe Biden and appeared to dismiss concerns from his Japanese hosts that Kim's recent missile tests pose a security threat.
The president's latest provocative words came in a tweet on the first day of a three-day trip that is supposed to be high on symbolism and goodwill for America's close allies in Japan.
Instead, Trump underscored his unwillingness, at home or abroad, to refrain from divisive rhetoric. Most leaders try to avoid engaging in domestic politics while on foreign soil; few if any have publicly sided with an autocrat against an American political rival.
"North Korea fired off some small weapons, which disturbed some of my people, and others, but not me," Trump tweeted. "I have confidence that Chairman Kim will keep his promise to me, & also smiled when he called Swampman Joe Bidan a low IQ individual, & worse. Perhaps that's sending me a signal?"
Kim's recent missile tests have alarmed Japanese Prime Minister Shinzo Abe, given Japan's proximity to North Korea.
And just hours before Trump's tweet, U.S. National Security Advisor John Bolton told reporters based here that the tests violated a U.N. security resolution, echoing Abe's words in what was seen as an effort to calm Japanese fears and keep international pressure on Kim's government.
But Trump, who still holds out hope of cutting a nuclear disarmament deal with Kim, undercut Bolton's claim and potentially embarrassed Abe with his tweet.
The president also appeared to make common cause with North Korea in its attacks on Biden, the front-runner for the Democratic presidential nomination.
North Korean state media in recent days referred to Biden as a "fool of low IQ" and an "imbecile bereft of elementary quality as a human being" after Biden gave a speech calling Kim a tyrant and criticizing Trump for his close relationship with the North Korean dictator. In addition to siding with Kim against Biden, Trump also misspelled the former vice president's name.
The tweet was among several Trump sent before a round of golf with Abe, the start of a long weekend that Japan hopes will mark a high point in the country's long effort to woo the president.
The state visit by the president and First Lady Melania Trump — highlighted by a meeting with Japan's new emperor, Naruhito, and a sumo match — is intended to showcase the U.S.-Japanese alliance, according to the White House, despite Trump's harsh criticism of the $68-billion trade imbalance in 2017 between the countries.
Japan has sought to cement closer ties with the Trump administration as North Korea continues to build up its nuclear arsenal, and as China has grown increasingly assertive in the economies and strategic calculations of other Pacific Rim nations.
Tokyo is receiving Trump in a "festive mood," predicted Ichiro Fujisaki, a former Japanese ambassador to the United States.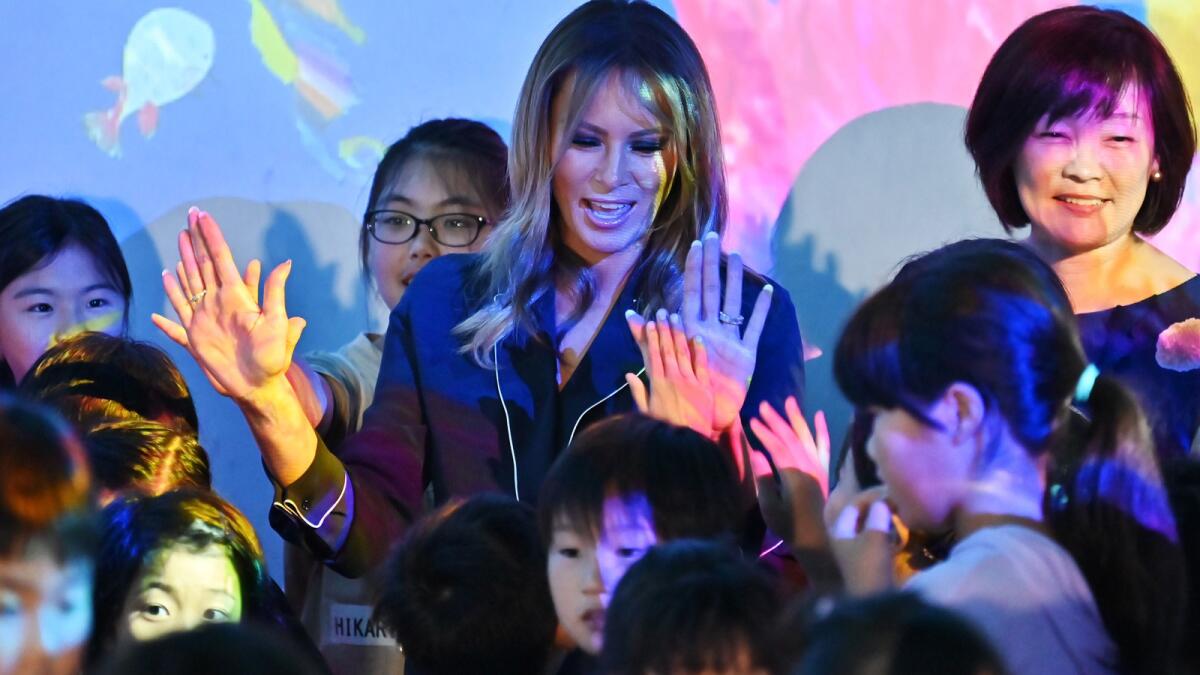 There were no protests Saturday or Sunday, as there often are when the president visits Europe. A strong earthquake centered about 50 miles south of Tokyo shook buildings in the capital shortly before Trump's arrival, though it did not cause any serious damage or disrupt the visit. Trump, after landing late Saturday, delivered remarks at a dinner with Japanese business leaders, teasing them over the trade imbalance while urging more investment.
"This is a great introduction to Japanese culture for the president, but it's also a clever way of connecting him with the Japanese people," said Nicholas Szechenyi, a Japan scholar at the Center for Strategic and International Studies, a nonpartisan think tank in Washington.
Trump will attend a sumo wrestling tournament Sunday and will award the "Trump Cup" to the winner. Unlike Japanese fans, who sit cross-legged on mats in the arena, Trump and his entourage will get chairs.
Abe, who will watch the sumo match with Trump after their golf game, has spoken with Trump either by phone or in person more than 40 times since the 2016 election, easily outpacing other world leaders in winning Trump's attention.
Trump is a longtime fan of American professional wrestling, a more staged form of the sport. He was in the ring for a match more than a decade ago and had a former wrestling executive, Linda McMahon, serving in his Cabinet as administrator of the Small Business Assn. until this year.
On Monday, Trump will become the first foreign leader to visit the new emperor and later will attend a formal dinner at the Imperial Palace. Trump will also meet with Abe and is expected to hold a news conference.
Administration officials said the two leaders will discuss trade, but they are not expected to announce an agreement to head off Trump's threats to impose automobile tariffs. Trump told Fox News correspondent John Roberts on Sunday that he does not expect a deal until after July.
Trump also will visit a naval base south of Tokyo that is used by both Japanese and U.S. forces. The visit takes place Tuesday, but is meant to commemorate Memorial Day in the States.
Trump plans to return to Japan on June 28 for the Group of 20 economic summit in Osaka. He is expected to hold more substantive talks with Abe then, as well as meet separately with China's president, Xi Jinping and Russia's president, Vladimir Putin, on the sidelines of that summit.
Staff writer Victoria Kim contributed from Seoul.
Get our Essential Politics newsletter
The latest news, analysis and insights from our politics team.
You may occasionally receive promotional content from the Los Angeles Times.