Trump personal attorney John Dowd resigns in shake-up of president's legal team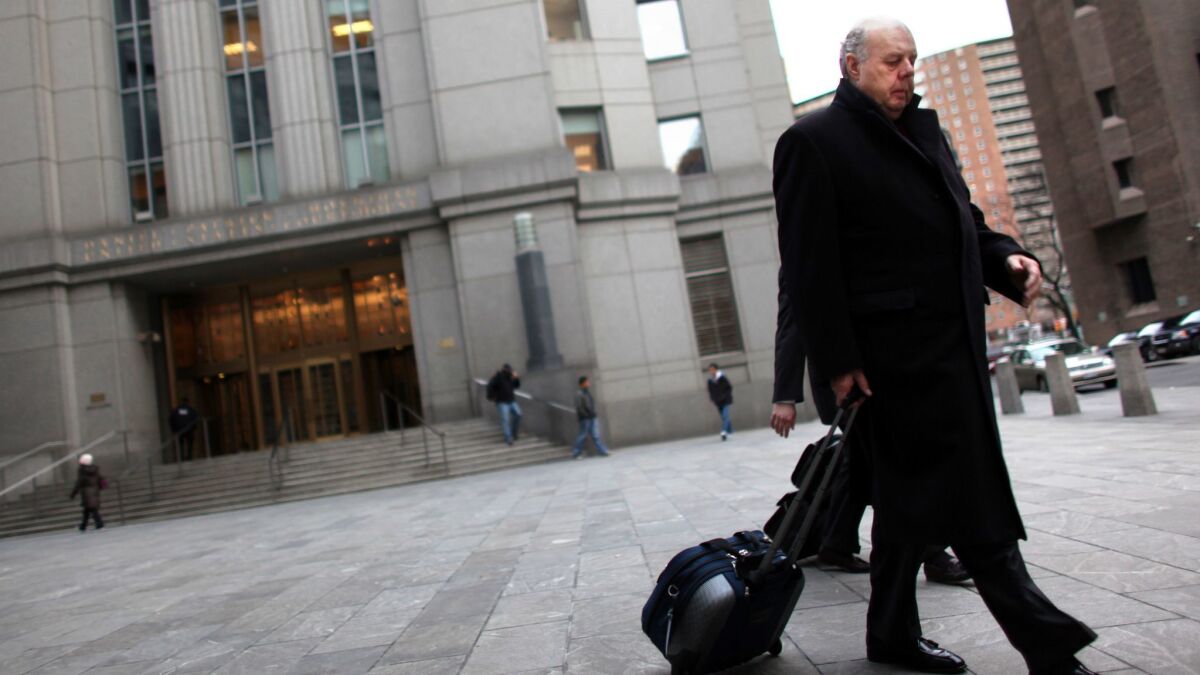 Reporting from Washington —
President Trump's legal team and strategy for the sprawling Russia investigation appeared in disarray Thursday after the lawyer negotiating a possible presidential interview with special counsel Robert S. Mueller III abruptly resigned.
The departure of John Dowd, who served as a Justice Department prosecutor before he became a white-collar defense attorney, leaves unclear who will guide Trump through a crucial stage of a criminal case that threatens his administration.
The move follows Trump's decision Monday to hire Joseph DiGenova, a Washington lawyer who has publicly accused the FBI and Justice Department of "trying to frame" the president with false charges, signaling a more combative response to the Mueller investigation.
The upheaval in Trump's legal team reflects the broader chaos in the White House, where turnover is at record levels. In recent weeks, Trump fired his secretary of State, his communications director quit and some senior aides were ordered to leave after problems with security clearances.
Mueller is investigating whether Trump campaign aides colluded with Russian meddling in the 2016 election, and whether the president obstructed justice after taking office by trying to derail the criminal inquiry.
The investigation has resulted in criminal charges against 19 people so far, including four former Trump advisors. Three of the four, including former White House national security advisor Michael Flynn, have pleaded guilty and are cooperating with Mueller, although none of their charges involves illegal collusion with Russia.
In recent months, Dowd has led negotiations with Mueller's team over whether prosecutors will be able to interview Trump, and under what conditions. Trump said Thursday he remained committed to speaking with Mueller, a step that he hoped could bring to a close an investigation he has called a "witch hunt."
"Yes, I would like to," Trump said in response to a reporter's question at the White House.
The president has clearly chafed as the Mueller investigation has continued, despite assurances from his lawyers that it would wrap up by the end of last year. Trump publicly attacked Mueller by name for the first time on Saturday.
"The Mueller probe should never have been started in that there was no collusion and there was no crime," he said on Twitter.
Trump also accused Mueller, a Republican who served as FBI director under Presidents George W. Bush and Barack Obama, of stocking his team with "13 hardened Democrats" and "zero Republicans."
The swerving between cooperation and truculence has reflected how Trump has handled the investigation, leaving even some allies scratching their heads. By most accounts, the president is not an easy client, trusting his gut instincts instead of expert guidance and freelancing opinions from a variety of sources.
Trump is also represented by Jay Sekulow, a conservative attorney, and Ty Cobb, who works in the White House. In a statement, Sekulow praised Dowd as a "valuable member of our legal team" and vowed to press forward.
"We will continue our ongoing representation of the president and our cooperation with the Office of Special Counsel," Sekulow said.
Since taking office, Trump has struggled to hire the kind of seasoned lawyers who normally relish a chance to work directly for a president.
This week, Theodore Olson, who served as U.S. solicitor general under President George W. Bush and is one of Washington's most respected litigators, declined an offer to join Trump's team, according to a source with knowledge of the exchange.
Trump has tried to downplay the obvious turmoil in his legal lineup.
"The Failing New York Times purposely wrote a false story stating that I am unhappy with my legal team on the Russia case and am going to add another lawyer to help out. Wrong. I am VERY happy with my lawyers," he said on Twitter on March 11.
Eight days later, he hired DiGenova, who had appeared on Fox News to denounce the investigation into the president.
"It wasn't the Russians who corrupted the presidential election," DiGenova said on March 7. "It was the American officials at the Department of Justice and the FBI."
Dowd, 77, had taken a more low-key approach.
"He's not a television lawyer. He's not a guy who takes his case public," Alan Dershowitz, a constitutional and criminal law scholar who is an emeritus professor at Harvard Law School. "He writes reports, he works inside, he produces documents."
Dowd is perhaps best known for investigating gambling allegations against former baseball star Pete Rose. After the publication of Dowd's report, Rose was banned from Major League Baseball.
The president hired Dowd in June when Marc Kasowitz, a lawyer who had represented Trump for years in New York, was playing a lead role in managing the Mueller investigation. Dowd was supposed to serve in an "advisory capacity" to Kasowitz, who had less experience in Washington, according to a source familiar with the legal team.
"He was viewed as an elder statesman," the source said. "He was not supposed to be in charge."
Follow live coverage of the Trump administration on Essential Washington »
That changed when Kasowitz left the team in July and Dowd took on a more central role in dealing with Mueller.
But Dowd ended up generating his own controversy. Last year he raised eyebrows by arguing it wasn't legally possible for Trump to obstruct justice by interfering with the Russia investigation. As president, Dowd argued, Trump had executive authority over the Justice Department and thus could issue any orders to them.
He also claimed to have written a Twitter message where Trump suggested he knew Flynn had lied to FBI agents when he fired him. The message was potentially problematic because it implied the president knew his former national security advisor was under criminal scrutiny when he ousted FBI Director James B. Comey.
Last week, after Atty. Gen. Jeff Sessions fired former FBI Deputy Director Andrew McCabe, a frequent target of Trump's anger, Dowd said the last-minute dismissal — 26 hours before McCabe had planned to retire — set a "courageous example" and the Justice Department should "bring an end" to Mueller's investigation.
Dowd initially said he spoke on behalf of the president, but later said he spoke only for himself. Trump's other lawyers quickly insisted they were still cooperating with Mueller.
Amid the confusion, Dowd stepped down Thursday with only kind words for Trump. "I love the president and wish him well," he said.
---
UPDATES:
3:05 p.m.: The article was updated with additional details about Trump's legal team and strategy.
10:15 a.m.: The article was updated with a comment from President Trump.
9:05 a.m.: The article was updated with staff reporting.
The article was originally published at 8:30 a.m.
---
Life is stressful. Our weekly mental wellness newsletter can help.
You may occasionally receive promotional content from the Los Angeles Times.