Kamala Harris celebrates Oakland, but the feeling isn't necessarily mutual
Reporting from Oakland —
When Kamala Harris considered places to launch her White House bid, she had options: Washington, where she serves in the U.S. Senate; Sacramento, where she served as state attorney general; San Francisco, where she began her political career as district attorney.
She chose Oakland, where she was born, even though she lived next door in Berkeley until age 12, when Harris moved with her family to Montreal. (The latter would have been a no-brainer if she were running for Canadian prime minister.)
The result was a brilliant display of political pageantry, a spillover crowd topping 20,000 and a showcase moment for a city more often noted for crime, homelessness and abandonment by its professional sports teams.
Even the sun shone.
Not all, however, reveled in Harris' celebratory moment. To some in Oakland, a city of tender pride, the homecoming rang false, like a distant relative showing up just long enough to pose for a smiling family portrait.
"I would consider her more a San Franciscan than of Oakland," said David Omosheyin, 57, pausing as he crossed the downtown plaza where the Democratic hopeful staged last month's splashy rally. "It was a political move."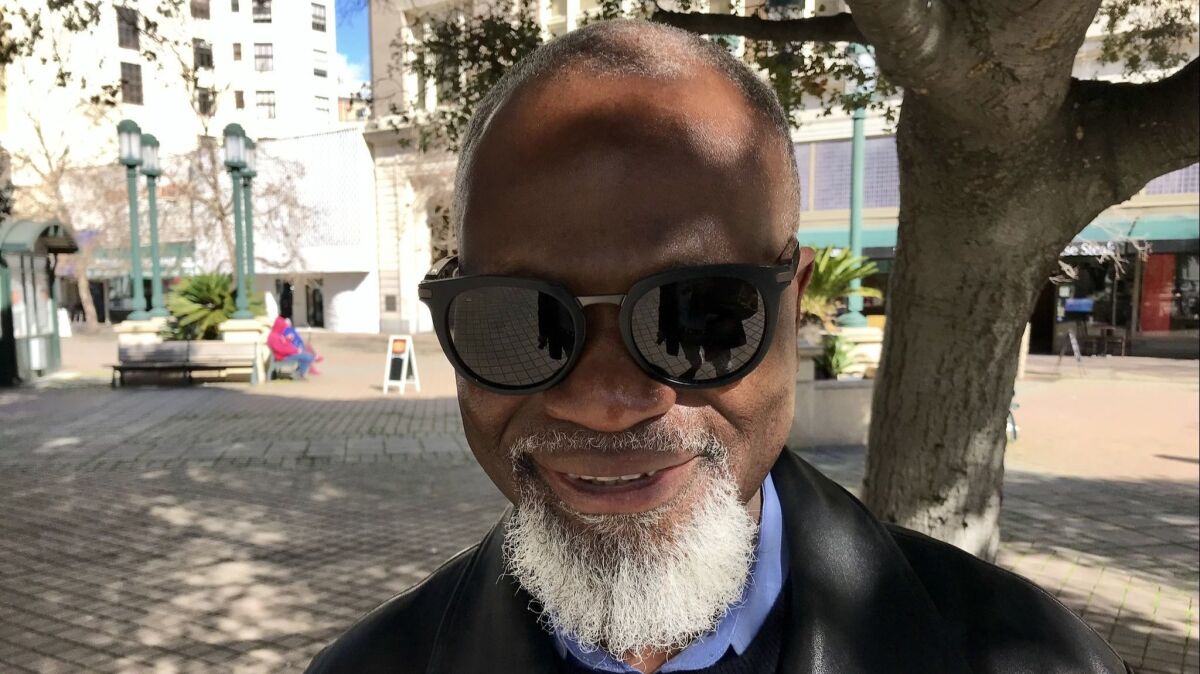 Bobbie Council, who was born and has spent all 49 of her years in Oakland, saw Harris' path-breaking candidacy as an inspiration but not some kind of fairy tale moment — local girl makes good! — come to life.
"To really be an Oakland native and be a part of the town, you got to put some roots in here," said Council, an employee in the city's Public Works Department. "It has to be where you were walking through these streets and you were with us in the struggle from one decade to the next."
Kamala Harris emerges as a 2020 front-runner, but is that a good thing? »
Every campaign comes wrapped in symbolism, cues intended to convey a candidate's values and promote his or her vision. For Harris, Oakland is one of those totems — a city with a rich and resonant history of black aspiration and achievement.
She is often compared to Barack Obama, for obvious reasons. He made history as the country's first black president. She hopes to become the country's first black woman president. Both were freshman senators, possessed of more charisma than national experience, when they announced their candidacies.
Unlike Obama, however, who started as an exceeding longshot against Hillary Clinton and gained traction by wooing and winning white support, Harris starts near the front of a crowded Democratic field and counts heavily on emerging as the favorite of black voters, a core constituency, to break from the pack.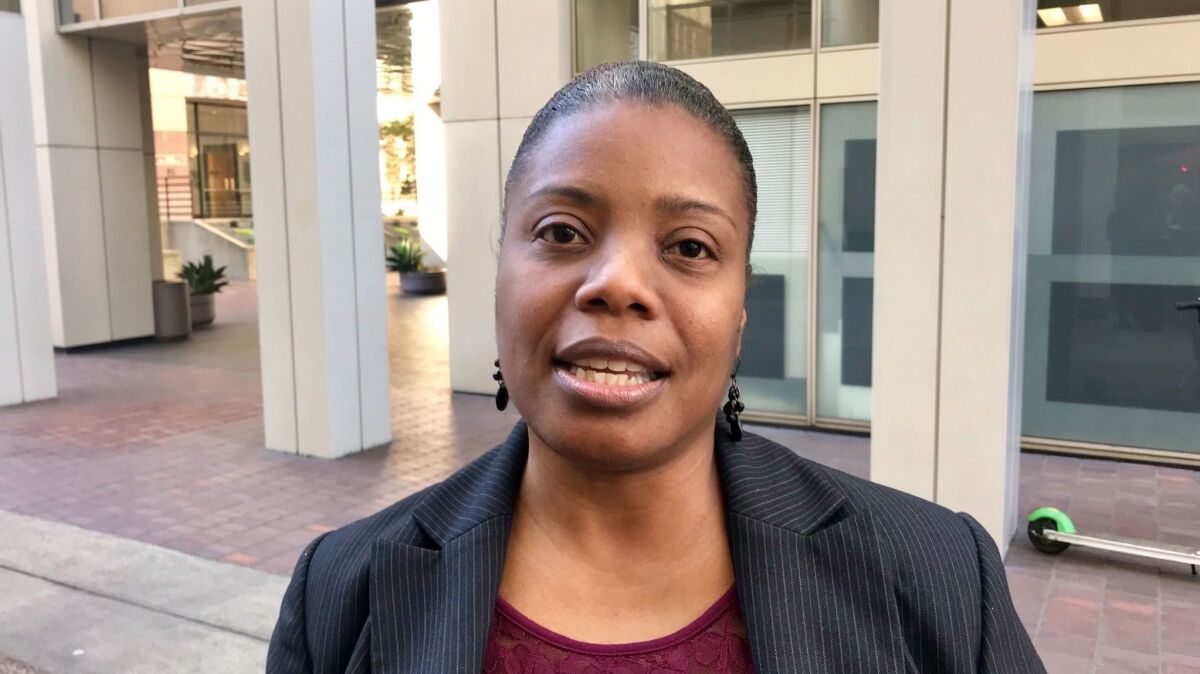 There's no shyness about the strategy.
Harris announced her candidacy on the Martin Luther King Jr. holiday; held her first news conference at her alma mater, the historically black Howard University; and made her first campaign stop at a black sorority gala in South Carolina, all before landing on the steps of Oakland City Hall, where she made the announcement official.
(The locale had another autobiographical advantage, presenting neither the hippy-dippy radical image of Berkeley nor the repute of San Francisco as an embodiment of effete Left Coast liberalism.)
What is her record in driving policy and effecting change in communities in Oakland? If she's saying she's a native, let's look at her record.
— East Oakland resident Philliph Drummond
Oakland has long defined itself by what it's not, which is to say the prettified and pretentious city across the bay. If San Francisco is white gloves and executive suites, Oakland sees itself as calloused hands and backs bent in honest labor.
Constantly overshadowed, the city has developed both an inferiority and superiority complex, resentful of its better-off and better-known neighbor but swaggering with faith in Oakland's toughness and grit.
That has changed some as the city has grown wealthier and less blue-collar, turning into a refuge for those priced out of impossibly expensive San Francisco. That, in turn, has made Oakland more costly, chasing many — especially its less-affluent black residents — to ever more far-flung reaches.
"It's no longer Oakland. It's San Francisco east, and it's getting worse by the minute," said Al Marshall, 57, who works as a construction inspector and stopped outside City Hall on his way to lunch. The plaza, filled wall-to-wall on the day of Harris' event, was mostly empty, save for a clutch of street people, a few picnickers and a young man in a Golden State Warriors headband, pounding a tom-tom beat on an overturned plastic bin.
Marshall, Oakland born and raised, said he has vaguely heard of Harris, who seems impressive but not what he considers a local personality. "It has to be someone who truly grew up here, put in work here. If she had been here doing all that, her name would be ringing in my head," he said, as he raised his arms and made small circles around his ears.
Not everyone, of course, drew a distinction between Harris' place of birth and Oakland's pride of place.
Outside the city's main library, near the Alameda County Courthouse where Harris served eight years as a prosecutor, Corinne Haskins, 73, saw no essential difference between Oakland and Berkeley, which companionably sit side-by-side on the less-snooty side of the bay.
"As far as I'm concerned, she's Oakland," she said of Harris, though Haskins allowed as how others may see things differently. "Everybody's got a border wall, I guess, of some sort," she said with a gale of laughter before leaving with an armload to read.
There is no question Harris will easily carry Oakland — along with the rest of California — should she win the Democratic nomination. President Trump received less than 5% of the city's vote and, if anything, is even less popular now.
But being black and born within city limits hasn't spawned a sudden outbreak of Harris-mania, or offered any guarantee she will be Oakland's choice in a crowded and hard-fought primary.
Philliph Drummond, seated on a bench outside City Hall, echoed others when he said it was far too early to commit to any candidate. The 39-year-old IT professional could support Harris. But he's also intrigued by her fellow Democrats Elizabeth Warren, a senator from starchy Massachusetts, and John Hickenlooper, an ambling former Colorado governor who has about as much street cred as a milk cow.
"I'd like to see how the primary unfolds," Drummond said over the pounding tom-tom rhythm. "The more, the merrier."
---
Life is stressful. Our weekly mental wellness newsletter can help.
You may occasionally receive promotional content from the Los Angeles Times.