Kamala Harris was shaped by the crucible of San Francisco politics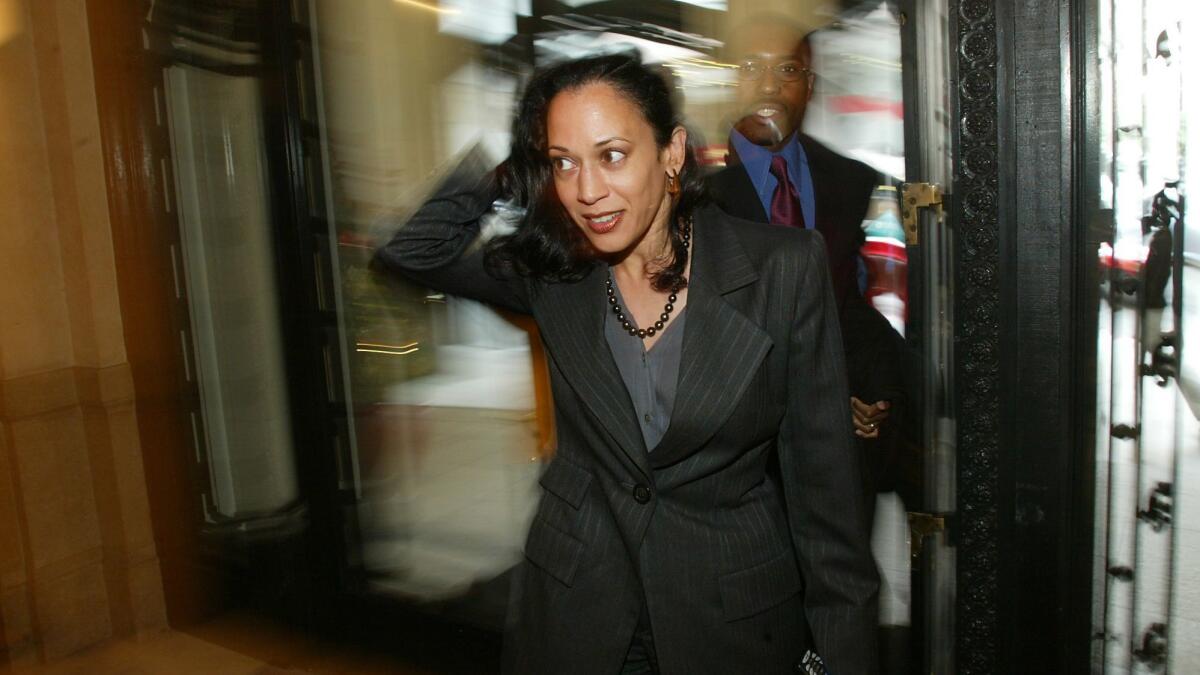 When Kamala Harris looks back on her first campaign, a run for San Francisco district attorney, she remembers a brutal awakening.
"San Francisco is hard-knocks politics," the freshly declared 2020 White House hopeful once said in an interview. "People sling mud. They punch the gut."
San Francisco is indeed a crucible that has forged state and national political leaders in numbers far out of proportion to the city's relatively small size, including House Speaker Nancy Pelosi, California Gov. Gavin Newsom and Harris' fellow U.S. senator, Dianne Feinstein.
If she wins, Harris, 54, who announced her candidacy Monday, will be the first to take the lessons of San Francisco close-quarters combat and apply them at the presidential level.
Her rivals could soon see the mix of cold calculation, relentless fundraising and force of personality that drove Harris' quick rise, starting with the overthrow of her old boss in the prosecutor's office. It set her on a path to statewide office and, barely two years into her Senate term, a top-tier try for the White House.
To win that first campaign in 2003, Harris overcame steep odds and weathered stinging personal attacks; perhaps none rankled as much as winking allusions to a past romance with the city's kingmaker, former Assembly speaker and Mayor Willie Brown.
But she gave as good as she got, even crossing a line or two. The city Ethics Commission fined Harris $34,000 for breaching a spending cap she promised to honor, and her campaign manager was caught impersonating a volunteer for a rival in a bungled attempt to gain inside information.
San Francisco Dist. Atty. Terence Hallinan had hired Harris in 1998 to lead his career-criminal unit. He shared her liberal views on crime-fighting, including opposition to the death penalty.
After a couple of years, Harris, displeased with Hallinan's management of the D.A.'s office, left for the city attorney's office, where she headed the children and family services unit.
When Hallinan sought a third term in 2003, he was vulnerable. His conviction rate was dismal, the office's case-tracking system was badly outdated, and he had botched the prosecution of police in a scandal stemming from a street brawl among off-duty cops.
In her new memoir, "The Truths We Hold," Harris casts her entrance into politics not as a matter of personal ambition, but as a matter of dedication to the cause of fixing a D.A.'s office that was "self-destructing."
"Talented career prosecutors were seeing their efforts undervalued and feeling stymied in the vital work to which they'd devoted their lives," she wrote. "Meanwhile, violent felons were walking free."
Hallinan saw the matter differently.
"I think he felt very betrayed and very hurt, and I think people around him did, too," said Ross Mirkarimi, a top Hallinan advisor who was later San Francisco sheriff.
::
Harris' roots in politics run deep.
"Politics has been something I've been doing for a long time," she said in an interview with The Times in 2015. "It didn't just drop out of a tree and all of a sudden I took a look at it. It was already in my blood."
She grew up in Berkeley after the upheaval of the 1960s had transformed it into a counterculture haven.
Harris' parents, who split when she was 5, were immigrants who met as graduate students at UC Berkeley. Her mother, Shyamala Gopalan, was a breast-cancer researcher from India, her father, Donald J. Harris, an economist from Jamaica. Both were active in the civil rights movement.
After high school in Montreal, where her mother worked at a hospital, Harris attended Howard University in Washington, one of the country's leading historically black universities. There, she was elected freshman class representative to the student council. She interned in the office of Democratic U.S. Sen. Alan Cranston of California and in the Federal Trade Commission's public affairs unit.
After returning to California, Harris was elected president of the Black Law Students Assn. at UC Hastings College of the Law in San Francisco.
In her first job after law school, Harris prosecuted murder, rape, assault and drug cases at the Alameda County district attorney's office in Oakland from 1990 to 1998.
But another part of her life had a significant impact on her career: In 1995, she began dating Brown, then Assembly speaker and one of the most powerful men in California politics. Brown put Harris on the state Unemployment Insurance Appeals Board and the California Medical Assistance Commission, part-time posts that supplemented her prosecutor's salary with nearly $100,000 in extra annual pay.
The December night Brown was elected mayor, Harris joined him at center stage in a longshoremen's union hall and gave him a blue cap that said, "Da Mayor."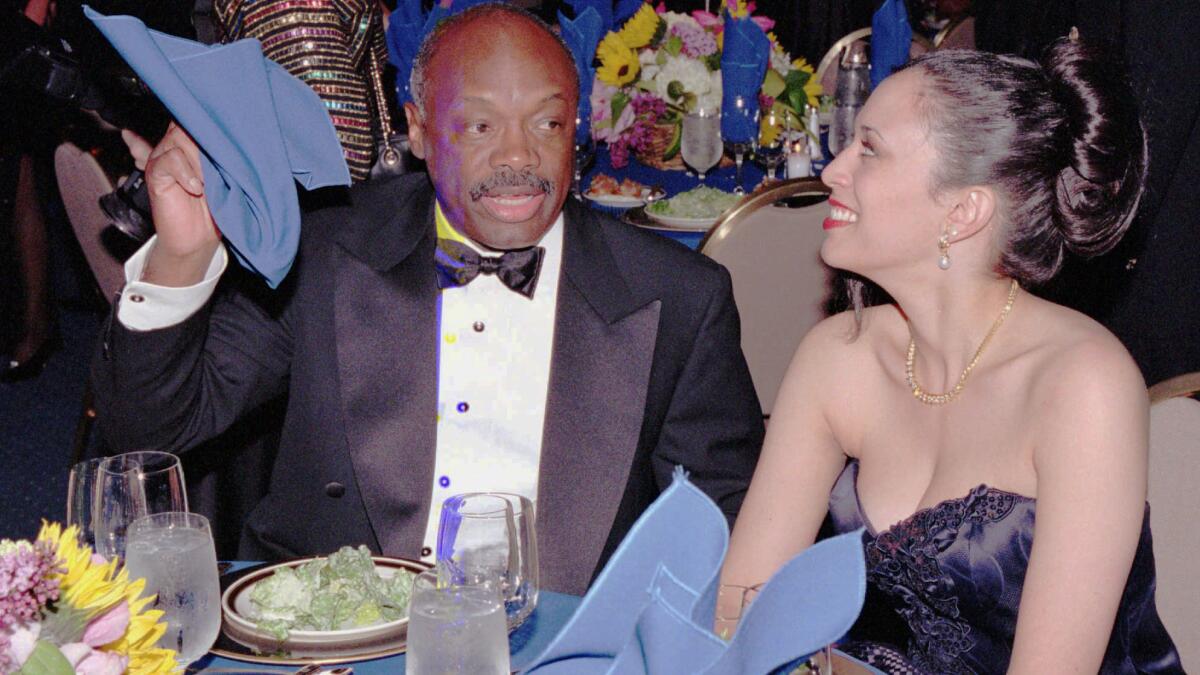 They broke up before his inauguration in January 1996, but Brown has remained a key supporter.
In the years that followed, Harris was tireless in expanding her social and political contacts, much as she has been in building her national political network over the two years since her election to the Senate.
She joined the boards of the San Francisco Bar Assn. and the San Francisco Museum of Modern Art, where she founded a mentoring program for children. Harris also led the board of Partners Ending Domestic Abuse and co-chaired the Lawyers' Committee for Civil Rights.
As she prepared to launch her 2003 campaign for district attorney, Harris anticipated a bruising and costly race.
She sought advice from a friend, Andrea Dew Steele, who handled political work for Susie Tompkins Buell, a high-society benefactor of Bill and Hillary Clinton. On a visit to Steele's Haight-Ashbury apartment, Harris showed her a Filofax packed with names of potential donors.
"None of her contacts were in a database," Steele recalled. "I was horrified."
Harris hired Mark Buell, Susie's husband, as her chief fundraiser. Buell said Hallinan had once double-crossed him when he was trying to get on a city board, and he saw an opportunity for revenge.
"I asked Willie Brown what he thought it would take to beat Terence Hallinan, and he told me $1 million," Buell recalled. With Buell's help, Harris raised a bit more than that — and far more than Hallinan.
Brown, the outgoing mayor — less than universally loved at the end of his second term — kept his public role minimal. But his stamp of approval was crucial in raising money from the San Francisco establishment, said Aaron Peskin, a Board of Supervisors member who backed Harris.
"It's a club, and it's bigger than Mayor Brown," Peskin said. "It comes instantly with basically the entire business community at your doorstep, so it means you have access to large amounts of campaign money and institutional political support. It's that simple."
Harris recruited some of San Francisco's top political talent, including pollster David Binder.
For strategic decisions, she consulted her sister, Maya Harris, then director of the Racial Justice Project for the ACLU's Northern California chapter, and Maya's husband, Tony West, who later became the Justice Department's No. 3 official under President Obama. All three are expected to be top advisors in Harris' campaign.
Harris put her campaign headquarters in Bayview-Hunters Point, a predominantly African American section of the city. She saw black voters as her political base, but built a coalition that extended to Chinatown, the upscale Pacific Heights area and the Castro, the heart of the city's gay community.
Early polls found Harris well behind Hallinan and Bill Fazio, a less liberal prosecutor who had lost previous D.A. races.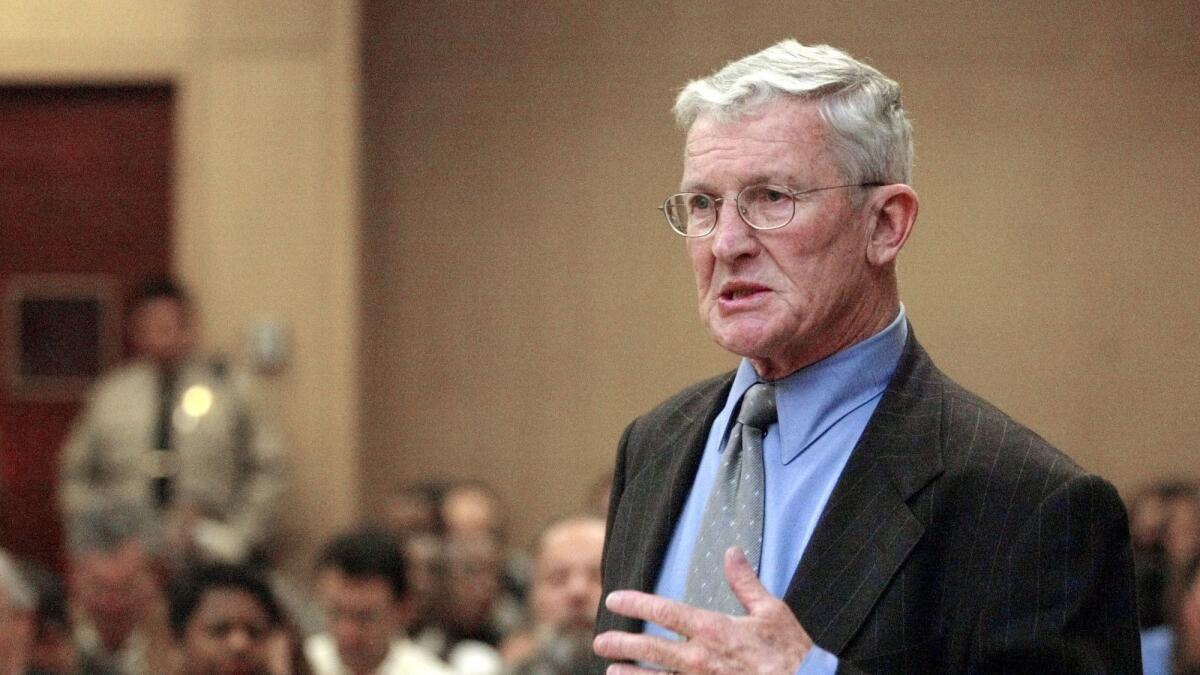 Both men condemned Harris' history with Brown. Days before the election, Fazio's campaign sent out a mailer quoting a woman saying: "I don't care if Willie Brown is Kamala Harris's ex-boyfriend. What bothers me is that Kamala accepted two appointments from Willie Brown to high-paying, part-time state boards — including one she had no training for — while being paid $100,000-a-year as a full-time county employee."
The approach failed. Fazio was eliminated in the election's first round, leaving Harris to face Hallinan in a runoff.
Hallinan pressed ahead with the same tactic, saying Harris was so close to Brown that she could not be trusted to prosecute corruption at City Hall.
Harris denied the allegation, and allies called the attacks sexist. (To this day, Harris still appears to dislike it when reporters ask about Brown, whom she describes as a mentor. She does not mention him in her memoir.)
As the election neared, Harris fought back with scalding attacks on Hallinan, a preview of the pugnacity she has brought to Washington and wielded against President Trump and his administration.
"Terence Hallinan is lying to us about his domestic violence record, and women are dying because of it," she told the media on the steps of a San Francisco courthouse.
In the end, Harris ousted Hallinan, becoming California's first black district attorney.
"If I were running against her for the Democratic nomination, the biggest mistake would be to underestimate her," said Jim Stearns, who ran Harris' campaign for D.A. She "will leave no stone unturned in figuring out how to get it done."
Times staff writer Mark Z. Barabak contributed to this story.
Twitter: @finneganLAT

Get our Essential Politics newsletter
The latest news, analysis and insights from our politics team.
You may occasionally receive promotional content from the Los Angeles Times.