Hillary Clinton wins Puerto Rico primary, closes in on Democratic nomination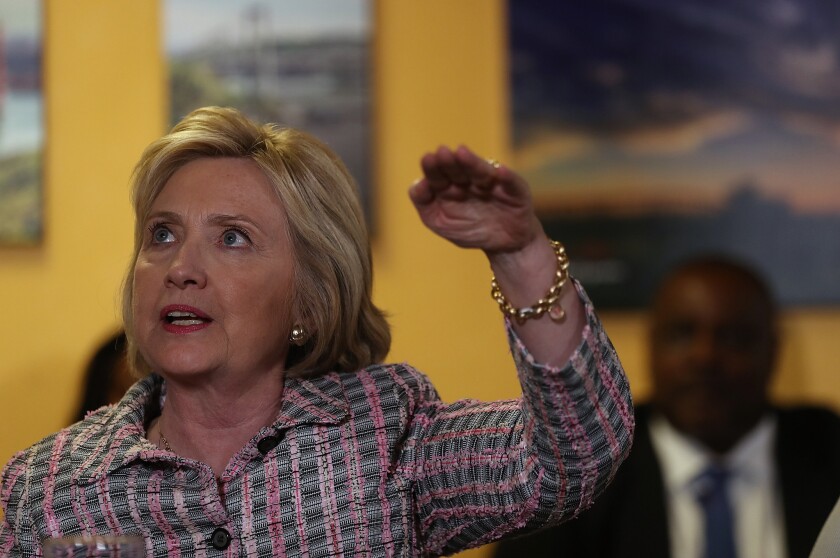 Reporting from Sacramento —
Hillary Clinton won the Democratic primary Sunday in Puerto Rico, putting her on the verge of effectively locking up the Democratic presidential nomination.
With most of the 60 delegates up for grabs in Puerto Rico allocated, Clinton is now fewer than 30 delegates short of a majority, according to the count by the Associated Press. She will almost certainly cross that threshold early Tuesday evening on a day when six states, including California, will vote with more than 600 delegates at stake.
Though the race remains tight in California, Clinton is likely to win more than enough delegates in New Jersey to put her over the top.
Clinton's total includes pledged delegates and super-delegates, who are party leaders and elected officials who can decide which candidate to support at the Democratic National Convention in July.
She is beating Sen. Bernie Sanders of Vermont, her rival for the nomination, in both categories. She also has won more states, and about 3 million more votes, than Sanders.
Clinton won all seven pledged delegates at stake Saturday in the U.S. Virgin Islands.
The final primary is June 14 in Washington, D.C.
Sanders argues that Clinton should not claim victory Tuesday because her delegate tally includes most of the party's super-delegates, who still can switch sides. Few have signaled any plans to do so, however.
Sanders has vowed to take his campaign to the convention in Philadelphia even if he loses upcoming contests.
"The Democratic National Convention will be a contested convention," he told a Los Angeles news conference Saturday.
A candidate typically is considered the presumptive nominee after locking up enough pledged delegates and super-delegates to win the nomination.
President Obama did that in 2008 when he and Clinton fought their way through the primaries. She later endorsed him, campaigned for him and joined his Cabinet as secretary of State.
Barring mathematically improbable landslide victories in Tuesday's primaries, Sanders will still trail Clinton in pledged delegates.
That means his only path to the nomination would require super-delegates – members of a Democratic establishment that has heavily favored Clinton from the start of the campaign – switching their allegiance to Sanders and overturning the popular vote.
Even as his chances continue to slip away, Sanders continued to attack Clinton.
Sanders told CNN's Jake Tapper that Clinton has been too quick to support the use of military force, saying her 2003 vote to authorize force in Iraq when she was in the U.S. Senate "was not just an aberration."
He cited Clinton's push for intervention in Libya in 2011, and a no-fly zone in Syria as examples that "can suck us into never-ending conflict in that area."
Sanders also said Clinton has a conflict of interest with the Clinton Foundation, which was set up by her husband, former President Bill Clinton.
The foundation collected donations from foreign governments like Saudi Arabia while she was secretary of State under Obama.
"Do I have a problem with that?" Sanders said. "Yeah, I do."
Clinton and Sanders both have campaigned heavily in California, the biggest delegate prize of the season. Polls show a tight race.
With the nomination in sight, Clinton has kept her focus on a general election battle with Donald Trump, the presumptive Republican nominee.
"What I want to talk about is what we have to do together when the voting is done," she said in Oakland on Sunday. "After the votes are counted, that's when the real work starts."
Clinton has been tag-teaming with her husband, who attacked Trump's campaign slogan – "make America great again" – while visiting a black church in South Los Angeles on Sunday.
"That's a code slogan for, 'We're going to make it great the way it was 40 or 50 years ago,'" Bill Clinton said. "Well it wasn't so great for a lot of people 40 or 50 years ago," he added, drawing applause from the pews.
Twitter: @chrismegerian
ALSO
Clinton condemns Trump's attack on Mexican American judge
Analysis: Sanders and Clinton in a tight race in California
Times Los Angeles Times Editorial Board endorsements for the June 7 primary
---
UPDATES:
9:06 p.m.: The story was updated with additional information on the allocation of delegates.
7:26 p.m.: The story was updated with Clinton being announced the winner in Puerto Rico.
The story was originally published at 5:33 p.m.
---
Life is stressful. Our weekly mental wellness newsletter can help.
You may occasionally receive promotional content from the Los Angeles Times.