Supreme Court to decide if insanity defense and unanimous jury are required nationwide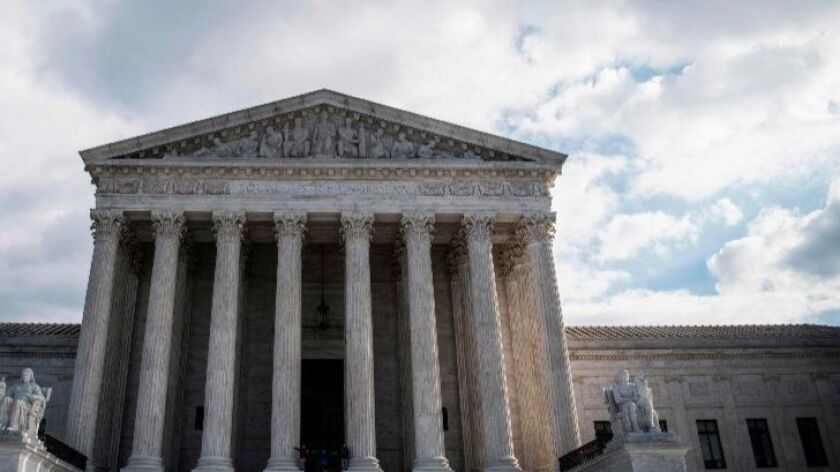 Reporting from Washington —
The Supreme Court agreed Monday to resolve two long-standing disputes and decide whether the Constitution includes rights to the insanity defense and a unanimous jury verdict of guilt.
Most states, but not all, permit criminal defendants to plead insanity and escape the full punishment of the law on the grounds that they did not know right from wrong at the time of the crime.
Kansas, however, says defendants may cite a "mental disease or defect" as a partial defense, but they may be found guilty nonetheless if they intended to commit a violent crime.
Similarly, all but two states — Louisiana and Oregon — require unanimous jury verdicts in criminal cases.
The justices said Monday that they would hear appeals from convicted murderers in Kansas and Louisiana who contend their convictions were unconstitutional.
Voting to hear claims from convicted criminals may seem somewhat surprising for a more conservative high court. But it may be in keeping with another recent ruling that clarified that other constitutional rights should apply to all states.
Last month, the justices resolved a similar dispute by ruling the 8th Amendment protects Americans from "excessive fines" imposed by states and local governments, including the seizure of a $42,000 Land Rover for a $385 drug crime. In that case, Timbs vs. Indiana, the court — prodded by new Justices Neil M. Gorsuch and Brett M. Kavanaugh — said the time had passed for states to argue that they did not have to abide by all parts of the Bill of Rights.
The 6th Amendment protects the "right to a speedy and public trial, by an impartial jury." And for most of American history, this has been understood to require a jury verdict of guilt based on an unanimous vote.
In 1972, the Supreme Court took up the issue in an Oregon case, but issued a splintered 4-1-4 decision. The result was that juries in federal courts must be unanimous to impose guilt, but states such as Oregon and Louisiana were free to uphold jury verdicts that were less than unanimous.
In 2016, Evangelisto Ramos was convicted on 10-2 jury verdict of murdering a suspected prostitute in New Orleans. His appeal argued that Louisiana's rule allowing non-unanimous jury verdicts was adopted in 1898 for racist reasons, and it should be overturned. The state's attorneys urged the court to deny the appeal and noted that the state's voters approved requiring unanimous verdicts beginning this year. Nonetheless, the Supreme Court said it would hear Ramos vs. Louisiana in the fall to decide whether unanimous jury verdicts will be a constitutional rule nationwide.
The court will also hear an appeal from James Kahler, who shot and killed two of his daughters, his ex-wife and her grandmother, and sought to plead insanity. He claimed that he had sunk into hopeless depression after his marriage collapsed. But a state expert testified that Kahler planned the murders. He was convicted and sentenced to death, despite his insanity plea.
His appeal in Kahler vs. Kansas argues that the insanity defense is a fundamental aspect of American justice and cannot be restricted or abolished by the states.
In Kansas, Kahler's attorney argued, "it is not a defense to criminal liability that mental illness prevented the defendant from knowing his actions were wrong. So long as he knowingly killed a human being — even if he did it because he believed the devil told him to, or because a delusion convinced him that his victim was trying to kill him, or because he lacked the ability to control his actions — he is guilty."
His attorneys said Alaska, Montana, Idaho and Utah have also limited the use of insanity as a defense to a crime.
In a third criminal case, the justices will decide whether Lee Boyd Malvo will serve life in prison for his role in the 2002 sniper shootings in the Washington, D.C., area. John Allen Muhammad was convicted of the shootings and executed in Virginia. Malvo, who was then 17, was sentenced to life in prison with no chance for parole.
The Supreme Court later put new limits on life prison terms for those who commit murders as a juvenile, and the court in Mathena vs. Malvo will decide whether those rulings apply retroactively to those already serving life terms. If Malvo prevails, he will get a new sentencing hearing.
---
Get our Essential Politics newsletter
The latest news, analysis and insights from our politics teams from Sacramento to D.C.
You may occasionally receive promotional content from the Los Angeles Times.