Trump to roll back parts of Obama's Cuba policy, but leave much intact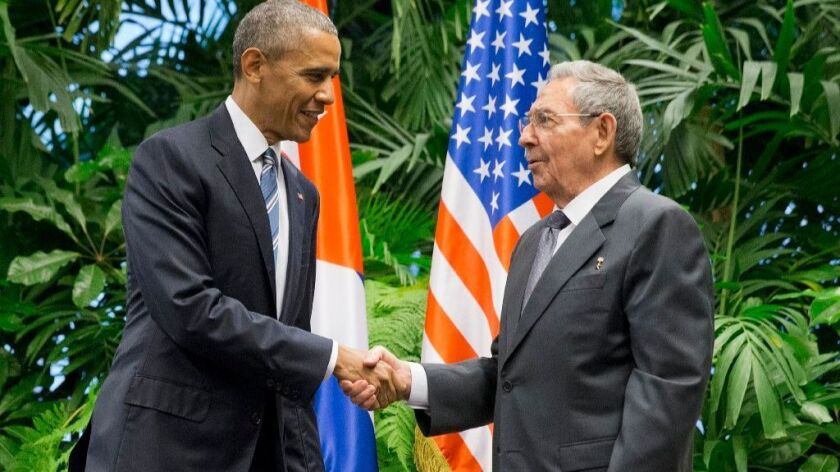 Reporting from WASHINGTON —
President Trump plans to roll back some of President Obama's opening to Cuba on Friday while leaving other changes — including the embassy in Havana opened two years ago — intact.
White House aides, speaking on condition of anonymity Thursday, revealed some of the policy changes Trump plans to announce during a speech in Miami on Friday.
The main goal of the new regulations is to keep keep money out of the hands of Cuba's military and intelligence services and "empower the Cuban people," the White House officials said. The new rules include prohibitions against Americans spending money on businesses controlled by the military, which has a wide reach in the Cuban economy. That change would immediately affect some proposed hotel projects in which Cuban entities controlled by the military would be partners.
Many details of the new policy will be subject to regulations that have yet to be drafted by Cabinet secretaries, including the Treasury Department, which will determine how to interpret some of the new limits on investment and spending.
The changes, part of a months-long review, are aimed at fulfilling a campaign promise Trump made to roll back Obama's moves to reopen ties with the island. The promise helped Trump win support from hard-liners within south Florida's large Cuban American community, an important constituency for Republican presidential candidates for decades. Winning Trump's agreement has been a major priority for Sen. Marco Rubio (R-Fla.).
In addition to the limits on investment, Trump plans to more strictly enforce the ban on American tourism to Cuba, eliminating "people to people" exchanges that have allowed far more visits to the island for recreation, with little enforcement of rules that require trips to have an educational or cultural component.
The new rules would still allow other forms of travel, including family visits, and would not prohibit visits by cruise ships or commercial flights, administration officials said.
Critics of the changes warn that scaling back travel could hurt small businesses that have sprung up in Cuba, catering to a wave of U.S. tourists who have come to the island since the travel ban was relaxed.
In addition to retaining the embassy in Havana, the Trump policy would keep Obama's immigration changes in place. In January, Obama ended the long-standing so-called wet-foot, dry-foot policy, which had allowed migrants who reach U.S. shores automatic visas and an easy path to permanent residency.
The administration wants to see better commercial ties with the island, but "it's entirely up to Raul Castro to make that happen," an official said. Trump wants to see improved human rights, free elections and the release of political prisoners, officials said. That's a contrast with other aspects of the administration's foreign policy that have played down human rights concerns.
The officials said Castro had not lived up to promises made when Obama agreed to liberalize relations, one of his signature second-term accomplishments. Obama's policy shift was designed in part to improve relations with other Latin American countries that opposed a U.S.-led embargo against Cuba, in place since 1960. The embargo, which has the force of law, was not ended under Obama.
But the Trump administration acknowledged that some of Obama's initiatives had momentum that made reversal of the former president's opening impractical.
"We want this relationship to be one in which we can encourage the Cuban people through economic interaction," an official said. "You can't put the genie back in the bottle 100%."
Twitter: @noahbierman
ALSO
Trump keeps touting jobs spurred by Saudi deals. It's not clear they'll ever come
Trump administration backs away from fight over California's power to set rules for cars and trucks
After a day on message, Trump slips back into old habits
---
Get our Essential Politics newsletter
The latest news, analysis and insights from our politics teams from Sacramento to D.C.
You may occasionally receive promotional content from the Los Angeles Times.