Federal Reserve, for now, holds key interest rate steady despite pressure from Trump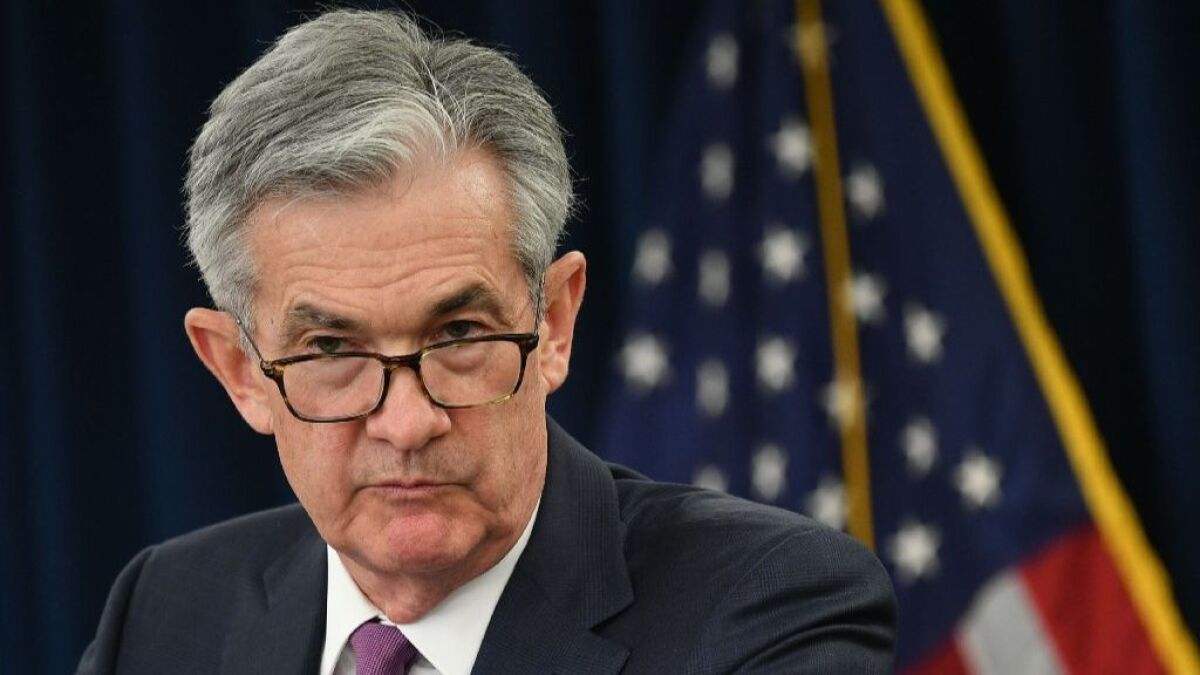 Reporting from WASHINGTON —
The Federal Reserve, facing heavy pressure from President Trump to lower borrowing costs, left interest rates unchanged Wednesday but made clear that it was leaning toward cutting rates because of rising risks from trade tensions and a softer global economy.
Wrapping up a two-day meeting, Fed policymakers decided, for now, to maintain their key rate — a benchmark for credit cards, auto loans and other short-term consumer lending — at the current level of 2.25% to 2.5%.
But the central bank made a significant shift in its posture on the future direction of monetary policy. About half of the Fed's 17 monetary policy officials now foresee one or two quarter-point rate cuts later this year.
Just three months ago, none of them expected the rate to go down, and some were even looking for it to go higher.
"Fed breaks new ground forecasting rate cuts," said Capital Economics in its research report, which predicted a quarter point rate cut in September and another in December.
Other economists, as well as financial markets, have been betting the Fed will lower rates as soon as its next meeting at the end of July.
Stock markets changed little Wednesday after the Fed's decision, which was largely expected.
The Fed hasn't dropped its benchmark rate in more than a decade, and as recently as mid-December officials hiked interest rates to forestall a possible overheating in the U.S. economy.
Investors and many others, including Trump, viewed the December rate increase, the fourth last year, as a mistake. Besides concerns about trade, inflation has been running below the Fed's 2% target, in what could suggest underlying weakness in the economy.
Since January, the Fed has held its key rate steady and maintained a "patient" stance.
In its new policy statement Wednesday, the Fed dropped that word and instead said that the central bank "will act as appropriate to sustain the expansion."
Later at a news conference, Fed Chair Jerome H. Powell indicated that even those policymakers not yet convinced that rate cuts may be coming acknowledged the strengthening case for easing monetary policy to support the economy.
Trump has been beating the drum for the Fed to cut rates. He has blasted Powell and his colleagues for raising rates last year and has reportedly considered removing Powell, even though it was Trump who handpicked him to lead the Fed.
There was no immediate tweet or public reaction from Trump to the Fed's latest statements.
On Tuesday, Trump didn't dismiss the notion that he would seek to demote Powell, telling reporters before heading to his campaign-kickoff rally in Orlando: "Let's see what he does."
Powell, like his predecessors, has insisted that the Fed makes it decisions without regard to politics, but some analysts have nonetheless worried that Trump's unusually persistent and public criticisms would be hard for the Fed to ignore.
On Wednesday, Powell declined to comment about Trump's attacks.
Asked about a possible demotion, the Fed leader said: "I think the law is clear that I have a four-year term, and I fully intend to serve it." Powell's term as chair ends in February 2022.
A rate cut isn't assured. Policymakers don't want to cut too soon — especially when the Fed's benchmark rate is already low by historical standards and reducing it would give officials less firepower to fight a recession.
Powell repeated Wednesday the Fed's standard line that its decision would depend on economic data and whether risks are actually weighing on the outlook. At the moment, that isn't entirely clear.
The Fed, in its policy statement, slightly downgraded its assessment of U.S. economic activity and, significantly, stated that uncertainties in the outlook had increased. The statement didn't mention the trade conflict specifically with China, but Powell noted that, as well as broader concerns about global growth. There's been a slowdown in domestic manufacturing, and weaker activity in Europe and China also have taken a toll on business sentiments.
At the same time, the Fed said that the U.S. labor market remained strong and that household spending, which accounts for most of America's economic activity, seemed to have picked up from earlier this year.
Fed officials, in updating their economic projections, said the American economy was likely to keep growing at a decent pace of about 2% for this year and next — essentially unchanged from their previous estimates in March.
In the Fed's decision Wednesday to stand pat on its main rate, there was one dissent among the 10 voting policymakers. James Bullard, president of the St. Louis Fed, wanted to cut rates immediately. It was the first time since Powell assumed the chair in February of last year that he did not have unanimous support.
Get our Essential Politics newsletter
The latest news, analysis and insights from our politics team.
You may occasionally receive promotional content from the Los Angeles Times.