President Trump delivers tough trade talk during visit by South Korea's new leader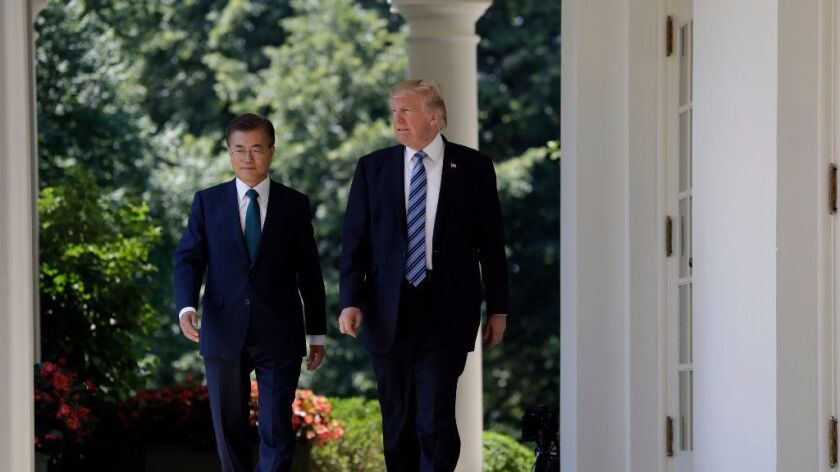 Reporting from Washington —
President Trump opened his meeting Friday with newly elected South Korean President Moon Jae-in with tough trade talk, announcing he is renegotiating a 5-year-old trade deal between their two countries that was a joint legacy of Presidents George W. Bush and Obama.
Yet it was unclear from his and administration aides' remarks how significant a break Trump was making with a free-trade agreement that had broad support when it was approved in Congress. Trump's announcement could be seen as a provocation of an ally during a delicate time, when the administration is looking to South Korea to help contain North Korea's nuclear program.
"It's been a rough deal for the United States, but I think that it will be much different and it will be good for both parties," Trump said during a joint appearance with Moon in the Oval Office.
"We want something that's going to be good for the American worker," Trump added.
Moon said nothing publicly to confirm that a full-scale renegotiation was underway. He said that the agreement benefits both countries, and they can address specific concerns if necessary. Trump's public criticism of South Korea's trade surplus with the United States could cause Moon embarrassment at home, and stoke pressure against U.S. demands for a harder line against North Korea.
Congressional approval would likely be required for major changes. White House spokeswoman Sarah Huckabee Sanders said that the U.S. trade representative, Robert E. Lighthizer, is calling a joint committee meeting with his Korean counterparts that would start an amendment process.
She dismissed questions about the impact on the U.S. security relationship with South Korea. Its embassy did not respond to a request for comment.
"It sounds like the president got ahead of himself," said Wendy Cutler, a former career trade official who served as the lead negotiator on the deal for Bush and Obama.
Cutler, vice president of the Asia Society Policy Institute, said Trump does not appear to have gotten buy-in from South Korea and would need close consultation with Congress.
"It seems to me this was kind of a one-sided announcement," Cutler said in a phone interview from Tokyo before a scheduled visit to South Korea on Monday.
Trump has complained bitterly about the trade deficit with South Korea, which was $17 billion for goods and services in 2016, according to the U.S. trade office. In April, he told the Washington Post that he would consider ending or amending the trade agreement with Seoul.
But the trade relationship is an important one. South Korea is America's sixth-largest goods trading partner, with $112.2 billion exchanged between the two countries last year.
The U.S.-Korea Free Trade Agreement was negotiated and signed by Bush in 2007 and then renegotiated and finally implemented under Obama in 2012.
Commerce Secretary Wilbur Ross said that the trade imbalance between the countries has doubled since the agreement, and he blamed South Korea for restricting imports of U.S. cars through strict regulations.
Obama, during a meeting with Moon's predecessor, South Korean President Park Geun-hye, in 2015, praised the deal, pointing to increased overall trade between the countries, including exports of American cars, in the first three years.
"We do still have work to do," Obama said then about compliance with the agreement. When issues arise, he added: "We need to resolve them quickly."
Myron Brilliant, the U.S. Chamber of Commerce's executive vice president and head of international affairs, said in a column published this week in "Business Insider" that even as American exports to South Korea have not risen as much as expected, scrapping the deal completely would be a "rash move" and a "mistake."
The deal, he wrote, "puts American exporters on a level playing field against competitors from Europe, China and Australia, which also have free trade agreements with Korea."
But Trump's sharp trade rhetoric, arguing that America was getting a raw deal on the world stage, helped win him the election.
"The United States has many, many trade deficits with many countries and we cannot allow that," Trump told Moon during a public moment in the cabinet room. "We will start with South Korea right now."
Twitter: @noahbierman
---
Get our Essential Politics newsletter
The latest news, analysis and insights from our politics teams from Sacramento to D.C.
You may occasionally receive promotional content from the Los Angeles Times.