Trump returns from Paris to face growing legislative and legal problems. But first, golf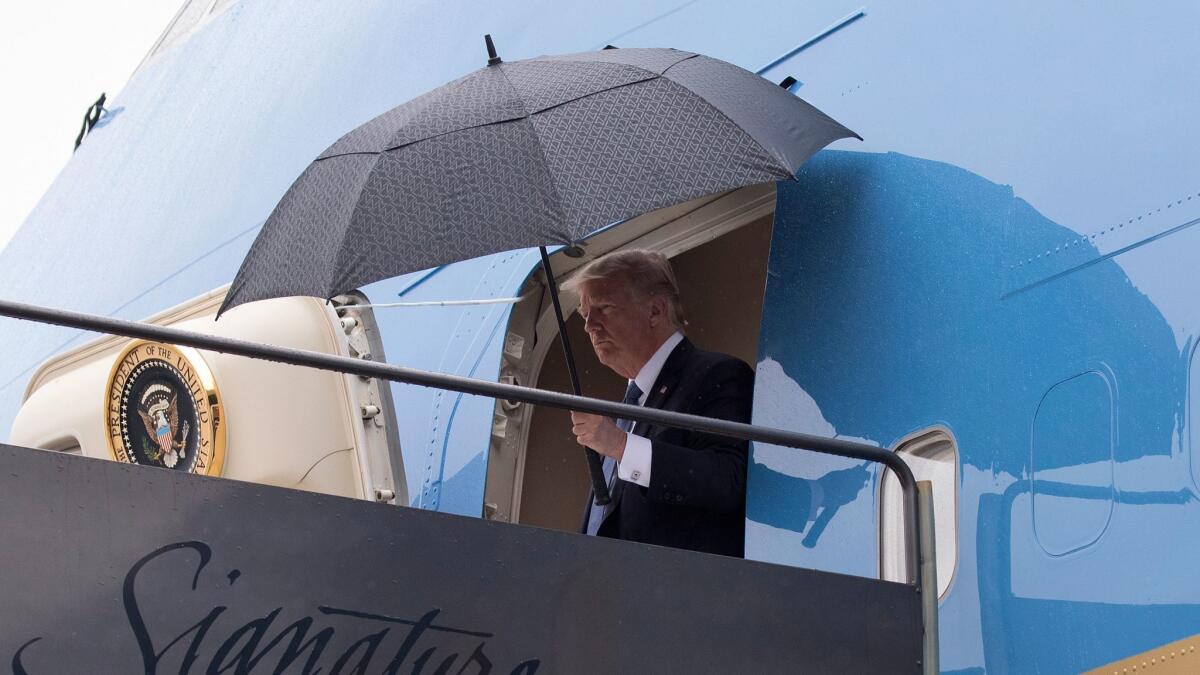 Reporting from Washington —
He'll always have Paris.
President Trump returned Friday from being feted in France to confront new, damaging revelations in the investigation into whether his associates coordinated with Russian efforts to sway the 2016 election, as well as perilous signs in Congress for the Republican healthcare bill that represents one of his major campaign pledges.
Frustrated and unhappy with how his team has handled the response to the steady drip of damaging information, Trump has reportedly decided to hire Ty Cobb, a longtime Washington lawyer, to manage the White House's political and legal responses to the Russia investigation.
While the White House continues to wrestle with the investigation, Trump's first major legislative push — to repeal and replace the Affordable Care Act — continues to be threatened by seemingly insurmountable Republican divisions.
Friday morning, minutes before being welcomed as the guest of honor for the elaborate Bastille Day military parade on the Champs-Elysees, the grand boulevard of Paris, Trump was stewing over his party's inability to get a bill to his desk.
As his motorcade was waiting, he let loose a string of Twitter messages admonishing Senate Republicans, despite the fact that Majority Leader Mitch McConnell of Kentucky has told administration officials that such social media messages are not helpful.
"After all of these years of suffering thru ObamaCare, Republican Senators must come through as they have promised!" Trump wrote on Twitter.
Thousands of miles from troubles in Washington, Trump seemed buoyed by his trip to France. He talked animatedly with French President Emmanuel Macron while watching French and American troops, armored personnel carriers, tanks, missile launchers and other military equipment parade for more than two hours from the Arc de Triomphe down the grand avenue.
Dozens of military planes and helicopters thundered over the heads of the two presidents, with one formation of fighter jets painting the sky with streaks of red, white and blue smoke signifying the tricolors of both nations.
The newly elected Macron had invited Trump on short notice for France's national day celebrations and to mark the 100th anniversary of American troops' arrival in France to help fight German forces in World War I.
Bands played traditional French marching music. At one point a marching band spelled out the word "NICE" in front of the VIP reviewing stand, in memory of 86 people killed a year earlier by an Islamic extremist driving a cargo truck into a Bastille Day celebration in that French city.
"The presence today of the U.S. President Donald Trump and his wife is the sign of a friendship that lasts through time," Macron said at the conclusion of the parade.
France has found "sure allies, friends who came to help us," he said. "The United States of America are among them. That is why nothing will separate us, never."
Macron seemed eager to woo Trump personally, and substantively. He focused their meetings Thursday on issues the two administrations can cooperate on, including counter-terrorism and Syria.
Macron did not bring up contentious issues such as Trump's withdrawal from the Paris climate accord, Trump's homeland security advisor, Tom Bossert, told reporters flying with the president back to the U.S.
Climate issues "didn't chill or infect or in any way come up verbally or through nonverbal cues in our conversations," Bossert said.
By the afternoon on Friday, Trump was stepping off Air Force One into the rain, opening a large black umbrella to keep drops off himself and First Lady Melania Trump as they walked to the motorcade taking the couple to Trump's golf club in Bedminster, N.J., for the weekend. He planned to attend the U.S. Women's Open golf tournament being held there.
The last time the president had a rainy weekend in Bedminster he watched television news, fumed, and by his own later account decided to fire FBI Director James B. Comey because of Comey's pursuit of the Russia investigation.
The weather forecast this weekend called for the clouds to part Saturday and the sun to be out all weekend.
Trump did find an adoring crowd in Bedminster. Spectators broke the hushed quiet at the golf tournament when Trump came to the windows of a viewing area multiple times to wave to the crowd near the course's 15th hole.
Tournament organizers encouraged the crowd to keep their voices down for golfers playing through the drizzle on a nearby green.
Twitter: @ByBrianBennett
ALSO
Soviet military vet with suspected intelligence ties attended campaign meeting with Donald Trump Jr.
Trump administration says it will go to Supreme Court after Hawaii judge expands travel ban exemptions
Trump's budget would mean a $720-billion deficit over 10 years, Congressional Budget Office says
Get our Essential Politics newsletter
The latest news, analysis and insights from our politics team.
You may occasionally receive promotional content from the Los Angeles Times.