South Korean leader's visit highlights Trump's stalled nuclear talks with Kim Jong Un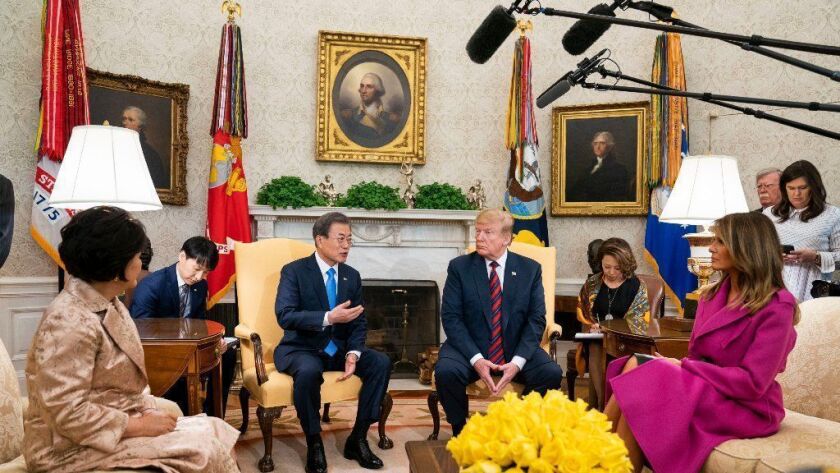 Reporting from Washington —
President Trump said Thursday that "a third summit could happen" with North Korean leader Kim Jong Un as he worked with South Korea to jump-start stalled nuclear diplomacy on the peninsula.
"It's step by step," Trump told reporters. "It's not a fast process."
Trump met with South Korean President Moon Jae-in in the Oval Office, the first meeting with the pivotal regional ally since Trump's second summit with Kim, in February in Vietnam, failed to make any progress toward getting Pyongyang to give up its nuclear arsenal or production facilities.
Since then, all working level talks or other clear negotiations aimed at resolving the impasse have ground to a halt.
The president's extraordinary personal involvement in the nuclear negotiations has put pressure on the White House, which is eager to point to a foreign policy success. Trump wants to reengage with Kim despite strong concerns from his national security team and intelligence warnings that North Korea will not surrender its nuclear weapons.
Trump spawned confusion last month when he appeared to lift sanctions imposed by his own administration that were intended to further isolate North Korea.
The sanctions — against two Chinese shipping companies -- remain in place but Moon is hoping his visit will encourage Trump to ease some of the economic pressure.
Though Trump mostly held the line on maintaining current sanctions, he said Thursday he would not impose further penalties. He added that he would consider "certain humanitarian things," including food aid programs for the North Korean people.
Trump continued his flattery of Kim, praising the autocrat's leadership and offering him "warmest wishes" while attempting to tempt him with the possibility of economic opportunity.
"North Korea has potential as great as anything I've ever seen," Trump said.
He left some room to accept a deal with Kim that falls short of the official U.S. demand for complete, immediate and verifiable nuclear disarmament by North Korea.
"I'd have to see what the deal is," Trump said. "There are various smaller deals that maybe could happen."
"But at this moment, we're talking about the big deal," he added. "The big deal is we have to get rid of the nuclear weapons."
Despite Trump's enthusiasm, administration officials said no working level talks have taken place since the failed Feb. 27-28 summit in Hanoi, and were skeptical a third summit will happen any time soon.
A State Department spokesman said the two countries continue to maintain contact but would not answer whether those communications are taking place directly or through third parties.
"There's still a great deal of work to do to achieve the ultimate goal" of denuclearization, Secretary of State Michael R. Pompeo told the Senate Foreign Relations Committee on Wednesday.
Pompeo would not say whether the two countries have agreed on a definition of denuclearization, a longstanding hurdle in the peace process.
While national security advisor John Bolton has urged a hard line with Kim, some inside the administration, including special envoy Stephen Biegun, have described a more gradual approach that would offer North Korea incentives if it takes steps toward dismantling its weapons.
"The administration suffers from a lack of coherence in its policy toward North Korea," said Suzanne DiMaggio, a North Korea expert at the Carnegie Endowment for International Peace, a nonpartisan think tank.
The lack of cohesion is one reason for the lack of accomplishment at the working level.
"Are we stuck in a cycle of summits with limited bursts of diplomacy in between?" she added. "If so, I think we're going to be running into the same problems time and time again."
Moon said Thursday it was imperative to continue momentum toward a third summit, and soon. He said the abrupt ending in Hanoi was "not a source of disappointment but a part of a bigger process leading to a bigger agreement."
Moon faces increasing pressure at home to deliver results from his engagement with North Korea. His approval ratings, which soared above 80% after he brokered the first Trump-Kim summit, which took place in Singapore last June, fell to 45% in March.
The no-deal summit in Hanoi scuttled Moon's plans for continued thawing of relations with the North, particularly to resume operations at a joint industrial park in Kaesong, to revive tourism at a mountain resort near the heavily militarized border, and to build a cross-border rail link.
All those projects are on hold under the U.S. sanctions.
For his part, North Korea's Kim this week said his nation should redouble its push toward self-reliance "so as to deal a telling blow to the hostile forces who go with bloodshot eyes miscalculating that sanctions can bring the DPRK to its knees," according to state media, referring to North Korea by its official name -- the Democratic People's Republic of Korea.
North Korean state media made no mention of Kim discussing resumption of nuclear or missile tests, or whether he intends to continue talks with Trump. A deputy foreign minister last month told foreign journalists and diplomats in Pyongyang that Kim would soon decide whether to resume tests.
"We have no intention of making any compromises with the U.S., and furthermore, even less desire to engage in negotiations like the recent talks," Choe Son Hui said at the time.
Bierman reported from Washington. Kim reported from Seoul.
---
Get our Essential Politics newsletter
The latest news, analysis and insights from our politics teams from Sacramento to D.C.
You may occasionally receive promotional content from the Los Angeles Times.