President-elect Trump holds series of meetings with potential Cabinet picks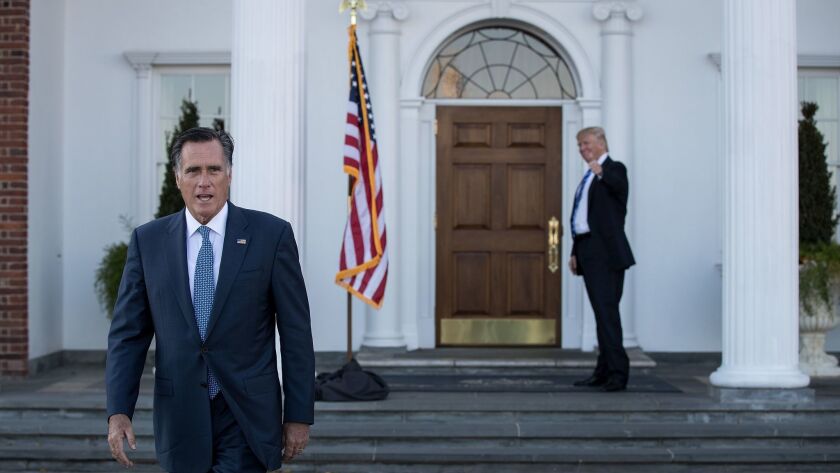 Reporting from Washington —
President-elect Donald Trump on Saturday met with an eclectic mix of potential Cabinet picks, including a high-profile Republican foe, even as he launched a Twitter storm boasting about settling a multimillion-dollar lawsuit and criticizing the cast of a hit Broadway musical for lecturing his vice president-elect about "American values."
When not taking to Twitter, Trump spent the afternoon ensconced in his posh golf club in Bedminster, N.J., where he met with Mitt Romney, a former GOP presidential candidate being considered for secretary of State, and others being weighed for top administration posts. Among the eight job candidates getting face time with Trump was Michelle Rhee, the firebrand California education activist and nemesis of teachers unions, who is among those being considered for Education secretary. The meetings are scheduled to continue Sunday.
The most anticipated sit-down involved Romney, who during the campaign was sharply critical of Trump's character and policy positions. The former governor shook hands with Trump when he arrived at Trump National Golf Club and told reporters 90 minutes later that the pair spoke about U.S. interests around the globe.
"We discussed those areas, and exchanged our views on those topics – a very thorough and in-depth discussion in the time we had," Romney told reporters upon leaving the golf club, which is about 50 miles west of Trump Tower in downtown New York City. "And I appreciate the chance to speak with the president-elect and I look forward to the coming administration and the things that it's going to be doing."
Trump also met with Rhee, presumably to discuss education issues. Rhee was the controversial chancellor of the public schools in Washington, D.C., and now lives in Sacramento where her husband, former basketball star Kevin Johnson, is the city's mayor. Rhee declined to speak to reporters as she left the club.
Among others on Trump's dance card for the day was retired Gen. James Mattis, a former war commander who has been critical of some Obama administration policies and has the nickname of "Mad Dog Mattis" and is being considered to lead the Pentagon.
Patrick Soon-Shiong, who made his fortune developing an anti-cancer drug, also met with Trump. Soon-Shiong, a vice chairman of the Los Angeles Times' parent company Tronc, has been closely involved with Vice President Joe Biden's cancer moonshot initiative, which is designed to accelerate scientific efforts to find cures for cancers.
The meetings were designed to highlight the administration's efforts "to pull in diverse ideas and different perspectives as we form this administration," said Trump spokesman Jason Miller.
Trump, however, started the day off on a different note — by sparking a feud on social media over what happened when his vice president-elect attended the critically acclaimed Broadway musical "Hamilton." When Pence arrived at the Richard Rodgers Theatre on Broadway for the night's performance of "Hamilton," he was both cheered and loudly jeered by the audience.
After the show, actor Brandon Victor Dixon spoke to Pence from the stage: "We, sir, are the diverse America who are alarmed and anxious that your new administration will not protect us, our planet, our children, our parents, or defend us and uphold our inalienable rights. We truly hope this show has inspired you to uphold our American values and work on behalf of all of us. All of us."
Pence had left the auditorium before Dixon finished, but reportedly heard all the remarks over speakers in the hallway. Trump didn't appreciate the lecture.
"Our wonderful future V.P. Mike Pence was harassed last night at the theater by the cast of Hamilton, cameras blazing.This should not happen!" Trump tweeted. "The Theater must always be a safe and special place.The cast of Hamilton was very rude last night to a very good man, Mike Pence. Apologize!"
Dixon responded on the social media platform: "conversation is not harassment sir," adding that he appreciated Pence for showing up.
Trump also took to Twitter in the morning to brag about settling fraud claims aimed at his defunct university. A day earlier, Trump had settled two class-action lawsuits filed in San Diego and a third suit brought by the New York state attorney general for $25 million, something he had repeatedly said he would never do.
The lawsuits alleged that Trump had defrauded customers into thinking they would learn real estate secrets from professors he had "handpicked" at his for-profit Trump University. The students said they learned little and instead were subjected to hard-sell tactics urging them to spend thousands of dollars on classes.
"I settled the Trump University lawsuit for a small fraction of the potential award because as President I have to focus on our country," Trump tweeted. "The ONLY bad thing about winning the Presidency is that I did not have the time to go through a long but winning trial on Trump U. Too bad!"
Follow @delwilber on Twitter
ALSO:
Tracking down guns used in crimes and terror attacks is still surprisingly low-tech
Aspiring agents learn from mistakes of FBI's 'shameful' investigation of Martin Luther King Jr.
How these Brooklyn prosecutors work to get innocent convicts out of prison
---
Get our Essential Politics newsletter
The latest news, analysis and insights from our politics teams from Sacramento to D.C.
You may occasionally receive promotional content from the Los Angeles Times.