Sexual harassment scandals give new momentum to legislative efforts to protect whistleblowers in California's capital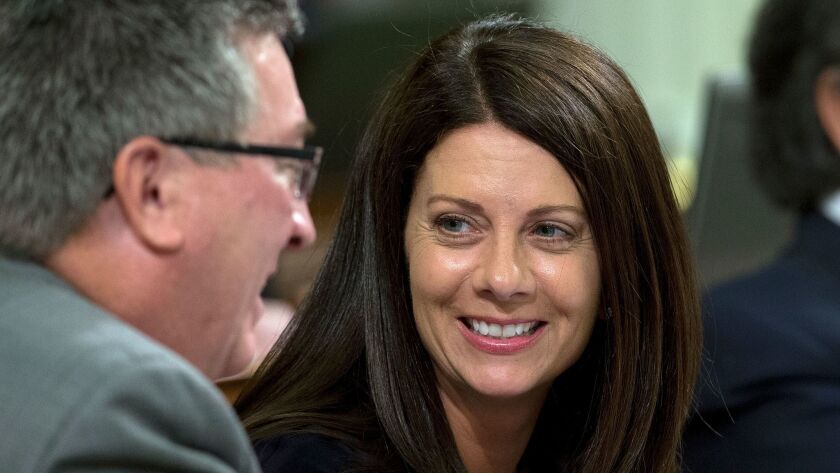 Reporting from Sacramento —
Powered by the focus on sexual harassment gripping California politics, a long-stalled effort to extend whistleblower protections to employees of the state Capitol has taken on new life in the early days of the legislative session.
The momentum is two-fold: One measure establishing such protections is poised to move ahead for the first time despite four previous tries and a second, recently introduced bill aims to further shield victims of Capitol harassment.
Sen. Anthony Portantino (D-La Cañada Flintridge), the author of the newer legislation, said credit for the revived push for whistleblower safeguards should to go to the women who spoke out last fall in an open letter about the "pervasive" sexual harassment and misconduct in California politics.
"The women who courageously came forward have said something that is true: The culture needed a seismic shift from one that was insulated and protective of the institution and, by extension, the members, to one that now protects the folks that do business in the building," Portantino said.
California's Senate culture doesn't encourage women to file complaints. Here's how that could change »
Every year since 2014, Assemblywoman Melissa Melendez (R-Lake Elsinore) has introduced a measure to enshrine protections into law for legislative staff. The legislation was proposed after a string of ethical scandals embarrassed the state Senate. Melendez argued that closing a loophole that exempts Capitol workers from state government whistleblower laws would enable staff to speak out about misconduct.
Although Melendez's bill easily passed the state Assembly each year, it routinely was shelved in the Senate Appropriations committee.
The sexual harassment controversies have brought a surge of new interest in the bill, which now has more than 50 legislators signed on as co-authors.
Last week, Senate leadership used a procedural maneuver to revive the bill, Assembly Bill 403, and move it forward. That's uncommon for legislation that had been previously tabled.
"The bill was withdrawn from Appropriations Committee and will be sent to the Senate floor for a vote later this month," said Jonathan Underland, spokesman for Senate leader Kevin de León (D-Los Angeles).
Melendez said she was "very encouraged to see the bill moving."
Also moving forward is Senate Bill 419 by Portantino, which will have its first committee hearing Tuesday. He said his measure would cover victims of all forms of harassment, including sexual harassment and discrimination based on age, gender or sexual orientation, and also would extend protections to lobbyists and other individuals who conduct work in the Capitol but are not employees of the Legislature.
The measure also would require the Senate and Assembly to retain records of all harassment complaints for a minimum of 12 years.
"It's a complement to the other bill," Portantino said of Melendez's measure. "I hope that one passes. I hope this one passes."
In about-face after legal threats, California's Legislature will grant new access to sexual misconduct allegation records »
Whistleblower protections have been a key demand by advocates seeking to improve sexual harassment policies in the Capitol.
"Women and men are waiting for justice. Many want to come out of the shadows and seek justice but cannot risk their jobs," said Samantha Corbin, executive director of We Said Enough, a nonprofit group formed late last year to address sexual misconduct in the Legislature. She noted her group had "consistently" supported Melendez's bill and has "hope the Legislature moves it forward to the governor's desk."
Corbin said the group looks forward to meeting with Portantino about his bill and continues "to call on the Legislature to put forward language that protects both victims and witnesses, provides restitution for retaliation, and promotes data collection, retention and transparent disclosure of records."
Follow @melmason on Twitter for the latest on California politics.
---
For reporting and exclusive analysis from bureau chief John Myers, get our California Politics newsletter.
You may occasionally receive promotional content from the Los Angeles Times.