Essential Politics: Donald Trump returns to California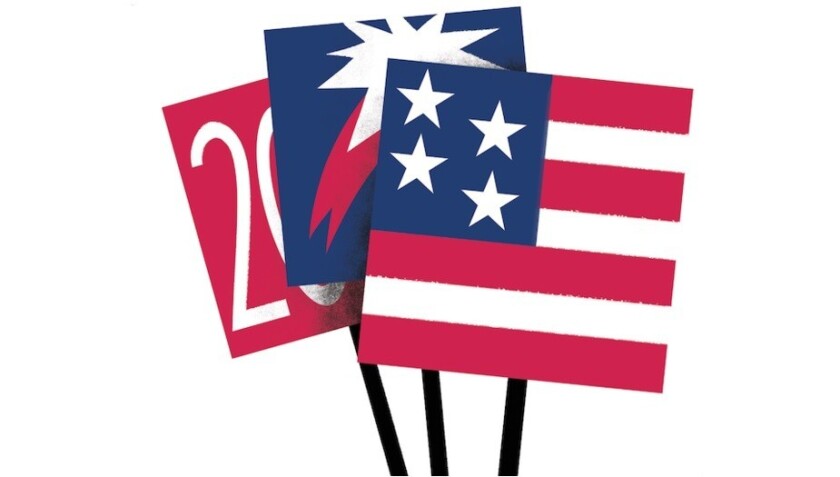 I'm Christina Bellantoni, the Essential Politics host today. Let's get started.
Sen. Bernie Sanders wants to "send a message" to Washington with the results of California's June 7 primary election. He released a new television ad urging Californians to do just that less than two weeks from now.
"What choice do Californians have in this election?" Sanders says in the 30-second ad, over footage of workers and students. "The biggest one of all. You have the power to choose a new direction for the Democratic Party."
Seema Mehta reports that the campaign wouldn't say how large of an ad buy is behind the spot, but that it would air first in Los Angeles and then in Sacramento and San Francisco. (Sanders told The Times in late March he wouldn't be waging an air war in California, and would instead try to win using the types of rallies he's been holding here all week.)
In Anaheim on Tuesday night at an event across the street from Disneyland, the Vermont senator asked his crowd of fans if they make a living wage working for Disney.
"It's an example of what we're talking about when we talk about a rigged economy," Sanders said. "Disney pays its workers wages that are so low that many of them are forced to live in motels because they cannot afford a decent place to live."
For her part, Hillary Clinton has continued to campaign all but ignoring Sanders.
Speaking at a union hall in Commerce on Tuesday, she attacked Donald Trump as "loose cannon" whose economic plans would only help billionaires like him.
TRUMP ARRIVES IN CALIFORNIA
Trump today holds a rally at the Anaheim Convention Center and tonight will attend his first big fundraiser to help the Republican Party raise money. If you need a refresher, tickets start at $25,000.
Los Angeles Mayor Eric Garcetti got in on the action by criticizing Trump ahead of the visit, saying the candidate can't get a "free pass" for the things he's previously said.
"What we cannot do with Donald Trump is normalize him as a candidate," Garcetti told reporters Tuesday. "He's a racist. He's a bigot. He's sexist. … He can't just turn into a normal candidate who says some kind of crazy things."
We'll cover the Trump rally — and the expected protests — live on our Essential Politics news feed and via @latimespolitics.
INDEPENDENTS ARE WONDERING
Non-partisan voters, the so-called "independents" who make up 4.1 million of California's registered voters, might need a little tutorial for the June 7 primary. It's actually sort of complicated — they can vote in the Democratic presidential primary, but only if they request that ballot. They are not allowed to vote in the GOP primary.
John Myers crafted a Q-and-A to help independent voters figure out what they need to do.
SOCIALIST OR SELLOUT?
Evan Halper finds that not every leftist is enamored with Sanders. Some see him as a sellout, particularly card-carrying members of Socialist Party USA.
LABOR UNIONS AND ENVIRONMENTALISTS AGAINST BROWN'S HOUSING PLAN
At first glance, labor unions and environmentalists wouldn't seem to have much of a direct interest in Gov. Jerry Brown's proposal to make it easier to build affordable housing. But as Liam Dillon reports, the two powerful interests are coming out against it.
The main reason? The plan allows housing developments to sidestep some review under the state's primary environmental law. Brown, for one, has recently criticized labor for using the law's strict rules to leverage union-friendly deals on construction projects.
In other housing news, state legislators are continuing to push Brown for more affordable housing subsidies, even though the governor has been reluctant to add funding.
AUTHORS AGAINST TRUMP
Stephen King, Junot Diaz and Dave Eggers are among the 600 American authors who came out against Trump in a letter posted on the website Literary Hub.
They wrote that Trump "deliberately appeals to the basest and most violent elements in society" and "denigrates women and minorities."
TODAY'S ESSENTIALS
-- Sanders is seeking a recount in Kentucky. On May 17, Clinton beat him by 1,924 votes and they each won 27 delegates. You can always track the delegate race in real time here.
-- Trump's rise has put evangelical Latinos in a difficult position.
-- A state transportation funding deal continues to face delays.
-- A proposed ballot measure to legalize the recreational use of marijuana could generate more than $1 billion annually for state and local governments, the state Legislative Analyst's Office said Tuesday.
-- Assemblyman Ian Calderon has spent $41,500 in political funds to support Proposition 50, an anti-corruption measure put on the ballot in response to issues raised when his uncle, former Sen. Ronald Calderon, was indicted in a bribery case.
-- Two Californians will help to shape the Democratic Party platform
-- Sen. Barbara Boxer will sit down with Merrick Garland Wednesday.
-- What do you think of Trump? Readers can weigh in with our quick survey.
LOGISTICS
Miss yesterday's newsletter? Here you go. Did someone forward you this? Sign up here to get Essential Politics in your inbox daily. And keep an eye on our politics page throughout the day for the latest and greatest. And are you following us on Twitter at @latimespolitics? Please send thoughts, concerns and news tips to politics@latimes.com.
---
Get our Essential Politics newsletter
The latest news, analysis and insights from our politics teams from Sacramento to D.C.
You may occasionally receive promotional content from the Los Angeles Times.