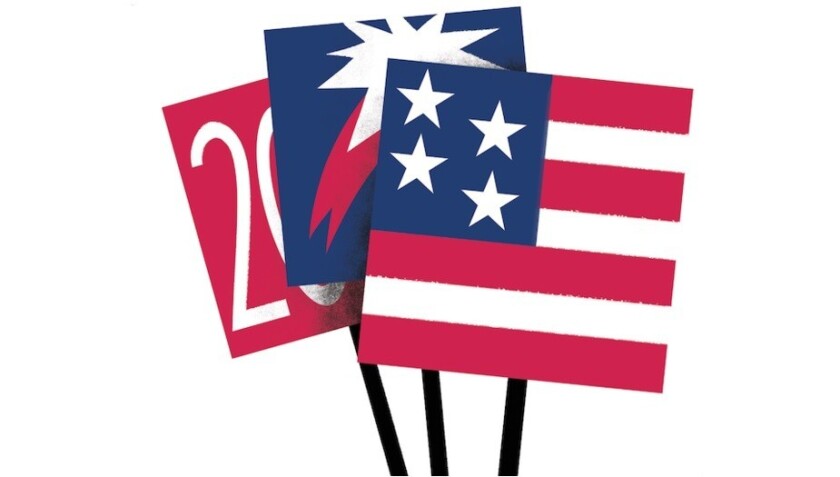 I'm Christina Bellantoni. This is Essential Politics. Let's get started.
Hillary Clinton will be back in California next week for two Tuesday evening fundraisers. One will be held in the early evening at the Los Angeles home of tech billionaire Sean Parker and his wife, Alexandra Lemas. Tickets start at $2,700 per person, according to a copy of the invitation obtained by The Times.
The other is at the Los Angeles home of Jane and Marc Nathanson, co-hosted by Sherry Lansing and Billy Friedkin. The event supports the "Hillary Victory Fund," meaning some of the funds raised will go to the Democratic National Committee and state Democratic parties.
Contribution levels start at $33,400 per couple. To be an event co-chair and attend a reception with the candidate, couples must contribute $100,000.
The Democrat's campaign announced Monday having raised more than $28 million in May.
It would be a compliment to say Donald Trump's May fundraising report was lackluster. The billionaire raised a dismal $3.1 million last month — and spent $6.7 million — and loaned his campaign more money to keep it afloat.
Trump's campaign ended May with $1.2 million in cash on hand (less than some congressional campaigns raise in a quarter), compared with $42 million for Clinton's campaign.
The numbers were released on a day that began with Trump dumping campaign manager Corey Lewandowski.
"I wouldn't change one second of my time with Mr. Trump other than to say, 'Thank you, it's been an honor,'" Lewandowski said on MSNBC, not long after security escorted him from Trump's Manhattan headquarters.
HOW THEY GOT HERE, AND WHAT'S NEXT
Our team has created a handy guide to All Things Trump and All Things Clinton, detailing the presidential rivals' candidacies, backstories and how they would govern.
And check out our interactive Electoral College map to see who is most likely to make it to 270.
GUN CONTROL EFFORT FAILS IN U.S. SENATE
Despite Clinton's last-minute attempt to get supporters to "stand up to the NRA" and call their senators, four gun control measures failed on the Senate floor Monday, as expected.
Also Monday, the Supreme Court turned away another challenge to state laws banning the sale of rapid-fire assault weapons.
Without comment or a dissent, the justices dismissed appeals from gun-rights advocates in Connecticut and New York who contended the state bans violated their rights under the 2nd Amendment.
AN UNLIKELY ADVOCATE
Rep. Mike Thompson (D-St. Helena) thinks about a photo of 6-year-old Jack Pinto in a Little League uniform when he talks about gun violence. Pinto was one of 20 elementary school students killed in Newtown, Conn., in 2012.
Gun control efforts that at first seemed possible failed in the Senate after Newtown, but Democrats haven't given up. Sarah Wire introduces you to Thompson, a lifelong hunter who has become an unlikely advocate for gun control.
DALAI LAMA DAZZLES SACRAMENTO
Giggling, smiling and signing autographs, the Dalai Lama visited California's Capitol on Monday. He was greeted by hundreds of supporters outside, then welcomed into the Assembly chamber, where he delivered a speech to a joint session of the Legislature. It was "totally wrong" that Muslims are viewed as "militant." In a reference to gun control, he said "external disarmament" must be preceded by "internal disarmament."
His overall message: "The best way to take care of one's self is to take care of others."
DON'T PAROLE MANSON FAMILY KILLER, SAYS SHARON TATE'S SISTER
While the Tibetan leader was preaching peace and tolerance upstairs in the state Assembly on Monday, the sister of one of California's most famous murder victims was urging Gov. Jerry Brown to deny parole to a former follower of Charles Manson.
Debra Tate, the sister of actress Sharon Tate, showed up in Sacramento with some 139,000 signatures on a petition opposed to the parole of Leslie Van Houten.
Van Houten was convicted of first-degree murder in the two-day Manson group's killing spree through Los Angeles in August 1969. And as John Myers reports, family members of the victims want Brown to reject a state review board's April recommendation that Van Houten be released from prison.
TODAY'S ESSENTIALS
— Vice President Joe Biden called anti-Muslim rhetoric "deeply, deeply damaging to our national security" on Monday and warned that proposals like those supported by Trump only threaten to further inflame Arab-world sentiment against the U.S.
— Michael Steven Sandford, 19, appeared in court Monday after being arrested on suspicion of trying to seize a gun from a police officer so he could shoot Trump at his weekend rally in Las Vegas.
— A controversial bill to expand overtime pay rules for California farmworkers has been quietly revived in the Legislature, less than two weeks after being rejected in an emotional vote on the Assembly floor.
— Former Los Angeles Mayor Antonio Villaraigosa says he's going to announce whether he's running for governor after the November election.
— The head of the state's electricity regulator isn't enthused about a bill that could dismantle his agency, though he wants changes to how the California Public Utilities Commission operates.
— A survey Monday commissioned by several Native American tribes with concerns about legalizing Internet poker in California found a majority of the state's likely voters oppose the idea.
LOGISTICS
Miss yesterday's newsletter? Here you go. Did someone forward you this? Sign up here to get Essential Politics in your inbox daily. And keep an eye on our politics page throughout the day for the latest and greatest. And are you following us on Twitter at @latimespolitics?
Please send thoughts, concerns and news tips to politics@latimes.com.
---