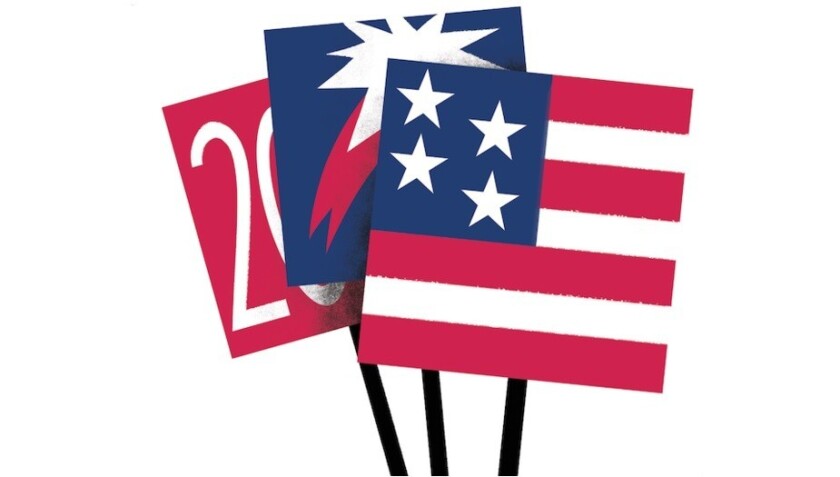 I'm Christina Bellantoni. This is Essential Politics. Let's get started.
The past week has found some good news for fans of Sen. Bernie Sanders, as California elections officials make their way through hundreds of thousands of uncounted ballots — but not enough to change the outcome of election night.
As of Tuesday night, there were about 784,000 ballots left to process from the June 7 primary. And over the course of the last week, the Hillary Clinton lead has narrowed slightly, now at about nine percentage points statewide.
While state law allows the vote count to last through early July, the current review rate could mean things are wrapped up by the middle of next week. In fact, 11 of California's 58 counties already have finished processing their ballots.
CLINTON: 'HAMILTON WOULD BE ROLLING IN HIS GRAVE'
With the primary behind her and racing toward the general election, Clinton warned in a speech Tuesday that Donald Trump's business record disqualified him from overseeing the nation's economy. She argued his policies and temperament risked sending the U.S. into a recession and setting off a global panic.
Saying "Alexander Hamilton would be rolling in his grave," Clinton repeatedly used Trump's words and the few policy details he's offered as a weapon against him.
Trump on Tuesday also questioned Clinton's faith, even though she has talked about her Methodist religion for years.
For the latest about the campaign, keep an eye on Trail Guide and follow @latimespolitics.
TRIBES TEPID ON SENATE RACE
California's Native American tribes are usually high rollers when it comes to contributing to political campaigns, but that's not the case in the U.S. Senate race. Phil Willon reports that a number of tribes that operate lucrative casinos have avoided the race altogether, even though they've been generous to other federal candidates and political parties.
Some Native American leaders aren't too happy with the record of Democratic Atty. Gen. Kamala Harris on tribal issues, especially those related to gaming. And her Democratic rival in the November election, Rep. Loretta Sanchez, didn't do herself any favors with her Native American "war cry" gaffe in 2015.
CALL TO ACTION AT POT CONFERENCE
Lt. Gov. Gavin Newsom warned a conference of cannabis industry members Tuesday that they need to get involved in passing a pot legalization measure on the November ballot or the cause will be set back nationally.
Patrick McGreevy reports from Oakland that Newsom also said the war on drugs has been an "abject failure."
"I kind of got frustrated by some of our colleagues because they weren't leading," Newsom told some 2,000 industry activists and entrepreneurs at a conference sponsored by the National Cannabis Industry Assn.
Newsom said current drug policies constitute "a war on the poor, on folks of color, and it's got to end."
We will continue to track the measures on the Nov. 8 ballot on our Essential Politics news feed.
BUYER'S REMORSE?
Two of Trump's most high-profile supporters in Congress have a case of buyer's remorse, writes Joshua Stewart of the San Diego Union-Tribune.
Rep. Darrell Issa (R-Vista) said he'd like to "redo" the entire primary process without Trump as a candidate. Rep. Duncan Hunter (R-Alpine), one of the first members of the House to back Trump, warned of an attempt to block Trump as the Republican Party's presidential nominee and of potential violence at the GOP national convention in July.
Issa, blaming President Obama for voter frustration, said Sanders and Trump found "a socialist versus an egotist" on primary ballots, and "Neither one of them were particularly people who should have been so far up."
MORE ON THE CLINTON FUNDRAISERS
We told you yesterday about the fundraiser at tech mogul Sean Parker's home next week. Among the co-hosts is Ron Conway, an angel investor who was an early Napster funder.
"Given Donald Trump's stand on trade, immigration, gun safety, etc., the tech community MUST make a big showing for Sean's event given his leadership in the tech community and philanthropy," Conway wrote in an invitation to his network obtained by The Times.
CONGRESSIONAL BASEBALL GAME
Rep. Linda Sanchez will again be the only female player in the annual Congressional Baseball Game on Thursday night between Democrats and Republicans. The Whittier Democrat was one of the Democrats' most valuable players last year.
Sarah Wire reports that Sanchez is just one of the handful of California members who will suit up in jerseys of their local teams Thursday night as Republicans try to end Democrats' winning streak.
Democrats have won the last seven games of the annual Washington charity tradition at Nationals Park. The event, sponsored by the Capitol Hill newspaper Roll Call, draws Hill staffers, lobbyists, other members of Congress and, last year, even President Obama. (Don't miss the photos in the story.)
TODAY'S ESSENTIALS
— A jury has convicted Pennsylvania Rep. Chaka Fattah on trial in a racketeering case that centered on various efforts to repay an illegal $1-million campaign loan. The Democrat was found guilty Tuesday of racketeering, fraud, money laundering and other counts. His lawyers had argued that the schemes were engineered without Fattah's knowledge by two political consultants who pleaded guilty in the case.
— The fight among California Democrats over Uber and Lyft regulations was laid bare during a Senate committee hearing Tuesday. A bill that would ease rules on the industry advanced.
— The U.S. Department of Veterans Affairs will have to look at whether its suicide prevention programs are meeting female veterans' needs under a California-led bill that passed the House on Tuesday.
— San Bernardino County and the city of Ontario could reclaim control of Ontario International Airport soon under legislation that passed the House by a voice vote Tuesday afternoon. The legislation allows some of the $2-per-passenger facility charge collected at the Ontario airport to be used to reimburse Los Angeles International Airport. The reimbursement is required under a deal between the owners of the two airports that would give local control back to the Inland Empire.
— Several California House members are asking how the military plans to stop using live animals in medical combat-trauma training, as it has said it will.
— The Los Angeles City Ethics Commission fined a former City Council candidate nearly $16,000 for failing to pay for campaign services that exceeded city limits on donations, as well as other violations. At the same meeting, commissioners also fined former Mayor Richard J. Riordan for neglecting to include key wording on election emails backing candidates for the Los Angeles Unified school board.
— Check out our interactive Electoral College map.
LOGISTICS
I'm headed out for a short vacation and will be back July 5 with your regular edition of Essential Politics. Sacramento bureau chief John Myers will take things from here.
Miss yesterday's newsletter? Here you go. Did someone forward you this? Sign up here to get Essential Politics in your inbox daily. And keep an eye on our politics page throughout the day for the latest and greatest. And are you following us on Twitter at @latimespolitics?
Please send thoughts, concerns and news tips to politics@latimes.com.
---