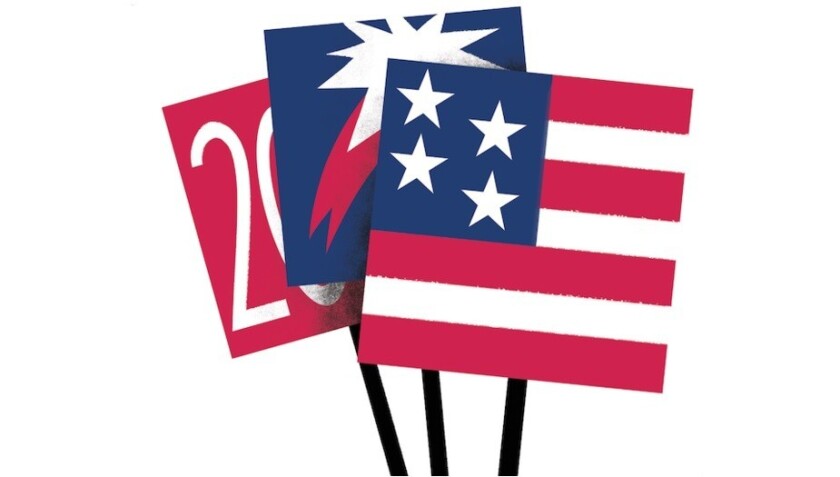 Who would be hardest hit by Republican's health care proposal? People who voted for President Trump.
Noam Levey broke down county-level voting and tax credit data and found that lower-income, older voters in conservative, rural parts of the country stand to lose the most in federal healthcare aid under the Republican plan to replace the Affordable Care Act.
His analysis found that 68 of the 70 counties where people would suffer the largest losses supported Trump in November.
I'm Sarah Wire, and I cover the California delegation in Congress. Welcome to the Monday edition of Essential Politics.
This week expect attention to stay focused on the Republican health plan, as Congress and the rest of us are expected to get a first glimpse at the Congressional Budget Office's estimate of what the plan will cost and how many Americans the bill might affect.
On Sunday, Health and Human Services Secretary Tom Price said he expects "nobody will be worse off financially" under the plan.
Conservatives in the Senate say the Republican plan does not go far enough to distinguish itself from the Affordable Care Act, also known as Obamacare, which Republicans have spent the last eight years pledging to repeal.
Get the latest about the Trump administration on Essential Washington and follow @latimespolitics and keep an eye on our Essential Politics news feed for California political news.
WIRETAPPING CLAIMS UPDATE
Congressional pressure — some from the Republican side of the aisle — is mounting over Trump's unsubstantiated claim that he was wiretapped on President Obama's orders during last year's presidential campaign.
On Sunday, Sen. John McCain (R-Ariz.) said it was incumbent on Trump to "clear this up," and Rep. Adam B. Schiff (D-Burbank) said Trump's claim will need to be investigated openly.
Other Republicans pointed to former Director of National Intelligence James R. Clapper's assertion last week that no evidence of collusion between Russia and the Trump campaign was found under his watch.
SOCIAL MEDIA VETTING FOR IMMIGRANTS
Pilot programs designed to search the social media accounts of visa applicants to look for signs of radicalization failed to measure the effectiveness of such efforts, according to a watchdog report released Friday.
The Trump administration plans to vastly expand such social media searches of visa applicants, but Brian Bennett reports that though the Department of Homeland Security tested the idea during the Obama administration, it did not track whether officers successfully linked accounts to applicants or determined whether posts should be grounds for blocking admission to the U.S., the agency's inspector general found.
A PATH TO DEBT-FREE COLLEGE?
California Assembly Democrats are wading into the college affordability debate with a new proposal that aims to tackle costs beyond tuition that are forcing students to take out loans.
The plan would build upon California's existing higher education assistance for students in the CSU and UC systems. It would also make community colleges tuition-free for full-time students' first year. Melanie Mason and Teresa Watanabe have an advance look at the measure.
SANCTUARY STATE SPLIT
Law enforcement leaders across the state are torn on proposed legislation in the state Senate that would ban law enforcement agencies from using resources to enforce federal immigration laws.
Jazmine Ulloa has the story on the reaction to the legislation, sponsored by Senate President Pro Tem Kevin de León (D-Los Angeles) in response to Trump's executive orders on immigration, one of which pledged to cut federal dollars from so-called sanctuary cities that limit the cooperation between local law enforcement and federal immigration authorities.
The bill is set for its next legislative hearing today.
ANOTHER CANDIDATE FOR GOVERNOR?
David Hadley, a Republican and former assemblyman from Manhattan Beach, opened an exploratory committee for a possible run for governor Friday.
Hadley told Christine Mai-Duc he'll run as a Republican if he decides to proceed, but emphasized his bipartisan appeal as a Republican legislator who was elected in a Democratic-leaning swing district. Hadley, who lost to Democrat Al Muratsuchi last year after serving one term, is so far the only potential GOP candidate for governor who has prior experience as an elected official.
NEW RETIREMENT PLAN FOR BOXER
Former U.S. Sen. Barbara Boxer discussed the 2016 election, Trump's presidency, her tenure and her future at the inaugural speech of the Barbara Boxer Lecture Series, her first major speaking event since retiring.
Seema Mehta reports that Boxer had planned to spend the next few years advising the first female president, but instead she'll focus on countering the new president and preparing to go to battle for Democrats in 2018.
POLITICS PODCAST
Sacramento Bureau Chief John Myers and his guests on this week's California Politics Podcast discuss the policy and political choices facing state lawmakers as efforts to repeal of the Affordable Care Act come into focus in Washington. Also on the agenda: Who Gov. Jerry Brown may consider filling a vacancy on the state Supreme Court.
Myers also takes a look at what role absentee ballots will play in California's future elections in his weekly column.
TODAY'S ESSENTIALS
— Two lawmakers want to exempt diapers and tampons from state sales taxes and are proposing an increase in liquor taxes to pay for it.
— Raucous anti-Trump crowds showed up at town halls held this weekend by Republican Reps. Darrell Issa (Vista) and Duncan Hunter (Alpine).
— New appointments will bring changes to California's campaign finance and ethics watchdog agency.
— Mark Barabak takes a look at one California politician's plan to make the state more influential in presidential campaigns.
— Rumors bubbled up last week claiming that former California Republican Gov. Arnold Schwarzenegger might challenge Democrat Sen. Dianne Feinstein in 2018, but Schwarzenegger put that to rest Sunday, saying he has no plans to run for the seat.
— Californians need to embrace new homebuilding at all income levels if the state is going to solve its affordability crisis, a new report from the nonpartisan legislative analyst says.
— L.A. congressional hopeful and former L.A. Times employee Alejandra Campoverdi gets personal about the healthcare debate in her first TV ad, opening up about her family's history with breast cancer.
— Former L.A. Mayor Richard Riordan backed Yolie Flores, a former L.A. Unified School District board member who is running against Campoverdi for the seat in the 34th Congressional District.
— Only a handful of the 23 candidates running to replace Xavier Becerra in the 34th Congressional District filed early campaign finance reports. But the reports provide a glimpse into who the powerhouse fundraisers could be and where some local power brokers are placing their bets.
LOGISTICS
Essential Politics is published Monday, Wednesday and Friday. You can keep up with breaking news on our politics page throughout the day for the latest and greatest. And are you following us on Twitter at @latimespolitics?
Miss Friday's newsletter? Here you go.
Please send thoughts, concerns and news tips to politics@latimes.com.
Did someone forward you this? Sign up here to get Essential Politics in your inbox.
---