Newsletter: Essential Politics: President Trump faces a new test in Texas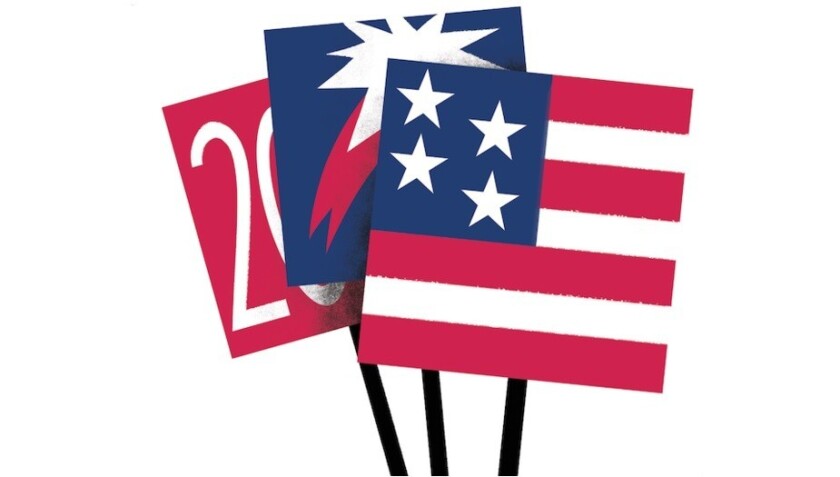 President Trump is facing a new test of his presidency with the deadly havoc caused by Tropical Storm Harvey. The rain and floods in Texas shifted the focus away from what, under normal circumstances, would have been an epic Friday news dump from the White House.
Trump will travel to see the damage in Texas firsthand on Tuesday.
Still, the news there did little to quell what seems to be a growing chorus of top Republicans — and even some of Trump's own Cabinet members — criticizing his decision to pardon former Maricopa Sheriff Joe Arpaio and his response to the violence in Charlottesville, Va.
Meanwhile, California could back a Democratic effort in Congress to formally censure Trump for those Charlottesville comments.
Many Californians also are anxiously awaiting an expected decision on the fate of the Deferred Action for Childhood Arrivals program for so-called Dreamers. California Gov. Jerry Brown said ending the program for people who were brought to the country illegally as children would "turn our back on the future." Two California Republicans urged Trump to keep DACA in place.
And even after a pair of far-right protests were canceled in the Bay Area out of fears of violence, activists took to the streets in Berkeley, clashing under clouds of tear gas. See the video.
We'll be covering the visit to Texas and the final week before Congress returns on Essential Washington.
LIGHTNING ROUND
Sebastian Gorka is out. Another reason to check out our handy cheat sheet sorting out the Trump administration's musical chairs.
Trump foes, questioning his mental fitness, want to oust him from office using the 25th Amendment. How would that work?
SINGLE-PAYER STAYING POWER
A measure to establish a single-payer healthcare system in California sputtered earlier this summer, but the issue itself hasn't been sidelined. Assembly Speaker Anthony Rendon (D-Paramount) reignited the debate with plans to hold hearings this fall on ways California can achieve universal healthcare.
As Melanie Mason reports, the continued churn over healthcare overhaul makes it all but certain the issue will remain in the limelight in 2018.
A reminder you can keep up with important developments in Sacramento via our Essential Politics news feed on California politics.
ASSEMBLY GOP BOOTS MAYES
We told you last week that California's Assembly Republicans could oust their leader in the coming week. That's what they did, but with little of the drama it could have entailed. Chad Mayes himself took the floor to announce his GOP colleagues had unanimously voted to replace him.
Meet Brian Dahle (pronounced Dolly), the new face of the Assembly Republicans. His goal: End the Democrats' supermajority in 2018.
A HISTORY OF DUMPED LEADERS
Mayes' ouster should come as no surprise to political spectators, writes George Skelton. When conservative Republicans in the state Assembly dumped their moderate leader last week, they did what they've historically been known to do: Dump their leaders, Skelton says. Mayes' vote for California's signature environmental cap-and-trade program was seen as a betrayal, and he stepped aside before he was pushed out.
GETTING RID OF GUNS AT RALLIES
Charlottesville's deadly white supremacist rally made one thing clear: It's time to disarm protesters before they head to rallies, Skelton writes. California legislators, alarmed by the recent violence, will soon take up the issue. Last week, Senate leader Kevin de León (D-Los Angeles) called for hearings to examine California's preparedness for future neo-Nazi rallies and the rise of white supremacist organizations in California.
ON POLICE AND PRIVACY
Jazmine Ulloa reviewed records from 20 of the state's largest police and sheriff's departments, plus the Alameda County district attorney's office, and found some agencies have been slow to follow or have ignored the law requiring disclosure of how StingRay surveillance tools are being used. The StingRay imitates the function of a cell tower and captures the signals of nearby phones.
PLANNED CLIPPERS ARENA LOOKS FOR HELP FROM SACRAMENTO
Supporters of a plan to build a new arena in Inglewood for the Los Angeles Clippers are hoping for a last-minute deal in the state Legislature to make the project easier to build, Liam Dillon reports.
The Clippers say the proposed legislation would be similar to measures passed in recent years to benefit a variety of stadium and arena plans. No bill has been formally introduced.
WHITE COMMUNITIES PLAN FOR LESS AFFORDABLE HOUSING
A new UC Berkeley study of Bay Area cities found that communities with higher percentages of white residents planned for fewer low-income homes than their counterparts with more black, Latino and Asian residents, Dillon reports.
Legislation that would help remedy the issue is on hold for the year, but Assemblyman Miguel Santiago (D-Los Angeles) plans to bring it back in 2018.
POLITICAL ROAD MAP: WILL HIDDEN DONORS BE REVEALED?
One of the hundreds of bills facing a big deadline in Sacramento this week is an effort to impose new rules about the source of money in statewide ballot measure campaigns. In his Sunday column, John Myers takes a closer look at what the plan would — and wouldn't do — if signed into law later this year.
TODAY'S ESSENTIALS
-- On this week's California Politics Podcast, the topics include the aftermath of GOP fighting in the Legislature, and the high-profile role some of the state's Democrats in Congress have taken in the demands that Trump be removed from office.
-- Just days after their first attempt was blocked by a state appeals court, Democrats again have written a law to change the rules governing California's recall elections.
-- Were absentee ballots in California thrown out last year because of "penmanship" problems when it came to verifying a voter's signature? That's the accusation in a new election-related lawsuit.
-- Rep. Tom McClintock (R-Elk Grove), who's had a rough going at town halls this year, received a kinder if not exactly warm response in a remote town in the Sierra foothills Thursday. The main target of many in the crowd inside the Foresthill High School gym was McClintock's support for Trump.
-- There was a cardboard cutout at Rep. Duncan Hunter's "empty chair" town hall, but no Duncan Hunter.
-- Freshman Rep. Salud Carbajal and Assemblywoman Monique Limón took a moderate tone on universal healthcare during a one-stop-shop town hall in Santa Barbara Saturday that also featured state Atty. Gen. Xavier Becerra and state Sen. Hannah-Beth Jackson.
-- One Rep. Ed Royce challenger knocks him for his healthcare votes in a new ad.
-- A Democratic group is expanding its campaign to criticize vulnerable Republicans for their votes to weaken financial regulations.
-- The Democratic Congressional Campaign Committee highlights Rep. Dana Rohrabacher's ties to Russia in a cheeky digital campaign in English and Russian.
-- Felons in state prison would be allowed to vote in California elections under a ballot measure proposed by a group representing prisoners, their families and supporters.
-- The University of California president's office has failed to keep a proposed new payroll system on budget and on schedule, and original estimates of its cost savings are unlikely to be realized, a state audit concluded.
-- California lawmakers asked Brown to bar marketing pot edibles to minors.
-- A proposed ballot measure wants to decriminalize the adult use of hallucinogenic mushrooms.
-- Democrats won 3-1 in the first Capitol Cup legislative soccer game to raise money for a nonprofit that helps mothers escape homelessness, poverty and abuse.
LOGISTICS
Essential Politics is published Monday, Wednesday and Friday.
You can keep up with breaking news on our politics page throughout the day for the latest and greatest. And are you following us on Twitter at @latimespolitics?
Miss Friday's newsletter? Here you go.
Please send thoughts, concerns and news tips to politics@latimes.com.
Did someone forward you this? Sign up here to get Essential Politics in your inbox.
---
Get our Essential Politics newsletter
The latest news, analysis and insights from our politics teams from Sacramento to D.C.
You may occasionally receive promotional content from the Los Angeles Times.