California's GOP House members are taking their challengers more seriously and the numbers show it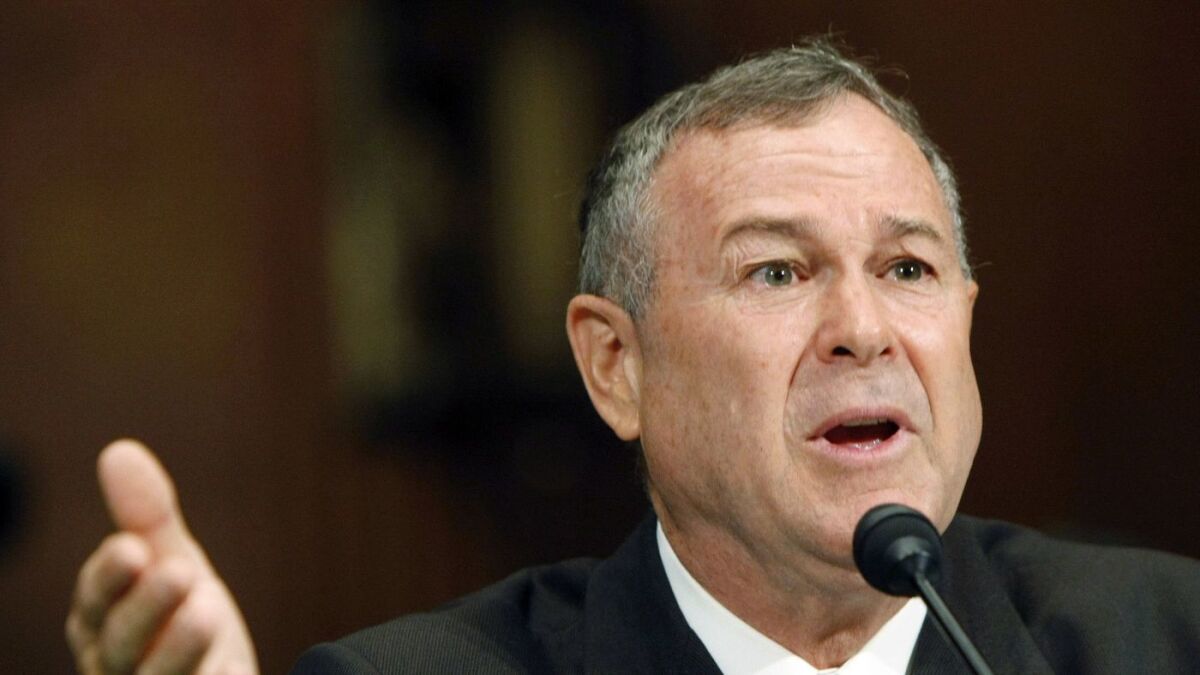 For much of last year, consultants and campaign managers for some of California's most vulnerable Republican incumbents maintained a bullish tone on the prospect that the GOP would hold the House in this year's midterms.
The National Republican Congressional Committee insisted that longtime Republican incumbents in California had built up reputations as effective champions of local issues that would help them weather a flood of Democratic enthusiasm.
For the record:
8:30 p.m. April 20, 2018A previous version of this article said that Rep. Dana Rohrabacher's fundraising in the first quarter of 2018 rose by 21% compared with the previous quarter. The increase was 29%.
Since then Rep. Ed Royce (R-Fullerton) and Rep. Darrell Issa (R-Vista) have decided not to seek reelection and the NRCC has opened a West Coast headquarters in Orange County.
Now, fundraising figures suggest that California's House Republicans have begun taking their challengers more seriously, too.
Track the California races that could flip the House »
In the latest figures reported to the Federal Election Commission, seven of California's eight endangered GOP House members brought in more money in the first three months of this year than they did in any quarter last year.
While an increase in fundraising is to be expected as we near California's June 5 primary, the first quarter of 2018 was pivotal for a handful of GOP incumbents. With seven months to go before the November general election, three of them have surpassed what they raised during the entire 2016 election and a few others are close.
That suggests House Republicans here are girding themselves for a bigger fight than they might have foreseen a year ago, as Democrats stake their chances of regaining control of the House on at least some of these California races.
A few California Republicans who previously struggled with fundraising appear to have seriously stepped up their efforts in the first three months of 2018.
The haul by Rep. Tom McClintock of Elk Grove increased by 51% and that of Rep. Dana Rohrabacher of Costa Mesa rose by 29% compared with what they brought in the previous quarter.
Rep. Duncan Hunter of Alpine, who has been dogged by an ongoing FBI investigation into campaign spending and posted anemic numbers at the end of last year, quadrupled the amount he brought in, compared with his haul last quarter.
That doesn't mean Republicans can start relaxing.
McClintock, Rohrabacher and Rep. Steve Knight (R-Palmdale) were still out-raised by at least one of their Democratic challengers in the quarter that just ended. It's an indication of sustained energy on the left and increased attention on those races, something political analysts have pointed to as they've predicted a wave will sweep the GOP out of power this year.
It's an improvement, though, from the previous quarter, when even some of the better-funded Republicans seemed to be caught off-guard by Democratic fundraising and more than half of California's 14 GOP incumbents raised less than people running against them.
The uptick comes after House Speaker Paul D. Ryan admonished members of his caucus in a closed-door meeting over lagging campaign figures.
Five of California's eight vulnerable GOP house members also still had substantial leads over their Democratic challengers in cash on hand as of the end of March. Though his challenger raised more than $1 million last quarter, Devin Nunes (R-Tulare) still had more than $4.5 million banked on the back of his high-profile and controversial role in the Russia investigation. Rep. Jeff Denham (R-Turlock) had nearly $2.4 million socked away.
With that much money, those incumbents at least know they have the resources to shore up voter support through door-knocking and expensive ad campaigns.
For a second quarter in a row, however, McClintock, Rohrabacher and Hunter reported having less money in the bank than at least one of their opponents. That could prove disastrous if they don't have enough cash to counteract Democrats' messages.
Groups like the NRCC and the Congressional Leadership Fund are expected to focus some of their efforts on helping to retain GOP-held districts in California.
But at a time when Republicans are looking to minimize losses, an incumbent who can't manage to bank as much as his upstart challengers may look on paper to be a bad investment.
Times staff writer Maloy Moore contributed to this report.
Coverage of California politics »
For more on California politics, follow @cmaiduc.
---
Life is stressful. Our weekly mental wellness newsletter can help.
You may occasionally receive promotional content from the Los Angeles Times.