Antonio Villaraigosa targets Gavin Newsom as he stumps on Eastside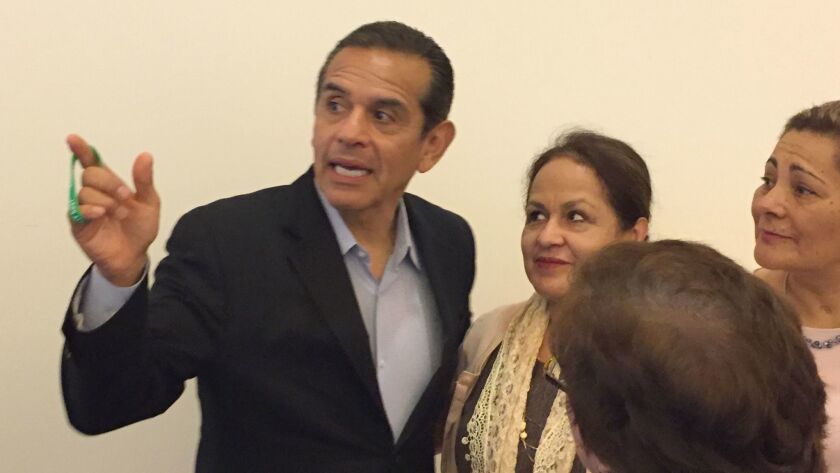 The rivalry between Antonio Villaraigosa and Gavin Newsom intensified Saturday as the former Los Angeles mayor suggested his chief opponent in the governor's race was a finger-in-the-wind politician unworthy of leading California's resistance to President Trump.
"His M.O. is to be for something, then be against it, then be for it again, depending on the polls or popular whim," Villaraigosa said after a speech on immigration at East Los Angeles College, alluding to Newsom's stands on high-speed rail and a single-payer healthcare system.
With the June 2018 primary still a full year away, Villaraigosa's attacks on the lieutenant governor came remarkably early in the campaign. In a wide-ranging interview, Villaraigosa dropped any pretense that his veiled criticisms of unnamed Democrats in recent weeks were aimed at anyone other than Newsom, a former San Francisco mayor.
"I call them Davos Democrats who fly over the homes of people left behind, but never have been in their living rooms," he said, naming Newsom as one of those Democrats. "I grew up in those living rooms."
Newsom campaign spokesman Dan Newman said he would not dignify Villaraigosa's "pile of inaccurate silliness" with tit-for-tat responses.
"I find it curious and a bit disappointing how early in the campaign Antonio has shrunk to juvenile name-calling and facile negativity," Newman said in an email. "I really believe that voters — particularly in the Trump era — are eager for more positive, intelligent, and substantive discussions. Hopefully he'll join us in that effort at some point."
A poll last month by the UC Berkeley Institute of Governmental Studies found 22% of likely voters supporting Newsom and 17% backing Villaraigosa. A handful of other candidates were clustered in the single digits.
Newsom was the favorite of upscale white liberals, especially in the Bay Area, while Southern Californians, Latinos and voters with lower incomes preferred Villaraigosa. Both are Democrats.
Newsom's steady lead in recent polls makes him an inevitable target, but so far Villaraigosa is the only one to attack him. Their rivalry was spawned a dozen years ago when both were high-profile mayors aspiring to statewide and perhaps national office.
"I think it was inevitable that we would end up where we are, on the same ballot, and that always made for an interesting political dance, to be candid," Newsom said in an April interview. "You always felt that, and it's unfortunate."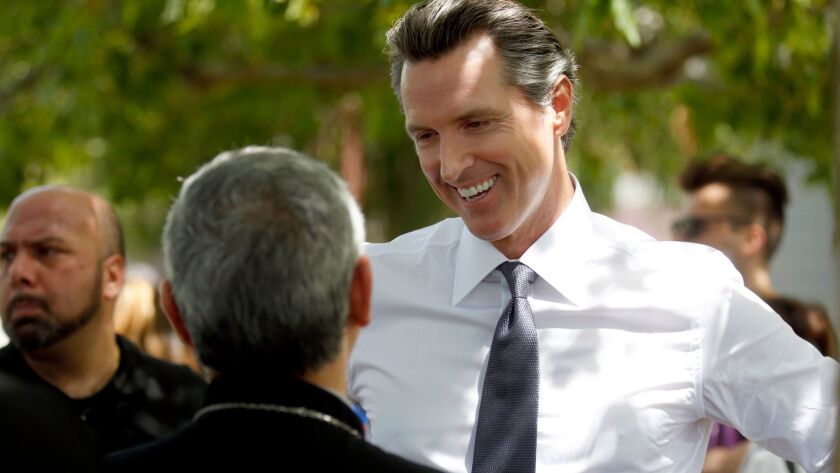 Newsom said he had "a much stronger relationship" with Eric Garcetti, Villaraigosa's successor as mayor.
On Saturday, Villaraigosa campaigned at a California Latino Congreso forum on immigration at East L.A. College in Monterey Park. He described Trump's anti-Mexican rhetoric as part of a long-standing tradition.
Villaraigosa told the audience that hundreds of thousands of U.S. citizens of Mexican ancestry were forced to "repatriate" to Mexico in the 1930s, and that more mass deportations occurred in the '50s under President Eisenhower.
Villaraigosa also paid tribute to Jose Luis Hernandez, a 30-year-old Honduran immigrant who told the crowd he'd lost his right leg and right arm when he fell off a train crossing Mexico on his journey to the U.S.
"You don't have to be Mexican, or Latino, or an immigrant to feel what he has gone through," Villaraigosa said. "And as we all know, he's not the only one."
In the interview afterward, Villaraigosa shifted his focus to Newsom. "Gavin, he tweets a lot, but I think people want more than tweets and talk," he said. "They're looking for leadership."
Villaraigosa argued that his years as a president of the ACLU's Southern California chapter and speaker of the state Assembly gave him real-world experience that Newsom can't match.
"I came out of the civil rights movement," he said. "I've stood up for justice and equality my whole life, for working people." Turning sarcastic, he added: "So you know, 'resist' with talk and tweets? Yeah. That's not what people are looking for."
ALSO
California Democrats worry that infighting will distract party leaders from taking on Trump
Trump presidency eases Gavin Newsom's path in his second run for California governor
Gavin Newsom faces backlash as state fights Sierra Club and San Francisco over waterfront
---
Get our Essential Politics newsletter
The latest news, analysis and insights from our politics teams from Sacramento to D.C.
You may occasionally receive promotional content from the Los Angeles Times.