California hasn't mattered in national politics for a long time. Here's why this election day is different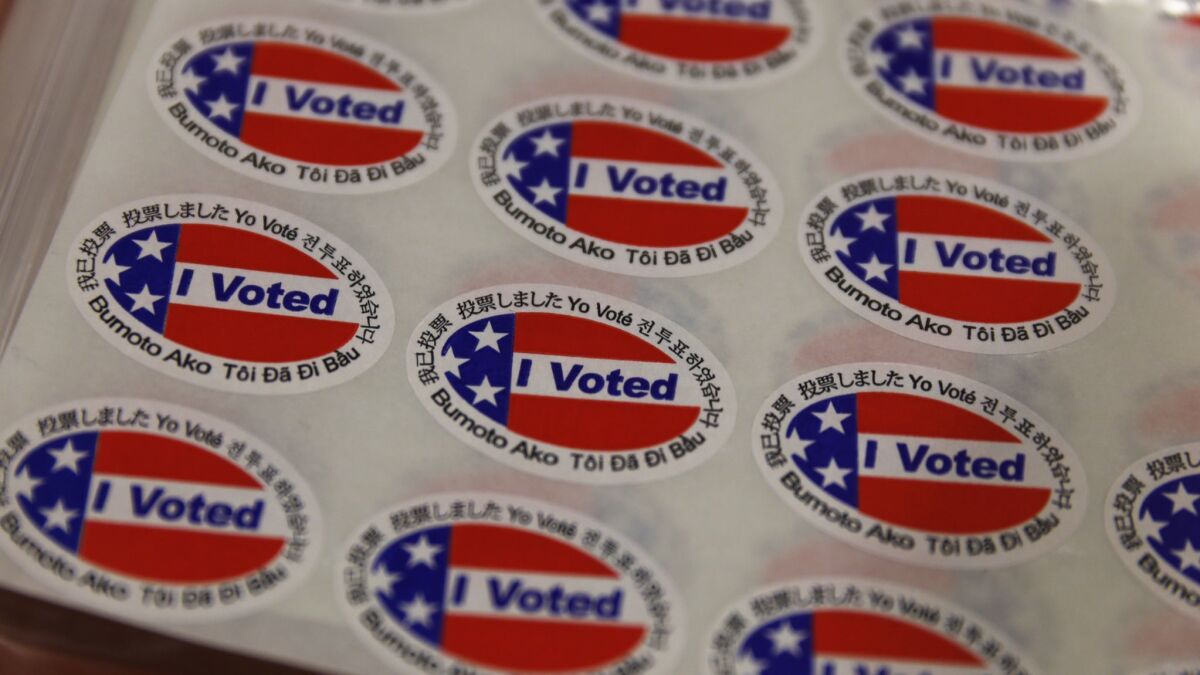 California — big, bounteous, beautiful — is pretty much used to irrelevancy come election day.
Sure, the state has produced many leaders of national import and helped countless more finance their political pursuits. But it's been two decades since California was a presidential battleground, and longer still since the state played a meaningful role choosing a major party presidential nominee.
Successive congressional wave elections have come and passed, cresting without ever breaching the Sierra Nevada.
This year is different.
Unaccustomed as it may be, California stands at the center of the fight for control of the House, with at least half a dozen seats up for grabs, or more than a quarter of the 23 that Democrats need to seize the majority. A handful more could tip the party's way if Nov. 6 produces a blue tsunami.
Will California flip the House? The key races to watch »
History favors the Democrats. With rare exception, the party holding the presidency loses House seats at the midpoint of a president's first term. The current occupant could, of course, defy expectations; Donald Trump wouldn't be in the Oval Office if he hadn't managed to upend a number of political verities.
Trump won the White House while buried in a California landslide — no surprise there — and six of the seven congressional districts he lost to Hillary Clinton are key to Democrats' hopes of taking over the House, which they last controlled in 2010. (The seventh, the mostly rural Central Valley district represented by three-term GOP incumbent and perennial target David Valadao, seems like a considerably further reach.)
Midterm elections are typically a referendum on the nation's chief executive, and that dynamic has not helped Republicans in California, where the president remains deeply unpopular. Call it the Trump undertow.
Here's a look at the 11 propositions California voters will weigh on Nov. 6 »
Embattled GOP Reps. Mimi Walters in Orange County and Jeff Denham in the San Joaquin Valley would probably be headed to relatively easy reelection if the president hadn't stirred such an outpouring of Democratic antipathy. Republicans would also be much better positioned to hang on to the northern Orange County seat of Rep. Ed Royce, who is retiring after more than 20 years in office.
Rep. Dana Rohrabacher, who hasn't faced much of a threat since his first election during the Reagan era, might not have his back to the wall in coastal Orange County but for his cozy relationship with Russia, which interfered in the 2016 election to benefit Trump.
Setting the president aside, the competition also reflects political and demographic changes that have transformed California.
The state's burgeoning Latino population has grown more politically active and pro-Democratic in response to the belligerent tone sounded by many Republicans. The GOP's embrace of religious conservatism also pushed many live-and-let-live Californians away from the party.
That helped turn Orange County, a onetime Republican bastion, into a congressional battleground, along with the high desert outside Los Angeles, where two-term GOP incumbent Steve Knight is fighting for reelection, and northern San Diego County, where Republicans are struggling to hold the seat being vacated by Rep. Darrell Issa after nine terms.
But none of that would matter as much if California voters hadn't taken matters into their own hands.
For decades, lawmakers drew the state's political boundaries, using those powers to benefit incumbent lawmakers by all but eradicating serious competition. Between 2002 and 2010, only a single California House seat changed parties despite three national wave elections.
Fed up, voters turned the line drawing after the last census over to a nonpartisan, independent commission that ended the congressional free ride.
The result is something many living here have never seen: an election in which the rest of the country will stay up late, watching to see what happens when the final polls close in California.
VOTER GUIDE
California's down-ballot races could shape the state's politics and policy for years to come
Here's a look at the 11 propositions California voters will weigh on Nov. 6
Here are the candidates running for statewide office in California
Will California flip the House? The key races to watch
'Global warming is nonsense' and the 'tax scam is a massive middle finger' to families: House candidates on the issues
Here's how the candidates see what's next for California
Find full election coverage at Decision California.
@markzbarabak on Twitter
Get our Essential Politics newsletter
The latest news, analysis and insights from our politics team.
You may occasionally receive promotional content from the Los Angeles Times.