Here's a look at the 11 propositions California voters will weigh on Nov. 6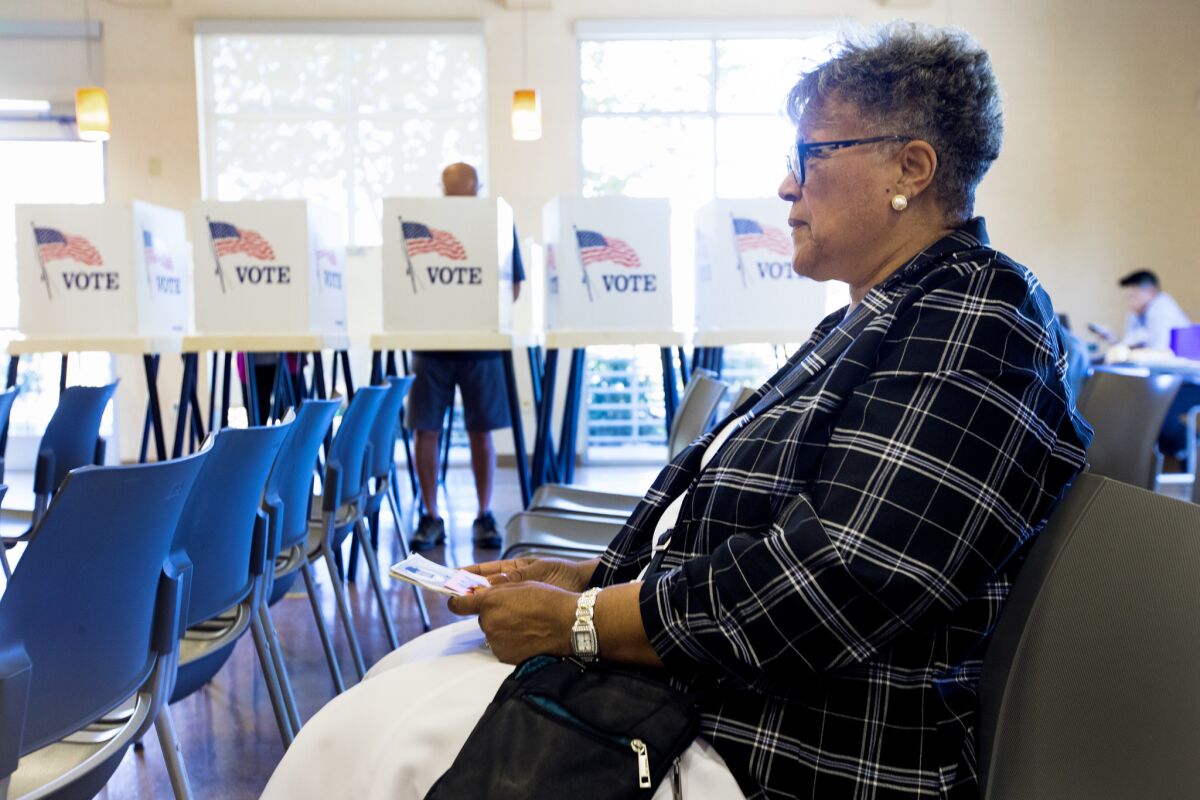 As Californians consider the complicated questions posed by the propositions on the 2018 statewide ballot, they can take some solace in knowing that the list could have been much longer.
A handful of proposals were pulled off the ballot; one was removed by the courts, another was canceled after a legislative deal in Sacramento, a third was just abandoned by its backers, who faced a potentially expensive campaign. But 11 other propositions remain, several sparking multimillion-dollar advertising campaigns that will flood the airwaves and voter mailboxes through election day.
The proposals address a range of topics including government borrowing, healthcare, taxes and even whether Californians should stop changing their clocks twice a year. Each needs only a simple majority of votes cast on Nov. 6 to become law.
1
Affordable housing
The largest share of the borrowed funds would go toward building and renovating multi-unit housing through a loan program administered by state officials. Apartment units would be reserved for those with incomes below the median level in their community. A number of projects are envisioned for funding from these bonds, including housing near public transit in urban areas and help for farmworkers in rural areas.
One billion dollars of the bond money would be set aside to help provide home loans to military veterans.
Other than detractors of bond measures on the principle of government debt, the only real criticism of Proposition 1 is that it wouldn't provide enough to alleviate California's housing woes. That's true — the problem is far bigger — but supporters say it's a step in the right direction.
2
Homeless housing
This proposal is unlike the other bond measures in that it doesn't propose borrowing to be paid back from the state's general fund. Instead, it would pay back $2 billion in long-term borrowing for homeless housing with some of the dollars collected from a millionaire's tax enacted by voters in 2004. Lawmakers tried to pass the proposal without voter approval, but relented after critics challenged the attempt in court.
Those dollars are earmarked for mental health services, and so Proposition 2 — known as the "No Place Like Home" program — proposes building and rehabilitating housing for homeless Californians with mental health needs. State housing officials would have a large role in overseeing how the money is used.
3
Water supply projects
No bond measure on this November's ballot is bigger — $8.9 billion in total borrowing — or more densely worded than Proposition 3, which would fund a variety of water projects and programs across the state. Over four decades, analysts project, the total cost of principal and interest to California taxpayers will be about $17.3 billion.
While Propositions 1 and 2 are bond measures crafted by state legislators, this proposal was written and put on the ballot by a consortium of agriculture interests aided by a few conservation and wildlife organizations. Not surprisingly, water projects that the groups support are the primary beneficiaries of the ballot measure.
The goal of Proposition 3, supporters say, is to improve water quality and reliability. Some efforts the bonds would pay for include improving and protecting rural lands with rivers flowing through them; wastewater recycling in populated areas; fish and wildlife habitat protection and making more groundwater usable for farms and communities. Money is also earmarked to fix a Central Valley aqueduct and for some of the repairs to the Oroville Dam's spillway, which was breached after heavy rains in 2017.
4
Children's hospitals
The second of two bonds placed on the ballot by interest groups, this measure asks voters to approve borrowing $1.5 billion for improvements at children's hospitals across California. The total cost, with interest payments, is expected to be about $2.8 billion.
State law identifies eight private nonprofit hospitals, as well as the children's programs at five University of California medical center campuses, as "children's hospitals." Most of the Proposition 4 funds — about $1 billion — would be reserved for the private hospitals, including the Children's Hospital of Los Angeles, the Rady Children's Hospital in San Diego and the Lucille Packard Children's Hospital at Stanford University.
The money would be used for construction or renovation of hospital facilities, and to buy furnishings or equipment.
Voters previously approved two statewide bond measures in 2004 and 2008 for capital projects at children's hospitals; those bonds have almost all been committed to pending projects.
5
Property tax break for older homeowners
This measure, written and placed on the ballot by California's real estate industry, would offer a property tax break to homeowners 55 and older. Simply put, it allows them to carry a portion of their property tax payment with them when buying a new home.
The formula's a bit more complicated than that, relying on both the selling price of the existing home and the tax-assessed value of the new home. For seniors who downsize in home value, it could lower their existing property tax payments. For those who buy something more expensive, it will shrink the size of the new, larger property tax bill.
Not surprisingly, Proposition 5 would also shrink property tax revenues statewide. A nonpartisan analysis estimates about $1 billion less in the revenues that fund local public safety services and schools. But supporters argue it could encourage older homeowners to move out of houses that are better suited for young California families struggling to find anything on the market in many communities.
Ten counties already allow a similar version of this kind of benefit for seniors; Proposition 5 would implement it statewide.
6
Repealing California's gas tax increase and new vehicle fee
Few proposed laws on the November ballot have the potential to touch more voters than Proposition 6, the effort to repeal the new taxes on gas and diesel imposed by lawmakers in 2017.
Opponents of the ballot measure see the taxes, along with a new vehicle fee, as a necessary evil needed to repair dilapidated roads and bridges. Proposition 6 supporters believe the levies are simply evil and an unfair burden on the state's working-class families.
If Proposition 6 passes, roughly $5 billion in annual revenues earmarked for transportation repairs will remain in the wallets of Californians. State officials have not identified another source of money to replace those dollars. The ballot measure would also amend the California Constitution to require that any future transportation-focused taxes be approved by voters before taking effect.
7
Daylight saving time all year long
If the promise of this proposal were to ever come to fruition, we could all forget the saying "spring forward, fall back" that helps remind us which way to change our clocks twice a year. The key word, though, is "if."
Proposition 7 would give the Legislature the power to enact year-round daylight saving time if Congress ever allows states to do so. It would conceivably also allow lawmakers to enact year-round standard time — currently used by Arizona and Hawaii — because the measure mostly would abolish a 1949 ballot measure that enshrined the changing of the clocks in state law.
Supporters insist the biannual ritual has a negative impact on the health of California residents. Opponents point out how morning routines — including school bus trips for kids — would take place in the dark if winter months were lived under daylight saving time.
In the end, voters will only be able to remove the obstacles to such a system; they won't be able to make the change on their own.
8
Profits at kidney dialysis centers
With one side of this fight raising more than $100 million, the ballot measure battle over kidney dialysis centers is likely to be the most expensive of 2018.
The proposal is sponsored by a healthcare workers union that has been trying to organize workers at some of the state's 600 clinics. Proponents hope it will push the for-profit companies that run those facilities to spend more on staffing and patient care.
Proposition 8 would impose a cap on the profits earned by large companies such as DaVita. Those companies warn the changes will force the closure of some clinics, and the TV ads from opponents warn that patients who use those clinics could be out of luck. Supporters insist there would be plenty of money left to run those facilities.
9
Why was this measure removed from your ballot? We explain
10
The battle over rent control
Most ballot measures ask voters to write new laws. Proposition 10 simply asks whether to erase an existing one. The fight, however, is over what effect doing so will have on Californians who struggle to find an affordable place to live.
The measure would repeal a 1995 law that places limits on the ability of local communities to impose rent control. Doing so would leave all decisions on whether to implement rent control in the hands of local officials.
What is unclear is whether that would help or hurt when it comes to addressing high rent prices. Critics have argued Proposition 10 will lead property owners to cease renting out apartments and could lead to rent control on single-family houses. Supporters say cities and counties might find ways to keep that from happening before imposing a blanket mandate for cheaper rents.
11
Rest breaks for ambulance workers
A California Supreme Court ruling in 2016 set the stage for this proposal, an effort that would require ambulance crews to be on call through their rest and meal breaks.
That system existed before the court ruled it illegal. Proposition 11, which was placed on the ballot by one of the nation's largest ambulance providers, would again allow employers to require employees to keep their radios handy when taking a breather.
Supporters argue that mandatory rest breaks will unfairly raise costs for the industry and possibly lead to cutbacks in available ambulances in some communities. Opponents, led by labor unions representing the workers, argue the crews that are tired and overworked, making them less effective in the event of an emergency.
12
Animal confinement
Ten years ago, California voters enacted a ballot measure to end the practice of putting egg-laying hens, veal calves and pregnant pigs in small cages and pens. The initiative required enough space for animals to stand, move around and extend their limbs.
But the 2008 proposal didn't specify how much space should be used. Proposition 12 adds those kinds of specifics, phased in for hens and other animals over the next four years. Supporters say the measure will ensure the animals are treated humanely. Opponents, led by a coalition of egg farmers, argue that additional rules will further drive up prices and force out those farmers who can't keep up.
VOTER GUIDE
California hasn't mattered in national politics for a long time. Here's why this Nov. 6 is different
Here's a look at the 11 propositions California voters will weigh on Nov. 6
Here are the candidates running for statewide office in California
Will California flip the House? The key races to watch
'Global warming is nonsense' and the 'tax scam is a massive middle finger' to families: House candidates on the issues
Here's how the candidates see what's next for California
Find full election coverage at Decision California.
Follow @johnmyers on Twitter, sign up for our daily Essential Politics newsletter and listen to the weekly California Politics Podcast
---
Life is stressful. Our weekly mental wellness newsletter can help.
You may occasionally receive promotional content from the Los Angeles Times.