Deadly fire is only the latest crisis to test Oakland Mayor Libby Schaaf's administration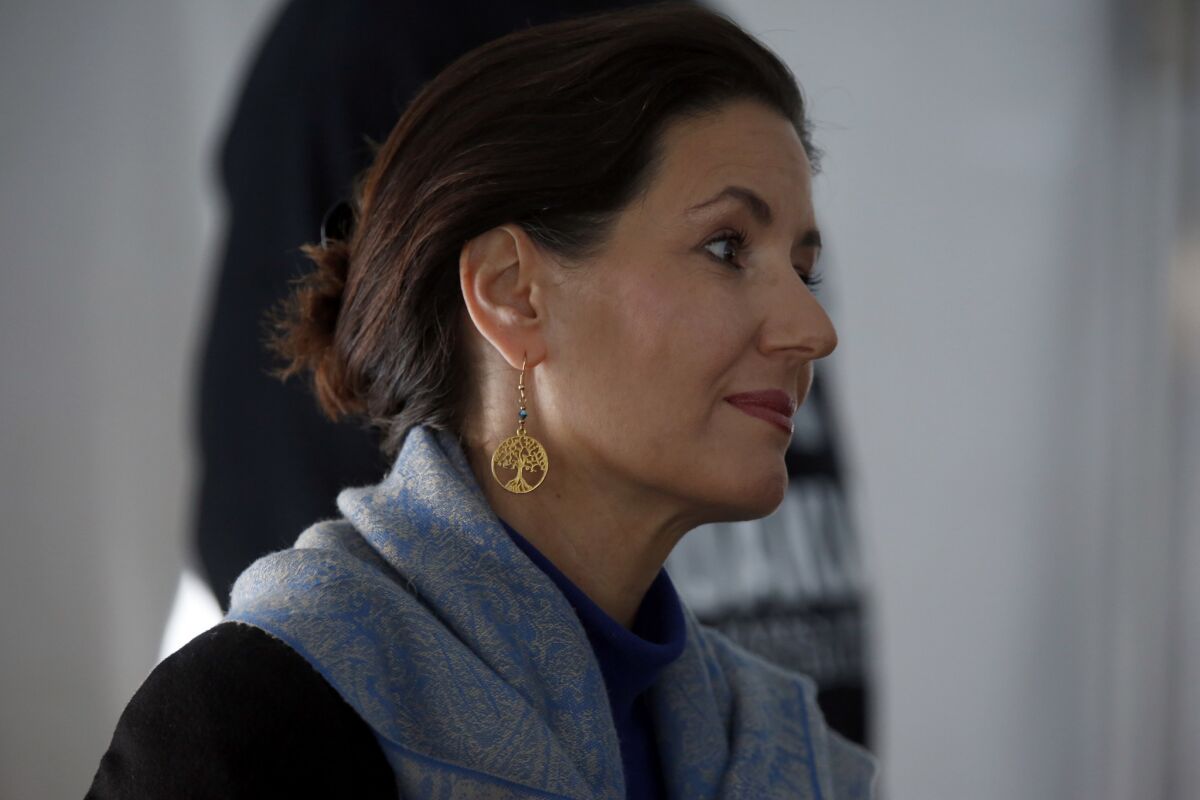 Reporting from Oakland —
Libby Schaaf knows how to make being mayor of one of California's most troubled cities look like fun.
When the Golden State Warriors won the NBA championship last year, Oakland's top elected official rode in the victory parade with hometown music legend M.C. Hammer atop a fire-breathing car shaped like a snail, her gonzo chariot for city celebrations.
But although the car represents an image of Oakland that Schaaf has promoted — creative, exuberant and more than a little offbeat — recent months have brought a cascade of reminders of this Bay Area city's deep-rooted problems.
"There is hardly a day that goes by as mayor of Oakland that I'm not met with some unpredictable challenge," Schaaf said in an interview.
The city's police force was rocked by a sex abuse scandal that has stalled the department's effort to emerge from more than a decade of federal oversight. The Oakland Raiders football team is threatening to move to Las Vegas. Local leaders are struggling to keep the city affordable despite a rising tide of wealth from the tech boom.
And all of that was before the deadliest fire in Oakland's history ripped through a warehouse Dec. 2, killing 36 people who had gathered for an underground concert.
The tragedy was compounded by subsequent revelations that the city appeared to have never inspected the building. When Schaaf stepped to the microphone at a nighttime vigil three days after the blaze, mourners shouted "go home." The boos grew louder as she talked about addressing safety issues in loosely regulated warehouses where artists work and live.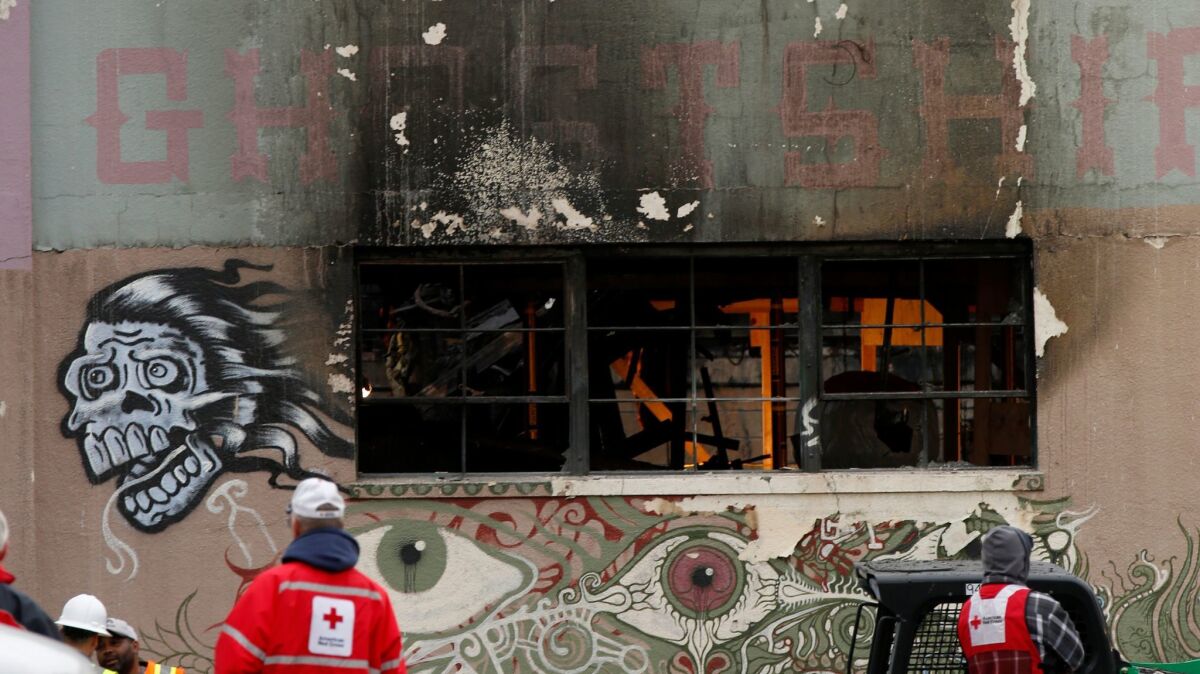 "This city is going to go through a lot of emotions and one of them is going to be anger and that's part of my job — to hear that and feel that," she told the crowd. "My job is to keep this city and this community together right now."
Whether she accomplishes that job may define Schaaf's tenure as mayor of a city that's already undergoing what she describes as "a radical transformation." Cracking down on unsafe buildings could cause evictions, inflaming tensions in a city that declared a housing emergency this year. But doing nothing doesn't seem to be an option either.
"If she doesn't do something quick, and come up with solutions, I don't know how she moves forward," said Joseph Sarapochillo, a real estate developer. "This is just not going to go away."
Schaaf, 51, one of California's few prominent female elected officials, arrived in office with a solid political pedigree. A former lawyer, she started working in local government as an Oakland City Council aide, then under Gov. Jerry Brown when he was mayor. She served as a City Council member for four years before beating out a crowded field of candidates in 2014 to become mayor herself.
If Schaaf wants to seek higher office, she already has the team she needs — she's represented by the same high-powered political consultants at SCN Strategies as Brown and Lt. Gov. Gavin Newsom.
Once a high school cheerleader, the Oakland-born mayor has been an ebullient booster for her hometown. She wears earrings in the shape of the oak tree the city is named after and considers herself a defender of Oakland's "secret sauce." She says city bureaucrats are really "fantasti-crats" and promotes "techquity," her buzzword for ensuring the technology industry's boom benefits rather than displaces low-income residents.
Last year the ride-sharing company Uber announced plans for a new office with up to 3,000 employees in downtown Oakland, a development that Schaaf hopes will bring a much-needed economic boost to a city with entrenched poverty.
"She has a lot of goodwill built up," said Don Perata, a former state Senate president who unsuccessfully ran for mayor of Oakland. But the city, which is home to a large activist community, has earned a reputation for being difficult to govern.
"Your honeymoon is brief," Perata said. "And the problems are one after another."
Schaaf's predecessor, Jean Quan, was hobbled by her response to Occupy Oakland protesters in 2011. She initially allowed them to camp out by City Hall, but police later forced protesters to vacate in violent confrontations.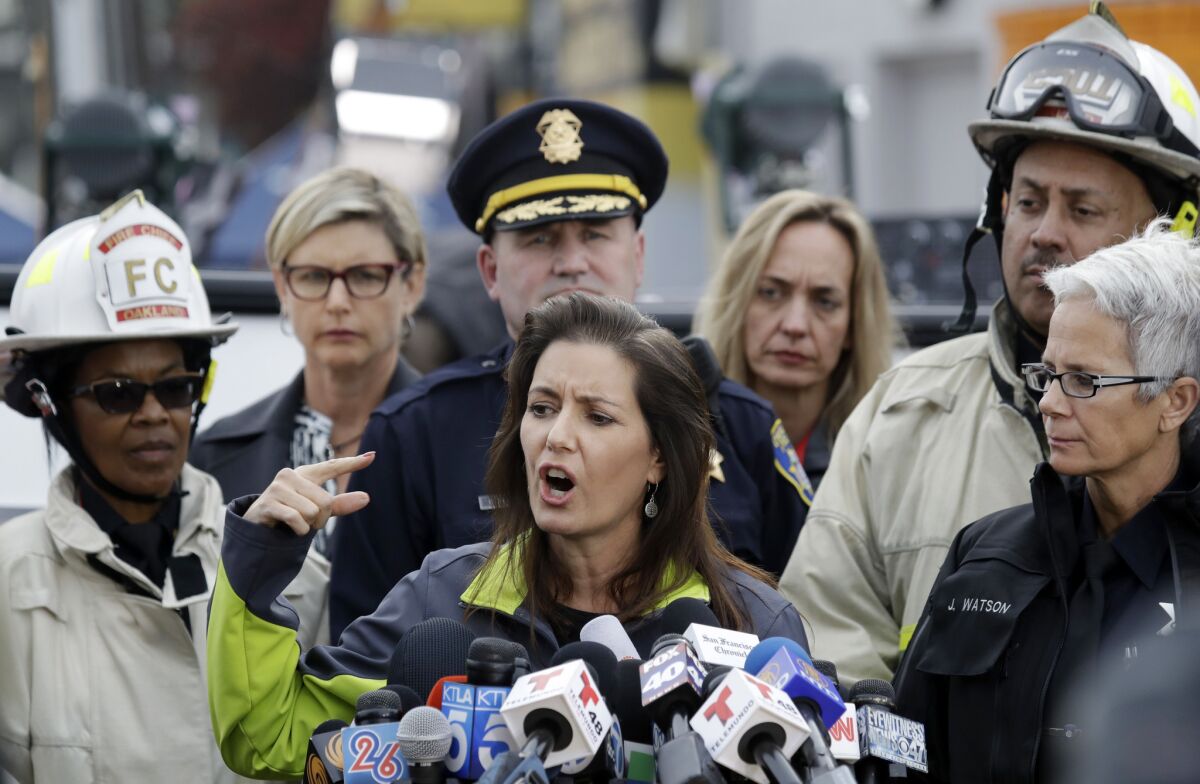 Now it's Schaaf's turn to face a crisis with the Ghost Ship fire, which struck at the intersection of long-festering problems about affordable housing and the city's sense of identity. Schaaf said she wants to address the former and preserve the latter, improving safety while also ensuring that Oakland remains an eclectic haven for artists.
"It would be another tragedy if we didn't take this moment to improve our systems," she said. "We can still always do better, and that's part of what we owe everyone who has been affected by this tragedy."
The city convened a task force after the fire, but threading the needle won't be easy. Activists are already wary of an administration they feel has been too cozy with developers who are eager to renovate older buildings or demolish them to make way for higher-priced dwellings.
And political opponents criticized Schaaf as slow to get a handle on problems within her administration.
"For someone who has been in city government for as long as Libby Schaaf has been, her failure to get on top of what some of these departments is doing is really inexcusable," said Dan Siegel, a civil rights lawyer who ran against Schaaf in the 2014 mayor's race.
The Police Department, which is struggling to emerge from federal oversight that began in 2003 after a pattern of civil rights abuses, has been another challenge for Schaaf.
A new scandal erupted this year when a 19-year-old woman accused several officers of having sex with her when she was underage. Besides criminal charges for some officers, the scandal has caused widespread turmoil within the department. The chief resigned, and his two successors resigned soon after. The department has been run by a civilian city administrator since June, and the chief position remains unfilled.
Barry Donelan, president of the Oakland Police Officers' Assn., Association said the turmoil has been demoralizing and prompted some to leave the force.
"The uncertainty among the rank-and-file fuels that," he said.
John Burris, a civil rights lawyer who brought the lawsuit that led to federal oversight more than a decade ago and now represents the young woman in the recent scandal, said Schaaf was doing the best she could in a difficult situation.
"This is the job you ask for, right?" he said. "Every year, something comes up."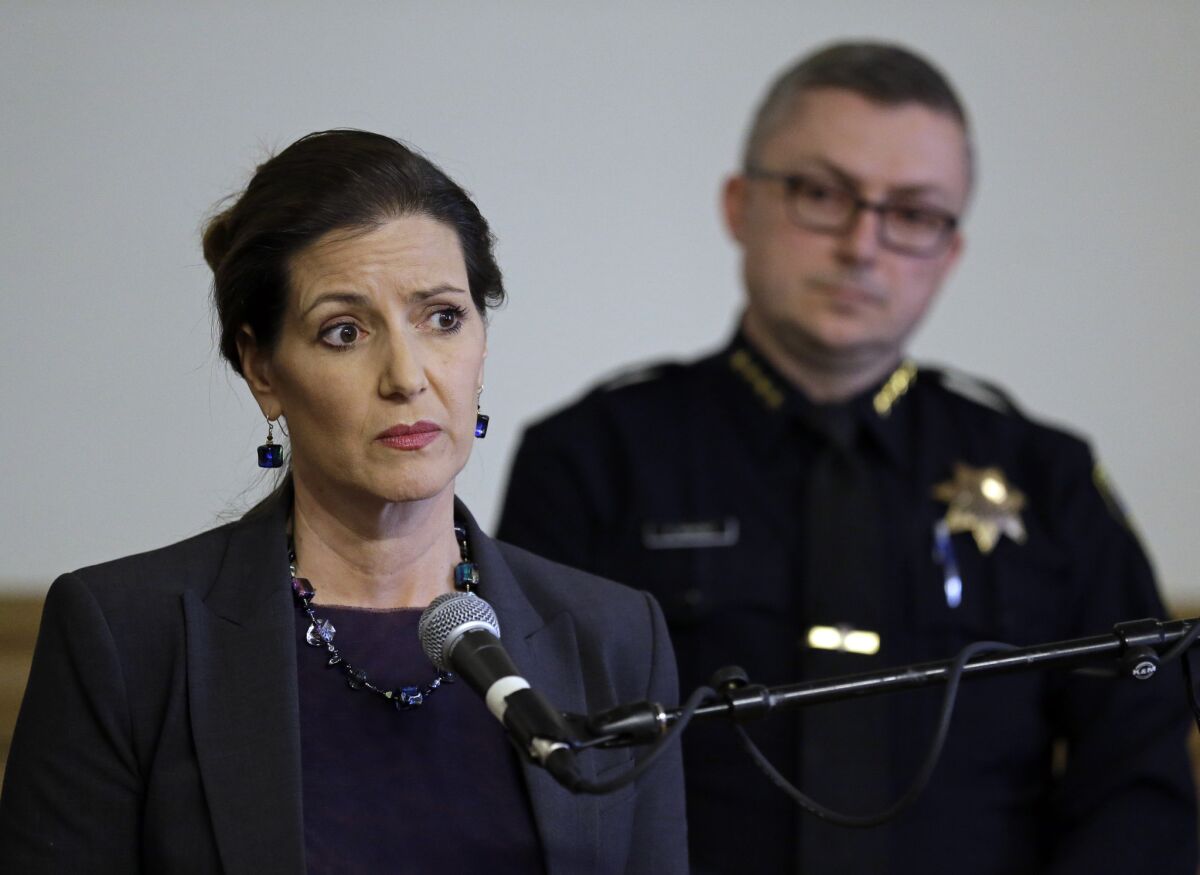 One of those things is the potential for the Oakland Raiders to leave the city, something they've threatened before. Nevada has lined up $750 million in public money to lure the team.
By comparison, Schaaf's plan to keep the Raiders in Oakland, which is being placed before the City Council and county supervisors for a vote Tuesday, includes $350 million in public resources, including infrastructure investments and land for a new stadium.
Although the proposal leaves taxpayers on the hook for less, it's unlikely to be enough to satisfy the Raiders or the National Football League, which has the final say on whether the team is allowed to move.
In the midst of all of these challenges, Schaaf is still trying to carve out time for long-term plans to improve the city. She highlighted a partnership with philanthropists and businesses, the Oakland Promise, to help students graduate high school and attend college.
"We can't just be reactive to crises," she said. "We have to invest in sustainable, comprehensive solutions."
On Saturday, she attended a meeting in Mosswood, a hub for the city's African American community, the quickly gentrifying Temescal neighborhood, where another fire destroyed a recreation center that housed programs for elementary school children and teens with developmental disabilities.
After Schaaf spoke to the crowd, she answered questions from residents and chatted with retired NFL running back Marshawn Lynch, who grew up nearby.
Cynthia Armstrong, 37, said she feels for the mayor.
"This is the type of city where there is constantly something happening," she said. "So how do you stop and pause to fix some things that you inherited if the next crisis is always at hand? I think she is doing the best that she can at this point."
Twitter: @chrismegerian
ALSO:
'It's excruciating': Inside the heartbreaking recovery of 36 bodies in Oakland warehouse
Ghost Ship tragedy puts focus on plight of Oakland artists dealing with soaring Bay Area housing costs
Updates on California politics
Life is stressful. Our weekly mental wellness newsletter can help.
You may occasionally receive promotional content from the Los Angeles Times.