Column: With a ballot fight looming, Gov. Gavin Newsom suggests dealmaking to revamp California's tax system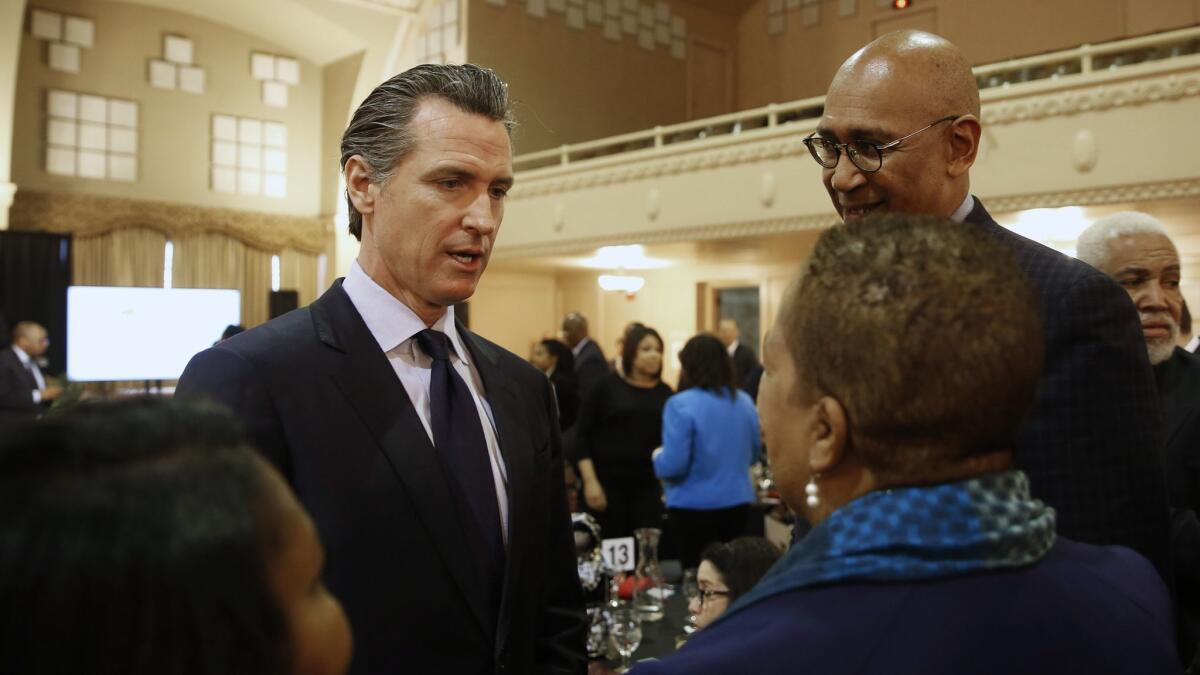 Sacramento Bureau Chief
Gov. Gavin Newsom has the next four years to make his mark as California's most powerful politician but significantly less time — more like 15 months — to broker a deal that would stave off a galactic clash of political heavyweights while also making public policy history.
The deal he has in mind would result in a sweeping overhaul of the state's tax system. The incentive, he told reporters earlier this month, is a looming ballot measure that would raise commercial property taxes by a total of up to $11 billion a year. The so-called "split roll" measure removes most businesses from protections created by Proposition 13, the landmark law that limits when property values are assessed and how much tax can be imposed.
"My desire is to use this as an exercise in bringing the parties together to see if we can compromise on a more comprehensive tax package," Newsom said of the ballot measure.
It's a bold idea, though not a new one. For decades, policy analysts have lamented the labyrinth of state tax rules as confusing and unfair. A manufacturer can be taxed when buying equipment and then again on the products made by that equipment. One homeowner pays sales tax when buying a pine tree for her yard but a neighbor buying an orange tree isn't. Why? Trees that produce food for human consumption aren't taxed.
Newsom's Facebook ads in swing states stir 2020 speculation »
Critics say California's tax system is still based on an era in which goods, not services, dominated the economy. That provided incentive for the last big reform effort, a 2009 bipartisan commission that crafted detailed recommendations for a framework relying less on income taxes generated by Wall Street investments from the most wealthy. Its key recommendation was a "business net receipts tax," a broad tax on economic activities at a relatively low rate.
But Democrats balked, believing it would shift more of the tax burden from the rich to the poor. The panel's lengthy report was dead on arrival in the state Capitol, promptly put on a shelf where all but a few of its recommendations have gathered dust ever since.
The message ever since has been that broad tax reform simply isn't doable. That was certainly the viewpoint of former Gov. Jerry Brown who, Newsom said this month, "had no interest in this, even at the peak of his power, influence and insight."
Gov. Gavin Newsom embraces an untested idea on how California's rainy-day fund should work »
The new governor also rejected the idea that California's tax structure had to be one or the other — progressive in taxing those who can afford it but also volatile, or stable but regressive in who pays.
"I don't see it that way," Newsom said. "I see some nuance."
Depending on which powerful groups open their war chests, the "split roll" ballot measure could easily attract $100 million or more in campaign spending. The ripple effects could last years. That Newsom can even try to broker a deal is thanks to a 2014 law that allows backers of an initiative to cancel their efforts after turning in signatures, used successfully to avoid ballot box battles over California's minimum wage and privacy laws.
Newsom denied that his past support for rethinking commercial property tax rules would keep him from being an honest broker.
"My job, if we're going to get the parties together, is not to predetermine the outcome," he said.
To call that ambitious is an understatement. The two sides in the fight over taxation are suspicious of each other's motives, and Newsom has already outlined a very expansive agenda without such an unprecedented effort. If he's serious about being a peacemaker in the tax wars, he'll need to begin his efforts sooner rather than later.
Follow @johnmyers on Twitter, sign up for our daily Essential Politics newsletter and listen to the weekly California Politics Podcast
Get our Essential Politics newsletter
The latest news, analysis and insights from our politics team.
You may occasionally receive promotional content from the Los Angeles Times.