California Assembly speaker calls harassment allegations against Bocanegra 'extremely disturbing'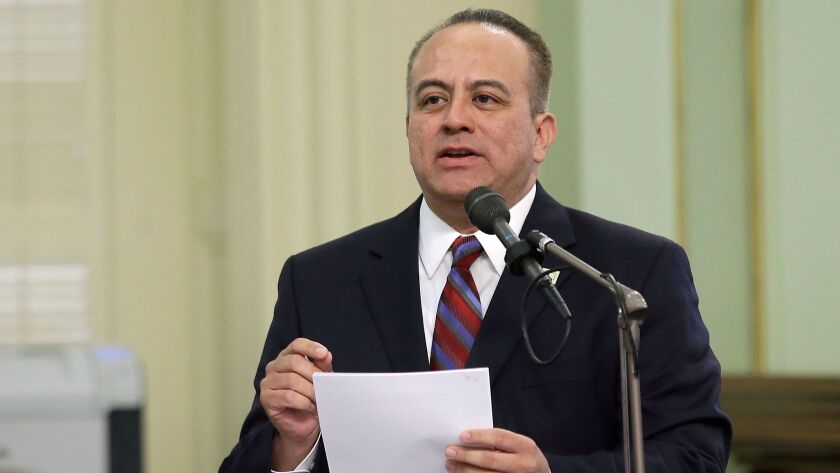 Reporting from Sacramento —
Assembly Speaker Anthony Rendon on Monday called recently published accusations of sexual harassment against Assemblyman Raul Bocanegra "extremely disturbing," and said he would move to expel Bocanegra should an investigation affirm the allegations.
Bocanegra (D-Pacoima) announced Monday that he would resign effective Sept. 1, 2018, citing "persistent rumors and speculation" regarding sexual harassment claims.
The Times published a story soon after detailing allegations from six women who said they faced unwanted sexual advances or unwelcome communication from Bocanegra. The alleged incidents were said to have occurred when Bocanegra, 46, was a legislative staffer, a candidate and a legislator.
California Assemblyman was disciplined after woman claimed he groped her »
Rendon (D-Paramount) said in a statement he was removing Bocanegra from his position on the speaker's leadership team and stripping him of committee assignments while an independent investigation of all six allegations moves forward.
"The decision to deny constituents the representation of their elected official can be a difficult one, but make no mistake: If the investigation affirms the allegations, I will move to immediately expel Mr. Bocanegra from the Assembly," Rendon said.
Under the state Constitution, the Assembly may move to expel a member accused of wrongdoing by a two-thirds vote of the house.
Eric Bauman, chairman of the California Democratic Party, said Bocanegra made the right decision to step down next year.
"When the original story broke, I said Assemblyman Bocanegra needed to look into his heart and decide what he needed to do for the benefit of the victims," Bauman said. "I just hope that the women who have felt disrespected and abused will begin to be able to feel healthy again and to heal."
Secretary of State Alex Padilla said he was "deeply disappointed" by the allegations. Bocanegra worked as a top aide to Padilla when the latter was on the L.A. City Council.
"I've said it before and I'll say it again, sexual harassment has no place anywhere in our society," Padilla said in a statement. "The allegations reported by The Times are disturbing and serve as the most recent reminder that we must change the culture in the state Capitol and in many, many places around the country. I urge the state Legislature to proceed with the independent investigations as quickly as possible and to act decisively based on the findings."
Other lawmakers said Bocanegra's decision to resign effective more than 10 months from now was unsatisfactory.
"Why does he get to set the timeline? I️ find it too convenient," said Assemblywoman Cristina Garcia (D-Bell Gardens), chair of the Legislative Women's Caucus. "If he can't represent his constituents properly, why is that in September — why isn't it now?"
Los Angeles City Councilwoman Nury Martinez, who called Bocanegra a "friend and ally," called for him to resign immediately.
"For too long, women and men have been subjected to sexual harassment and assault by people in power, and they have felt powerless to stop it. That has to end," she said in a statement. "Once and for all, it's time to say this behavior is unacceptable.
At least two formal complaints have been filed in the Legislature against Bocanegra by woman who say they've been harassed by him. The first was filed in 2009 by Elise Flynn Gyore, a fellow staffer who said Bocanegra, then chief of staff to Assemblyman Felipe Fuentes, reached into her blouse and followed her in a manner she found threatening at an after-hours work event. The second was filed recently by Jennifer Borobia, a former Fuentes staffer, who said Bocanegra regularly asked her out via email and text message — invitations she said she repeatedly declined — while he was chief of staff.
Efforts to learn more about formal complaints filed against Bocanegra, either as a legislative staffer or an elected lawmaker, were rejected by the Assembly's top officials. A Nov. 13 letter from Debra Gravert, the chief administrative officer of the Assembly, invoked provisions of the Legislative Open Records Act in denying a request for information filed by The Times last month.
"The law expressly exempts records concerning complaints and investigations from production," Gravert wrote in the letter.
The Times asked only for aggregate data — numbers of complaints filed and investigations conducted of allegations against Bocanegra — but the Assembly said responding to the request would require officials to create a new record not covered under the Legislative Open Records Act. The law "does not compel the creation of a new record for the purpose of conveying information," Gravert wrote.
The allegations against Bocanegra come as women in Hollywood, the political world and various other industries are coming forward to tell their stories of sexual harassment and abuse. In the California Senate, Bocanegra's Democratic colleague, Sen. Tony Mendoza, is under investigation over allegations of improper conduct toward a young female legislative fellow assigned to his office.
At a California Democratic Party executive board meeting over the weekend, Bauman and Christine Pelosi, chair of the party's Women's Caucus, introduced a resolution making clear that sexual harassment, bullying and other forms of abuse are grounds to lose endorsements and be stripped of party membership.
The resolution also called for the creation of a private hotline to report complaints, independent investigations, crisis services for victims, whistleblower protections and the disclosure of settlement payouts.
Party leaders want to end the use of nondisclosure agreements. They are now working to incorporate the reforms into their policies.
Pelosi called the latest Assembly actions against Bocanegra "a total sham."
"It seems like they are using this to buy him time to unduly influence the investigations," she said. "He has power, and he has friendships, and he has staff and he has people who can influence the process."
Garcia said she hoped legislative leaders in Sacramento did not lose sight of the need for broader cultural change.
"I have concerns that we are going to get rid of this one person and pressure him to resign, and we are going to have a false sense that we have accomplished the goal," she said.
Times staff writer John Myers contributed to this report.
Follow @melmason on Twitter for the latest on California politics.
Twitter: @jazmineulloa
California Assemblyman was disciplined after woman claimed he groped her
In her own words: Women of California politics tell their stories of sexual harassment and unwanted touching
Assemblywoman: 'I don't feel respected' by Democratic colleagues as some help her rival
---
UPDATES:
6:05 p.m.: This article was updated to include comment from L.A.. City Councilwoman Nury Martinez.
4:35 p.m.: This article was updated to include additional comments from state leaders and legislators.
This article was originally published at 1:30 p.m.
---
For reporting and exclusive analysis from bureau chief John Myers, get our California Politics newsletter.
You may occasionally receive promotional content from the Los Angeles Times.