Column: Political Road Map: You'll get to vote on a part of Sacramento's big climate change plans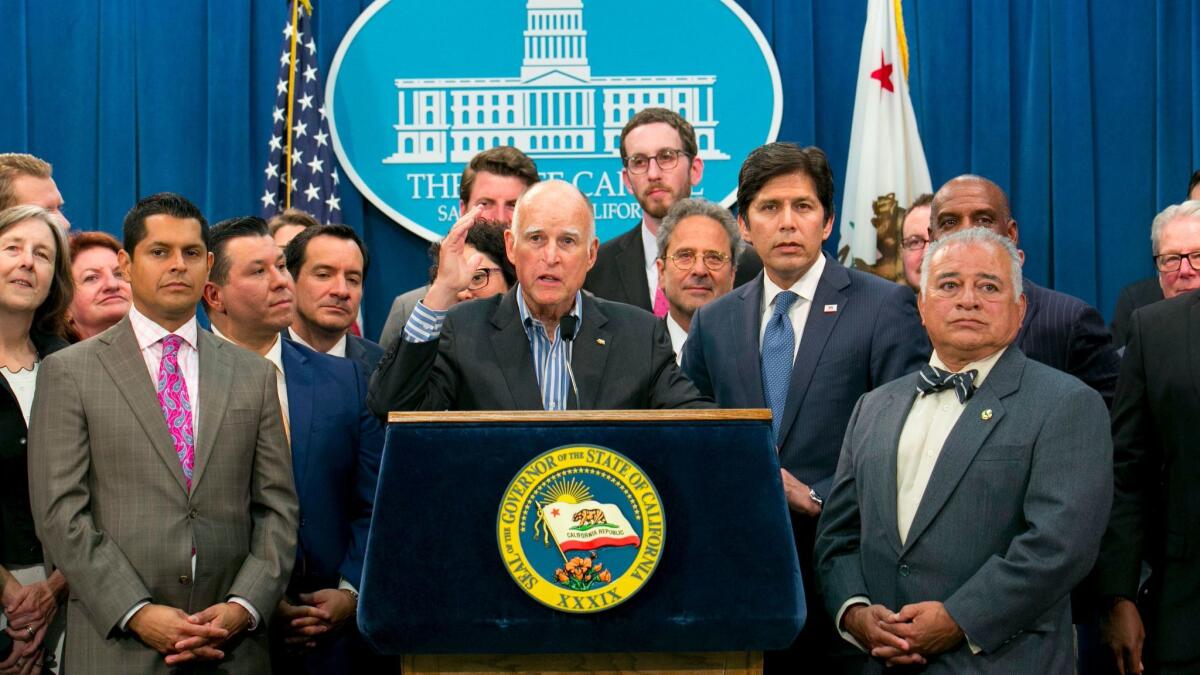 Reporting from Sacramento —
As part of their plan to cut California's greenhouse gas emissions, lawmakers in Sacramento are backing a boost in the size of the state's Constitution.
Already one of the longest governing blueprints of any state, the California Constitution could be amended under a provision contained in last week's sweeping climate change agreement. It would force a one-time vote in the Legislature before 2024, a referendum on spending future proceeds collected from the state's cap-and-trade program.
The proposal is relatively small — it's only 253 words — but has the potential to spark a very big debate on a notable part of Gov. Jerry Brown's legacy: the climate cash that's been a lifeline to high-speed rail.
The ballot measure by Assembly Republican Leader Chad Mayes (R-Yucca Valley) was part of the political price Brown and legislative Democrats paid to get GOP votes supporting California's cap-and-trade effort. On Monday night, seven Republicans in the Assembly and one in the Senate agreed to extend the program until 2030.
Cap and trade is the linchpin of California's climate change agenda, as it forces companies to pay money for any emissions beyond the "cap" imposed by state regulators. The revenues collected from those emission allowances have added up to more than $4.9 billion to date.
About $1.5 billion of that has never been spent, and remains the focus of testy debates about using it to help shrink the state's carbon emissions footprint. The issue was left unresolved last week. Look for that fight to begin when lawmakers return from their summer break.
They did agree, though, to revisit those spending decisions in a few years. And because Republicans likely assumed the deal could one day be rescinded by Democrats, they demanded it be placed in the state Constitution. That's where the voters come in.
Next June's statewide ballot will ask if cap-and-trade revenues collected from 2024 to 2030 should be subjected to a supermajority vote in both houses of the Legislature. If legislators fail to act, the money would sit in limbo.
Here's where things get interesting. The ballot measure doesn't require lawmakers to ratify a complete plan for climate spending. In fact, Democratic staffers insist the supermajority vote can be to approve just one expenditure — say, spending five bucks on planting trees that absorb carbon emissions. They argue all other spending can flow uninterrupted once that single, perhaps innocuous, item is approved.
But you don't have to be a political expert to see what lies up the road ahead: a tiny spending proposal could become a proxy for everything else. And the biggest target is likely to be high-speed rail.
Political Road Map: Brown's wall of debt is gone, but other walls remain »
Through the end of 2016, the bullet train project received $800 million in cap-and-trade revenues. Brown pushed for those subsidies when a spate of lawsuits slowed down the sale of almost $10 billion in voter-approved bonds for construction. Even that, though, has hardly been the only hurdle that's faced the massive San Francisco-to-Los Angeles construction plan.
Which is where the politics come back in, and the legislative approval that Republicans hope to force a few years down the road. No expenditure will be as high profile, or simple to grasp, as the 25% of revenues earmarked for a bullet train. It's likely that political activists will insist any future legislator casting an "aye" vote is effectively endorsing the entire $64-billion train project.
Whether that debate happens depends on California voters approving the ballot measure to require this one-time authorization. And it's worth wondering whether Democrats, who agreed last week to put it on the 2018 ballot, will actually campaign for its passage — especially Brown, who by 2024 will have long left office and has embraced high-speed rail like no one else.
Follow @johnmyers on Twitter, sign up for our daily Essential Politics newsletter and listen to the weekly California Politics Podcast
ALSO:
What California's big vote on climate change means for you
Political Road Map: Here's how aging baby boomers will change the impact of Prop. 13
Get our Essential Politics newsletter
The latest news, analysis and insights from our politics team.
You may occasionally receive promotional content from the Los Angeles Times.