Column: There's a chance that Trump has altered California politics for years to come, political watchers say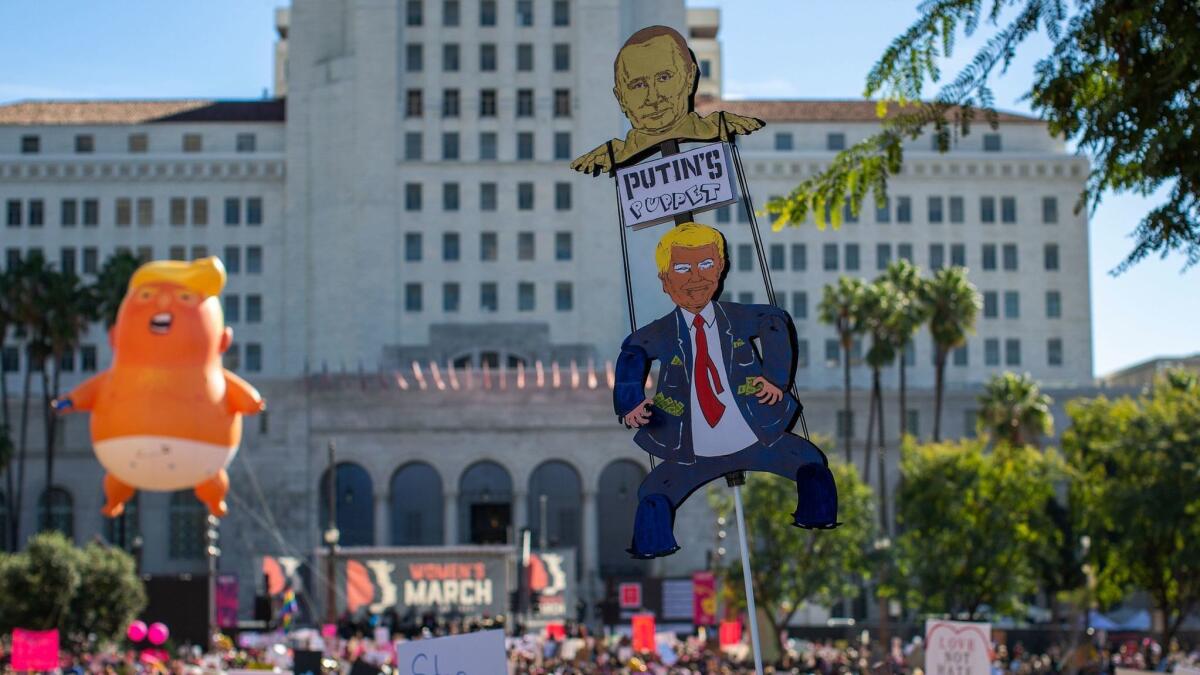 Sacramento Bureau Chief
Delaine Eastin, the former California schools chief and legislator whose longshot bid for governor fizzled last year, has been in enough elections to know the difference between a stormy campaign season and a fundamental shift in the political climate.
Which is why the Democrat told a post-election symposium last week there's something familiar about the political moment at hand. The rhetoric of President Trump, she said, reminds her of when then-Gov. Pete Wilson championed a trio of conservative ballot measures more than two decades ago.
"They were being poked in the eye by a bully," Eastin said of young and minority Californians in the '90s. "When you look at Trump, what you see is the worst of that, quadrupled."
Eastin and several political consultants and researchers who spoke at the UC Berkeley event seemed to reach a common conclusion: The Trump legacy could last for years, perhaps toppling the modern dominance of older, white voters who, until now, were the most likely to show up on election day.
"I think there's a new awakening in California that elections actually matter," said Ace Smith, a Democratic strategist.
A long-term Trump effect could be a fatal blow to the state's atrophied Republican Party. Half of the GOP seats in California's congressional delegation were lost in November. Its standard bearer, gubernatorial candidate John Cox, received only 38% of the vote against Gov. Gavin Newsom. Republican caucuses in the state Senate and Assembly are now at their lowest levels since the 19th century. And this was only the midterm election.
What happens when the president is on the ballot next year?
San Diego Republican assemblyman switches parties and joins Democrats »
"It's time to look at another path," former Assembly GOP leader Kristin Olsen said to those who believe in traditional Republican principles. She told the Berkeley audience that it's unclear "if the [state] party can outlast Donald Trump's presidency."
The once-powerful Republican brand — which helped elect all but three governors in the 20th century — has steadily weakened over the past 25 years, with Wilson —fairly or not — blamed for embracing the 1994 ballot measure aimed at curbing the costs of illegal immigration. The schism between Republicans and the state's rapidly diversifying population widened with the passage of a 1996 statewide ballot measure attacking affirmative action and another in 1998 to limit bilingual education. A generation of Californians never forgot.
"The political forces that form your opinion when you're young carry on," said Mark DiCamillo, director of the UC Berkeley poll.
California voters raised on the memories of 2018 could carry today's political views for decades. And they're already engaged: People 34 and younger cast ballots at a much higher rate in 2018 than in previous midterms, according to a new analysis by the for-profit research firm Political Data.
Perhaps just as consequential are those turned off by the Trump era. Political Data's report found a number of young Republicans — generally more reliable voters than their Democratic-leaning peers — failed to show up in 2018. And broadly speaking, GOP voters in several key congressional races either didn't vote or, as political strategist Mike Madrid pointed out, made the once-unthinkable decision to vote for a Democrat.
"I don't think that will be healed for many election cycles to come," Madrid, a former political director of the California Republican Party, told the Berkeley audience.
But turning points don't always present a clear path ahead, and Democrats also face challenges. The era ushered in by Trump is already sparking intraparty battles over liberal versus centrist policies. The sage observation by Eastin, who entered politics in 1980, is that uncertainty is everywhere.
"We are in a changing time," she said.
Follow @johnmyers on Twitter, sign up for our daily Essential Politics newsletter and listen to the weekly California Politics Podcast
Get our Essential Politics newsletter
The latest news, analysis and insights from our politics team.
You may occasionally receive promotional content from the Los Angeles Times.