Column: The Democratic wave was more a Republican drought in some of California's biggest congressional races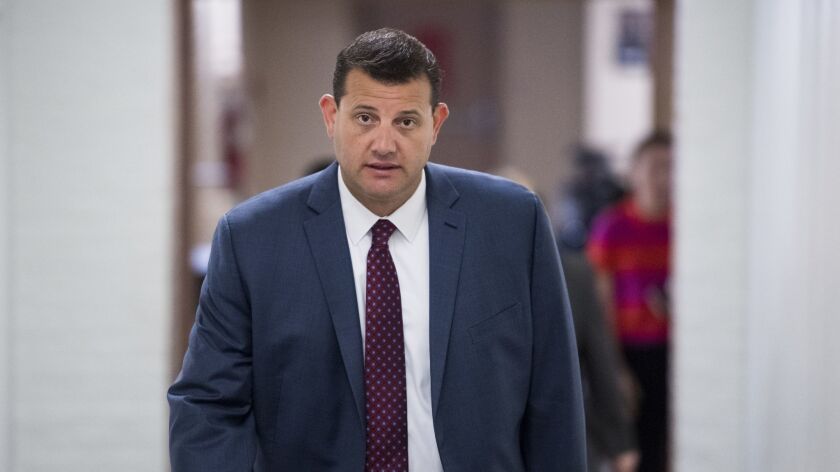 Sacramento Bureau Chief
Democrats cheered the narrow victory this month of Rep.-elect T.J. Cox over three-term Republican Rep. David Valadao in a battleground Central Valley district as part a blue wave that swept Democrats into office across the nation. But here's something that's gone largely unspoken: Cox may have won because Valadao lost.
That's not meant to be a clever way of stating the obvious. Rather, it's that final election data in most of the seven California congressional districts that flipped to the Democrats suggest the real story was a widespread Republican drought. Relatively tepid turnout left GOP incumbents high and dry.
Few felt that more than Valadao in the 21st Congressional District, which stretches south of Fresno through Hanford and down to the outskirts of Bakersfield. Final election results show only 49% of the district's voters cast ballots — a 9.5-percentage-point drop from 2016.
The only candidate hurt by that was Valadao. Cox received almost exactly the same number of votes in his 2018 victory as Emilio Huerta, the Democrat who lost in 2016. Valadao saw his support drop by more than 18,000 ballots from two years ago. Democrats can rightly be proud they won, but the real story is that crucial GOP supporters appear to have skipped the race.
For the Republicans left in California's Legislature, fewer lawmakers will have to do more work »
A similar fate befell Turlock Rep. Jeff Denham in his defeat by Democratic Rep.-elect Josh Harder. It was the erosion of Denham's vote total from 2016, not a surge in votes cast for a Democrat, that sealed the four-term Republican's fate.
All seven House seats lost by California Republicans saw elections with either slightly or significantly lower voter turnout this fall. In Orange County, defeated Reps. Mimi Walters of Laguna Beach and Dana Rohrabacher of Costa Mesa saw their totals drop by between 36,000 and almost 42,000 votes from the previous election. And lest anyone think it was just because those veteran legislators were unpopular, it's worth noting that Republican Young Kim — a former Orange County state legislator — received more than 32,000 fewer votes in losing the race to replace retiring Fullerton Rep. Ed Royce.
Across California, a review of the data generally dispels the assertion that voters were clamoring to weigh in on House races. Twenty-three of the state's 53 districts had a smaller percentage of registered voters cast ballots than the surging statewide average of 62.5%. Those that saw the highest turnout were often cakewalks for incumbent Democrats — the district represented by Rep. Anna Eshoo (D-San Jose) was tops in California with more than 74.4% of voters showing up. Only three GOP congressmen, however, were reelected in races with turnout above the statewide average.
There's real peril in reading the tea leaves of an election too closely. Even in races in which Democrats upset GOP incumbents but won similar numbers of ballots as failed challengers in 2016, the votes could have come from different voters. Aggressive, well-funded Latino voter turnout operations could have meant more of this year's Democratic ballots were cast in traditionally underrepresented communities.
Still, the numbers offer a final powerful example of how poorly the Republican political brand played in regions across California in 2018. Many of the felled Republican incumbents tried mightily to wipe off the toxic residue their voters saw from President Trump or the GOP agenda in Congress. But their base of support shrank, in some cases by tens of thousands of votes. In some of those defeats, there was indeed a wave or flood of Democrats voting. But in others it was as though Republican incumbents who had come to rely on a steady stream from their electoral faucet found this time only a trickle.
Follow @johnmyers on Twitter, sign up for our daily Essential Politics newsletter and listen to the weekly California Politics Podcast
---
Get our Essential Politics newsletter
The latest news, analysis and insights from our politics teams from Sacramento to D.C.
You may occasionally receive promotional content from the Los Angeles Times.