Column: Political Road Map: Revamped primaries changed California politics, but not like everyone thought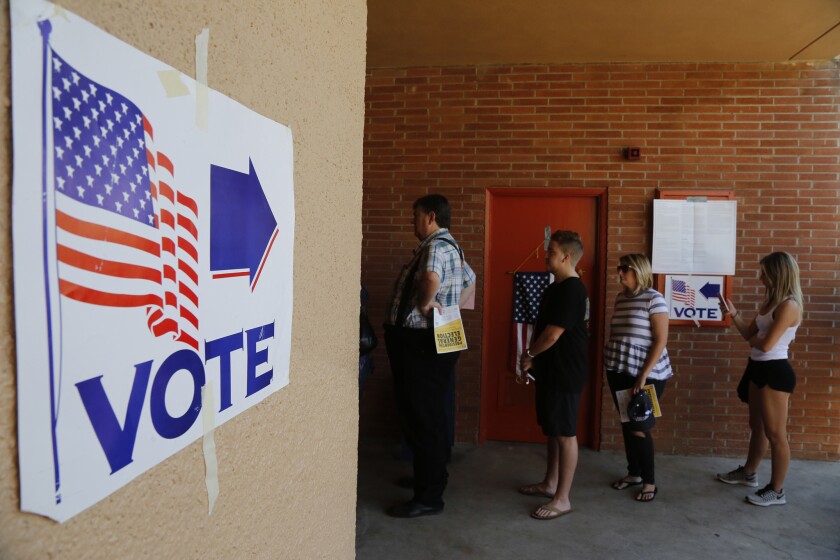 The plea made to California voters to dilute the power of political parties was so insistent that it was written completely in capital letters in the June 2010 statewide voter guide.
"PARTISANSHIP IS RUNNING OUR STATE INTO THE GROUND," screamed the ballot argument in favor of Proposition 14, a broad change voters ultimately approved in the rules governing candidate primary elections.
Its premise was simple: Scrap party-based primaries in statewide, congressional and legislative elections. Put all candidates on a single ballot with the two top vote-getters moving to November. If they were from the same party, so be it.
Proposition 14's supporters believed the change would empower centrists, candidates and voters alike. The ballot guide promised these newly elected politicians would be "more practical individuals who can work together for the common good."
California has now conducted 469 regularly scheduled races under the top-two primary — elections for governor, Congress and every seat in the Legislature. The bottom line: changes, yes, but likely only on the margins.
"For Democrats, I think the top-two has had an impact," said Eric McGhee, a research fellow at the nonpartisan Public Policy Institute of California. "But it's certainly not enormous."
Political Road Map: How unlimited cash gets funneled into legislative campaigns »
McGhee says the most measurable result has been more mildly liberal Democrats elected to the Legislature, bolstered by an enormous amount of cash from independent political action committees. These lawmakers, more often than not aligned with business groups, gained notoriety by refusing to accept some of their party's more sweeping ideas on combating climate change.
But researchers haven't seen the same measurable impact on Republicans in the state Capitol, or in the partisanship of Californians elected to Congress. And that may be because voters themselves aren't less partisan.
"The top-two grafts a nonpartisan system onto an electorate that still relies a lot on parties to make decisions," McGhee said.
Case in point: A perfect record of making it to the general election for every Democrat endorsed by the state party in 2016 and running in a primary against one or more fellow Democrats. Most of those candidates won on Nov. 8, even when facing a more moderate foe from the same party. One exception came in the 17th Congressional District. The state party backed Rep. Mike Honda in his rematch against fellow Democrat Ro Khanna, but Honda was ousted on Nov. 8.
There's another potential downside of a top-two primary which leads to two candidates from the same party duking it out come the fall. Voters might be turned off. The U.S. Senate race won by Atty. Gen. Kamala Harris appears to have been skipped by as many as 2 million voters. Pre-election polls found a substantial number, especially Republicans, just weren't interested in picking between two Democrats.
"We shouldn't expect voters to adapt overnight, if they ever adapt at all," said McGhee.
It's possible any evidence that California's political gridlock has eased can be credited just as much — or more — to other reforms approved by voters since 2010: independent redistricting, looser legislative term limits and the abolishment of a supermajority vote in the Legislature to pass the state budget.
Two of those changes applied only to the statehouse, which may explain why job approval numbers of legislators have been on the upswing in recent years. Unlike the top-two primary, none have required voters to change their own beliefs about who will make government work better.
Follow @johnmyers on Twitter, sign up for our daily Essential Politics newsletter and listen to the weekly California Politics Podcast
ALSO:
There were GOP electoral 'dead zones' in parts of Los Angeles County this fall
Political Road Map: California's independently drawn political maps hit the halfway mark
---
Life is stressful. Our weekly mental wellness newsletter can help.
You may occasionally receive promotional content from the Los Angeles Times.