Ex-assemblyman Sebastian Ridley-Thomas likely made unwanted sexual advances on Capitol employee, investigation finds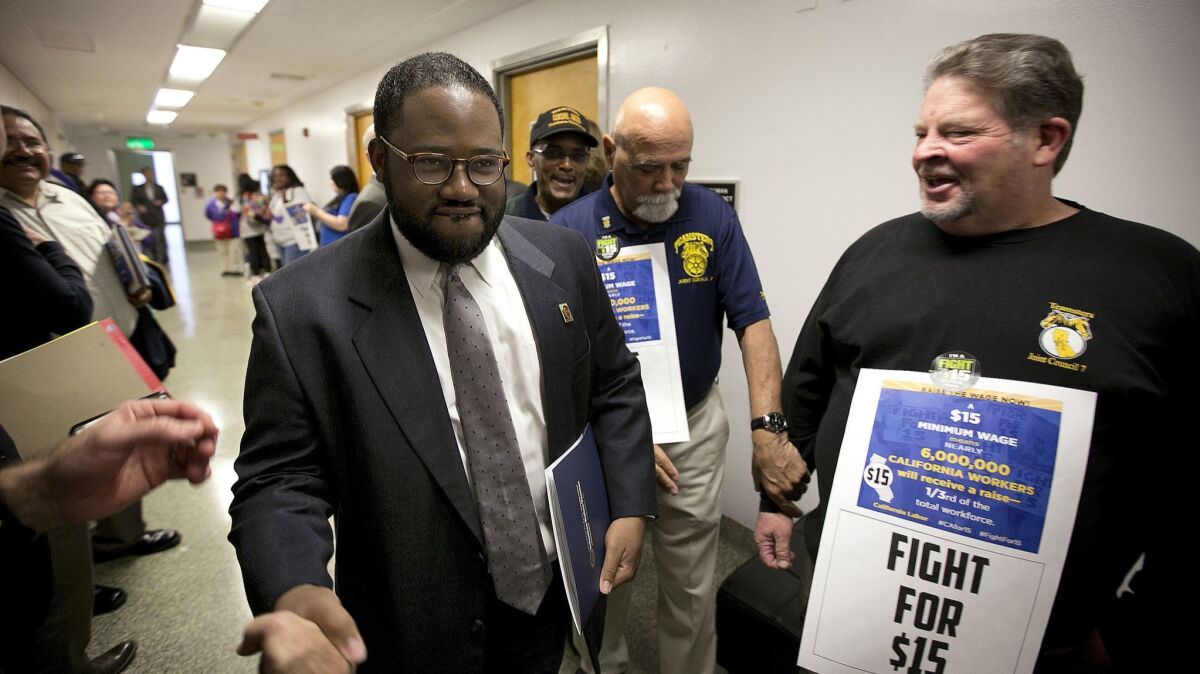 Reporting from Sacramento —
Former Assemblyman Sebastian Ridley-Thomas likely made an unwanted sexual advance toward a female Capitol staffer two years ago, according to an Assembly investigation released Wednesday.
Ridley-Thomas, a Democrat from Los Angeles, resigned in December 2017 citing health issues. The Times reported in August that the lawmaker was the subject of two sexual harassment complaints at the time he stepped down.
The investigation into those complaints, which consisted of interviews with 15 people and a review of documents, culminated this month with a finding that Ridley-Thomas "more likely than not" made an unwanted sexual advance toward a woman in August 2016 and then attempted to contact her after the incident. The woman described the incident as Ridley-Thomas attempting to forcibly kiss her and said she could feel his erect penis against her leg, according to supplementary notes released by the Assembly.
The investigation also confirmed a complaint from a second woman, who said Ridley-Thomas in early 2016 had "taken a liking" to her, shook her hand and lingered too long, and winked at her in a way that made her feel uncomfortable.
Both allegations detailed in the complaints were found to be in violation of the Assembly's policy against sexual harassment.
Ridley-Thomas "continues to strongly deny the claims," said a statement from his attorney Nancy Sheehan.
"During my 30 years of employment law practice, which has included conducting workplace investigations and defending cases based on workplace investigations, I would be hard-pressed to recall a more prejudicial complaint and investigative process than this one," Sheehan said.
She said the Assembly Rules Committee first informed Ridley-Thomas of a complaint against him in November 2017 but refused to provide any information until he was interviewed eight months later. Sheehan said the Assembly gave Ridley-Thomas a "relatively short time" to pull together documents on his behalf, which was "in no way commensurate with the full year that the complainants had to prepare their allegations before my client was interviewed," among other complaints about the way the investigation was handled, including the fact that The Times reported on its existence before it had been completed.
Ridley-Thomas, 31, was first elected to the Assembly in 2013. The son of Los Angeles County Supervisor Mark Ridley-Thomas, an influential figure in local politics, the junior legislator steadily built his own political profile until his abrupt resignation in December 2017, citing multiple recent surgeries.
Get the latest California politics news »
The resignation came two months after the #MeToo movement upended the Capitol, with multiple legislators facing public accusations of harassment. Two Democratic Assembly members, Raul Bocanegra of Pacoima and Matt Dababneh of Woodland Hills, announced their resignations in late 2017 after being accused of misconduct. Both denied wrongdoing, and legislative investigations later substantiated claims against both men. A third lawmaker, state Sen. Tony Mendoza (D-Artesia), resigned in February after an investigation found it was likely he made unwanted advances to half a dozen women.
Ridley-Thomas' attorney told The Times this year that the legislator's resignation was solely due to health issues. Within months, Ridley-Thomas joined the faculty of USC as a professor of practice of policy and social work. He also received a scholarship to pursue a master's degree in social work.
Ridley-Thomas was fired in August after a whistleblower raised concerns about the arrangement and a $100,000 donation that Mark Ridley-Thomas made from his campaign account to the school of social work in May. That money ended up in the account of a nonprofit group run by the younger Ridley-Thomas that was unaffiliated with the university. USC also referred the matter to the U.S. attorney's office for criminal investigation.
More recently, Ridley-Thomas has been working with the Los Angeles Unified School District in calling for an end to the teachers' strike, although the district declined to say whether he was aiding in an official or paid capacity.
Ridley-Thomas was in Sacramento last week for a meeting in the state Capitol that he helped arrange between Los Angeles-area lawmakers and district Supt. Austin Beutner to answer questions regarding negotiations and the strike, which had not yet begun at that time. Sources at the meeting said Ridley-Thomas introduced himself as working on behalf of the school district.
---
Life is stressful. Our weekly mental wellness newsletter can help.
You may occasionally receive promotional content from the Los Angeles Times.