Sebastian Ridley-Thomas was facing sexual harassment investigation when he took USC professor job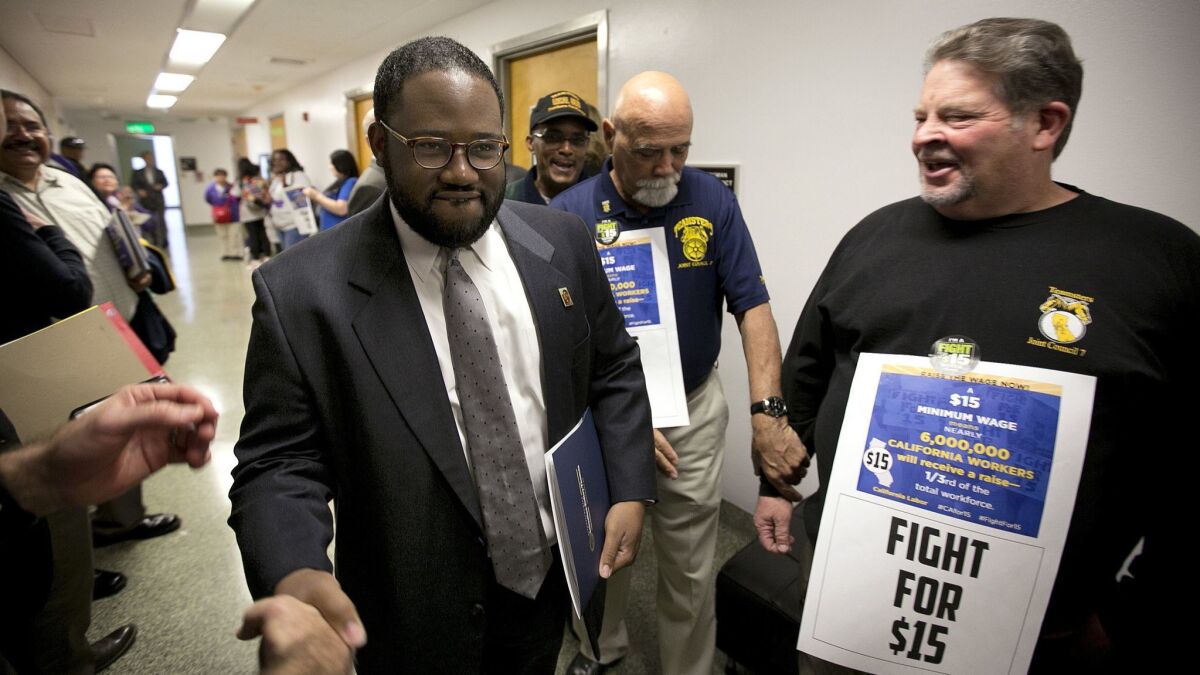 Reporting from SACRAMENTO —
Former Assemblyman Sebastian Ridley-Thomas was the subject of two sexual harassment complaints at the time he stepped down from the Legislature last year, according to documents reviewed by The Times and sources familiar with the matter.
Ridley-Thomas, who denied any wrongdoing, went on a few months later to become a professor of social work and public policy at USC.
When the junior legislator, the son of Los Angeles County Supervisor Mark Ridley-Thomas, abruptly resigned from the Assembly in December, he cited chronic health problems that were known in Sacramento and had necessitated five surgeries in the previous year.
A university source who spoke on the condition of anonymity said USC had found no evidence that Sebastian Ridley-Thomas informed administrators he was under investigation. A background check conducted before his hiring did not identify any red flags, the source said. USC fired Ridley-Thomas last month amid questions about his appointment and a $100,000 donation to the school from his father's campaign funds.
In a statement to The Times this week, Sebastian Ridley-Thomas' attorney reiterated that his client stepped down from the Assembly solely on account of "health reasons."
"He underwent a number of surgeries and his doctor made it clear that serving in the Assembly was no longer an option," Lance Olson said in a statement.
As for the misconduct claims, Olson said: "He categorically denies any accusation, innuendo or conjecture that he conducted himself inappropriately while serving in the Legislature. If anything, he was reserved and always respectful of those around him, be they staff persons, colleagues, or the public."
Sources close to Ridley-Thomas had also told The Times he was suffering from health problems at the time of his resignation.
Stephen J. Kaufman, an attorney for Mark Ridley-Thomas, said the supervisor remained "convinced his son's decision was a wise one because of the marked improvement in his health."
According to documents and people familiar with the matter, the two reports of misconduct are under investigation by the Assembly Rules Committee, which is responsible for examining harassment complaints.
The complaints are not subject to public review until and unless they are substantiated. Debra Gravert, the chief administrative officer of the Assembly, declined to answer questions about the complaints, writing in an email, "The Assembly does not comment on personnel matters."
First elected in a 2013 special election at age 26, Sebastian Ridley-Thomas was one of the youngest legislators in the Assembly. He held a significant chairmanship — the Assembly Committee on Revenue and Taxation. He was also known for his close association with his father. A former state legislator and city councilman, Mark Ridley-Thomas is one of the most influential politicians in Los Angeles, and his connections and donor base repeatedly helped his son at the ballot box. By November 2017, Sebastian Ridley-Thomas was already raising money for reelection to a third full term.
Late that month, the Assembly Rules Committee informed him that an investigation into a complaint was underway, according to correspondence reviewed by The Times. Two sources familiar with the investigation said the complaint was about alleged unwanted physical contact of a sexual nature but did not disclose details of the allegation. A second sexual harassment complaint, by a different person, was filed around the same time, according to a source familiar with the matter. The sources spoke on the condition of anonymity because they were not authorized to discuss the matter publicly.
In the wake of the #MeToo movement, sexual harassment claims roiled Sacramento. Women who worked in the state Capitol spoke out publicly against what they saw as a pervasive culture of harassment and misconduct in the Legislature.
The Assembly Rules Committee received more than 20 harassment complaints against lawmakers, staff and lobbyists last year. Two of Ridley-Thomas' Assembly colleagues, Raul Bocanegra and Matt Dababneh, both Democrats from the San Fernando Valley, resigned their posts in late 2017 after being accused of misconduct. In February, a third L.A. legislator, Tony Mendoza, stepped down after an independent investigation found it was likely he had made unwanted advances to half a dozen women.
Ridley-Thomas announced he was retiring for health reasons two days after Christmas. He did not specify the medical condition but noted that he had undergone his fifth surgery a few weeks earlier.
"Although I expect a full recovery, my physicians advise that I will need an extended period of time to recuperate," he wrote at the time.
Assembly Speaker Anthony Rendon (D-Paramount) also released a statement to mark the departure, saying he and his colleagues wished Ridley-Thomas "all the best going forward as he deals with his health challenges."
A spokesman for Rendon declined to comment on whether the speaker knew Ridley-Thomas was under investigation at the time he left the Assembly.
Ridley-Thomas resumed some political work just weeks after resigning. In February, he registered a new consulting business, Millennial Advisors. The firm has collected more than $80,000 from the African American Voter Registration, Education and Participation Project, a political action committee founded by his father. The fees cover consulting, office expenses and advertising.
A related AAVREP committee specially formed to support Gavin Newsom's bid for governor —mostly backed by donations from labor unions — listed Sebastian Ridley-Thomas as treasurer and paid his Millennial Advisors firm more than $27,000.
He also joined the faculty of USC, which sits in his father's district and with which the supervisor has had a long and close relationship. Mark Ridley-Thomas received a doctorate from the university and sits on the board of the Los Angeles Memorial Coliseum Commission, which oversees the taxpayer-owned stadium where USC plays football.
USC appointed Sebastian Ridley-Thomas "professor of practice of policy and social work" this spring. The title "professor of practice" refers to instructors who may not have typical academic credentials but have professional achievement.
In addition, the university gave him a scholarship to study for a master's degree in social work.
In May, his father made a $100,000 donation from his campaign coffers to the social work school. The school dean, Marilyn Flynn, then sent the money to Policy Research and Practice Initiative, a start-up think tank that was unaffiliated with the university and controlled by Sebastian Ridley-Thomas.
After an employee whistleblower raised concerns about the donation in June, USC launched an internal investigation, fired Ridley-Thomas and referred the matter to the U.S. attorney's office for criminal investigation.
Mark Ridley-Thomas has said through a lawyer that he does not see anything illegal or unethical about the donation and that it had nothing to do with his son's employment or scholarship.
Sebastian Ridley-Thomas said through his own attorney that USC was wrong to fire him and that he is considering "legal remedies" against the university.
Mason reported from Sacramento, Ryan and Hamilton from Los Angeles.
---
Life is stressful. Our weekly mental wellness newsletter can help.
You may occasionally receive promotional content from the Los Angeles Times.