Controversial vaccine bill clears California Senate despite opposition from parents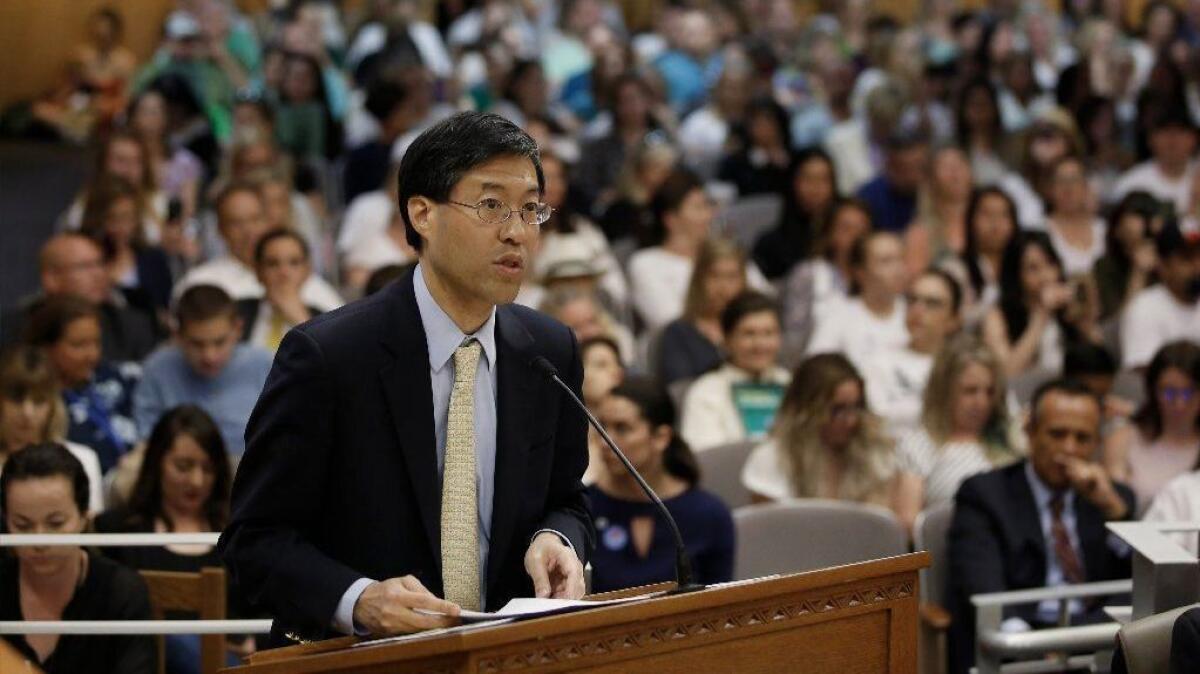 Reporting from Sacramento —
The state Senate passed a controversial bill Wednesday to tighten California's already strict school immunization law, and now the Assembly must weigh the hot-button vaccine proposal that has prompted protests and reports of death threats against at least one lawmaker.
SB 276 by state Sen. Richard Pan (D-Sacramento) passed the Senate 24-10. Republicans voted against the measure.
The bill comes amid the worst measles outbreak in more than 20 years, with more than 750 people diagnosed with the disease this year nationwide. Of those, 44 cases have been in California.
California has some of the strictest laws in the country requiring childhood immunizations in order to attend public or private schools. Since a 2015 law, the state has allowed for exemptions from required shots only if a doctor says there is a medical reason to skip some or all of them. Previously, parents could opt their children out of vaccinations by citing a personal or religious belief, as most states allow.
But Pan said doctors are increasingly excusing children from immunizations for questionable reasons, such as for having asthma or diabetes, prompting his proposal to allow the state's public health department to review and potentially reject existing and newly sought medical exemptions.
Under the bill, the state Department of Public Health would decide whether the underlying condition cited by a doctor in a medical exemption meets guidelines set by the Centers for Disease Control and Prevention.
Medical exemptions that have already been approved would have to be submitted to the state for inclusion in a nonpublic database by the end of 2020.
State health officials estimate that more than 40% of the 11,500 medical exemptions expected to be requested each year would be denied under the bill.
"It is our duty to protect Californians from threats to their safety," Pan said Wednesday. "The facts are clear — vaccines keep us safe and our children safe by preventing serious infections."
Some vaccine-skeptical parents have intensely opposed the bill, saying their children had adverse reactions to vaccines that would be deemed not severe enough to warrant a medical exemption under the bill. Hundreds of parents have attended hearings on the bill and jammed legislators' office phone lines arguing that the state should not be able to overrule a doctor's medical advice.
Pan's office has reported to law enforcement death threats against the senator posted on social media related to his bill.
On Wednesday, close to 50 opponents of the bill sat in the gallery of the Senate session, at times heckling lawmakers while they debated the bill. After the bill passed, several opponents yelled "Boo."
"This bill is unprecedented and a dangerous intrusion, not only into the doctor-patient relationship, but also the personal liberties of the parents and their children," said Sen. Jeff Stone (R-Temecula). "With all due respect to my colleague, I support what he's trying to do, I just don't think SB 276 is the right tool to get us there."
Follow @MelodyGutierrez on Twitter and sign up for our Essential Politics newsletter.
Get our Essential Politics newsletter
The latest news, analysis and insights from our politics team.
You may occasionally receive promotional content from the Los Angeles Times.