5 important voting rules to know for California's primary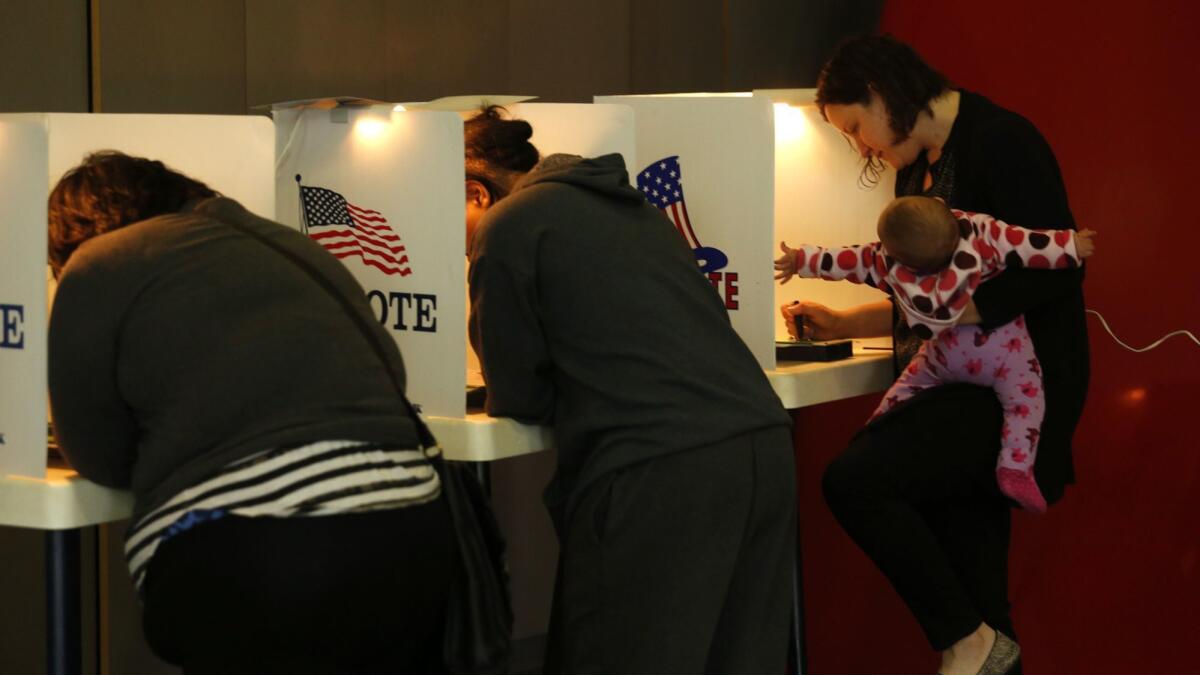 Sacramento Bureau Chief
While millions of Californians have already mailed in ballots for the Tuesday primary, most registered voters are either still considering their choices or will weigh in at a local polling place on election day.
In a few key areas, this election will be different from others. Here's a look at some of the more important parts of the process.
For the first time, Californians can register until polls close on election day
Other states have long allowed voters to sign up all the way to just before the polls close on election day, but this is California's first time offering this last-minute service.
It's called "conditional" voter registration, and with good reason: The ballots of those voters will only be counted once elections officials complete the process of verifying eligibility. And in this first rollout of the program, Californians can only fill out a last-minute registration form at their county elections office.
Don't choose more than one candidate in the long list of contenders for governor and U.S. senator
There are a lot of candidates to wade through in the two most high-profile races on California's primary ballot: 27 candidates for governor and 32 for the U.S. Senate.
As such, elections officials had huge challenges about how to design the ballot. Both races have multi-column lists of candidates, and voters might mistakenly choose one name from each list. Doing so would cause the ballot to not be counted in either of those races.
Although some may not pay close attention, there's language that stretches along the top of these lists of names instructing voters to only choose one. The last time there was a race attracting this many hopefuls — the 2016 U.S. Senate race — almost 250,000 Californians mistakenly chose more than one candidate.
Your guide to the 5 propositions on California's primary ballot »
If you're told to cast a 'provisional ballot' and you're a registered voter, it will be counted
Election day routinely brings with it a few glitches, none more worrisome than when a Californian is told his or her name isn't on the list of registered voters and can't cast a ballot.
In those cases, a voter casts a ballot that's considered "provisional," meaning that it's placed in a special envelope and set aside until after election day. Once local officials get past the rush, they tackle provisional ballots by researching the voter's eligibility.
Assuming the voter was right and there was simply some mistake on the lists printed on election day, the ballot is counted. About 85% of provisional ballots cast in the 2016 statewide primary were ultimately counted, according to a Times analysis and data compiled by county officials.
There are other reasons, too, for a provisional ballot. A voter may show up at the wrong polling place (or has moved recently). Others may have misplaced or lost a ballot delivered in the mail. In these cases and others, a provisional ballot is part of a fail-safe process.
It's important to remember that it can take 30 days for election results to be certified, so there's ample time for each county to review ballots and double-check its tallies.
Mailed ballots are counted even if they show up three days after election day
California election law has a number of features designed to favor the voter's intent whenever possible, even when that intent is thwarted by the U.S. Postal Service.
Ballots that show up by the close of business on June 8 — but were mailed on election day or earlier — will be counted. Again, there are four weeks for officials to finish their tally, and a few extra days has proved valuable at catching what otherwise would have been missed ballots.
Of course, the key here is that it has to be mailed on time. Any voter who's still filling out an absentee ballot on Tuesday will probably be better off taking it to a local polling place or a nearby ballot drop-off site by 8 p.m. Counties list those locations on their election websites.
Don't worry, that ballot 'selfie' is perfectly OK
The social media era presented a conundrum for elections officials who had been taught for decades that Americans cast secret ballots: What do you do when a voter snaps a photo of their ballot selections and posts it online?
California law, amended in 2016, makes it legal for voters to share photographs of their ballots. It's a pretty limited law, though, and it's still a no-no to snap photos of other people voting. And if someone else's ballot choices are shown in a social media post, that person needs to have given permission.
"The use of cameras in and outside of the polling place should remain limited," said a memo in early May from the secretary of state's office.
Follow @johnmyers on Twitter, sign up for our daily Essential Politics newsletter and listen to the weekly California Politics Podcast
---
UPDATES:
1:03 p.m.: This article was updated to more clearly state that a ballot can be submitted at any polling place, though it's always best practice to submit it in the county in which you live.
This article was originally published at 12:05 a.m.
Get our Essential Politics newsletter
The latest news, analysis and insights from our politics team.
You may occasionally receive promotional content from the Los Angeles Times.