They were wrongfully convicted, freed from prison. California treats them as guilty anyway
Reporting from SACRAMENTO —
Broke and angry, Maurice Caldwell wants California to know that it owes him more than his liberty.
Caldwell was sentenced to 27 years to life for second-degree murder in 1991 and served 7,494 days before that conviction was overturned in 2011, in part because another man confessed to the crime. At 43, he was released to the streets of San Francisco with only the prison-issued clothes he wore and a belief that good times were coming. But his eight years on the outside have been spent unsuccessfully fighting the state for compensation. He also says he's wrestling with post-traumatic stress disorder, health problems and the stigma of a conviction that makes it hard to find a job and a place to live.
"Some people try to say just be thankful that you [are] free," Caldwell said recently from the extended-stay hotel in Sacramento where he's living until money runs out at the end of the month. Photos of his three children are tacked to the wall, and carefully folded shirts are balanced on one end of an ironing board in a bedroom not much bigger than his old cell.
"I didn't get away with a crime, so why [do] I just want to be thankful for being free?" Caldwell asked. "I'm going to be thankful when I get the justice of me being free, my actual innocence, the compensation, the truth."
Caldwell is navigating what legal justice advocates say is an unfair and burdensome process for financial restitution for exonerees — those who have had their convictions set aside by the courts, usually after new evidence is found.
Under state law, California must pay those wrongfully convicted $140 for each day they spent behind bars — about $1 million in Caldwell's case. But receiving that money requires them first to prove to a state board that they are "more likely than not" innocent of the crime. The process can take years and often ends with a denial.
Michael Ramos, a former San Bernardino County district attorney who served for 15 years on the three-person California Victim Compensation Board, said most of those who have been freed "were wrongfully convicted, but not because they are innocent. There is a big distinction there."
Because California historically has provided exonerees with less state support than others released from prison, they are often nearly destitute when freed.
"I didn't get away with a crime, so why [do] I just want to be thankful for being free?
— Maurice Caldwell, whose murder conviction was overturned in 2011
The precarious realities of life after freedom have made this group a "fraternity none of us asked to be a part of," said Obie Anthony, who was freed in 2011 and has been able to win state compensation. He is paying for Caldwell's hotel through a foundation he started to help the exonerated.
Anthony said members of this unlucky fellowship live in a "gray zone" between the presumption of innocence that state courts have granted them and the presumption of guilt they must overcome before California will help them get back on their feet. In effect, he said, the state is adding a second wrong to the first.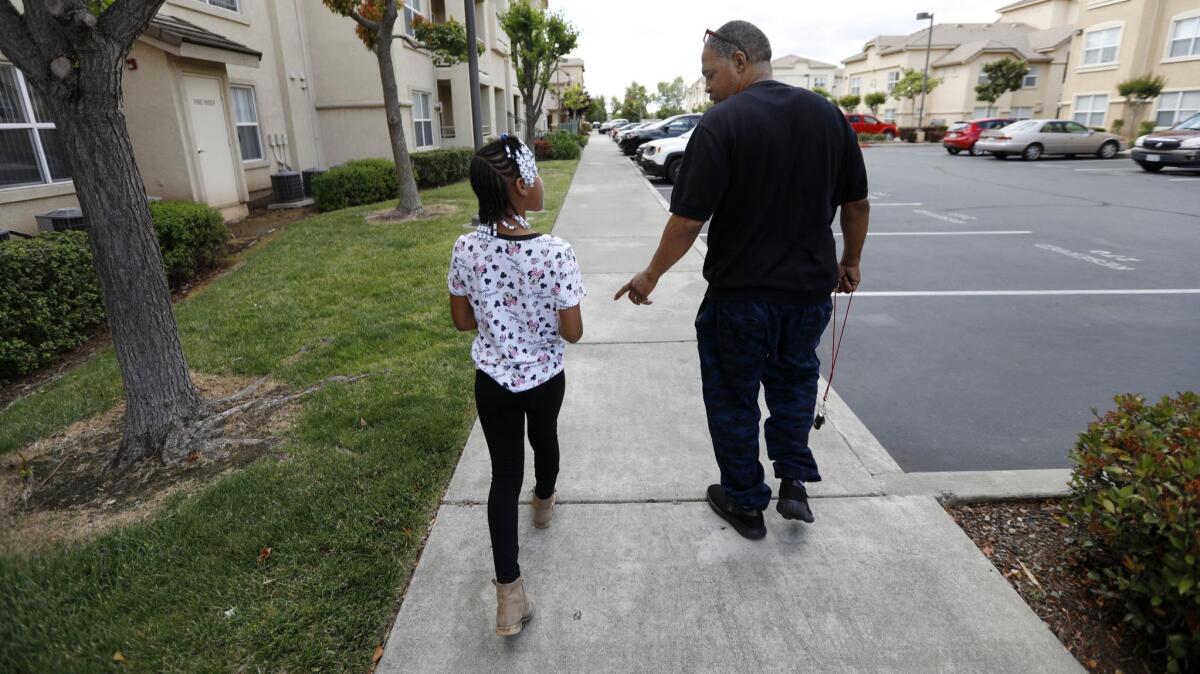 Zavion Johnson was exonerated in the shaken-baby death of his infant daughter in 2017 after 16 years in prison.
"It makes me feel, I don't want to say unwanted, but alien," he said. "I am back in society, yes, but with extra worries and extra stress."
California has exonerated 201 people since 1989, according to the National Registry of Exonerations, with the average person spending more than eight years in prison. Most are men who were convicted of murder, though about 10% are women. They are a racially diverse group — black and Latino people each account for about 30%, while 40% are white.
Their paths to freedom are varied. Some were released because of advances in DNA or other scientific evidence. Some, like Caldwell, were able to raise serious doubts about the fairness and accuracy of the investigation and trial that led to their incarcerations.
The dispute over compensation, advocates say, comes down to who is deserving of California's cash and who gets to decide. Should a person be compensated if they can't prove their innocence but a court has found their conviction was unfair?
Those representing the state — legislators and career officials — have largely been loath to favor exonerees for fear of paying taxpayer dollars to someone who may be guilty despite being free.
Those who represent the exonerated say overturning a conviction is onerous and requires presenting new evidence that, had it been heard during the original trial, probably would have led to a different verdict. Once the conviction is wiped out, they say, the presumption of innocence and the culpability of the state for flawed justice are indisputable.
"It's not fair to leave these people in legal limbo, living in this nether region between guilt and innocence," said Paula Mitchell of Loyola Law School's Project for the Innocent. "Quite simply, if the conviction has been overturned and the prosecution cannot retry the person, then they should be entitled to compensation."
A series of reforms in recent years has mandated that the victims board automatically approve payments in cases in which a judge has ruled the exoneree was factually innocent — a high standard. But in cases like Caldwell's and Johnson's, in which factual innocence is denied or hasn't been granted, the board still holds full authority to draw conclusions independent of the judicial system.
This year, the Legislature considered forcing the board to rubber-stamp more kinds of claims. Senate Bill 269 would have extended the types of exonerees who are automatically entitled to approval for payments. But, like legislation last year, it could not win support. This week, a legislative committee largely gutted it.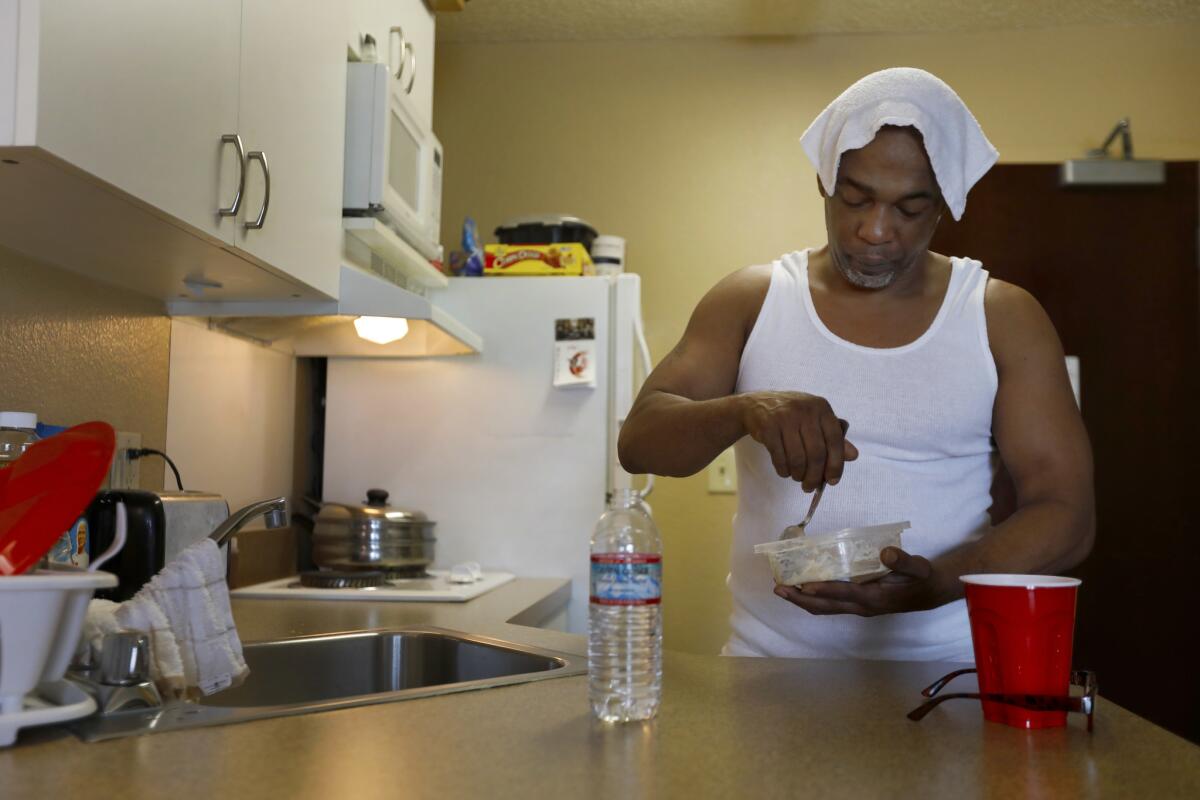 The victims board is made up of Marybel Batjer, secretary of the California Government Operations Agency; state Controller Betty T. Yee (who often sends a delegate); and former sheriff and corrections official Curtis Hill, a political appointee. The board makes a case-by-case recommendation for compensation to the Legislature, which must pass a bill authorizing the payment. During its hearings, the state attorney general can present evidence, witnesses can be interviewed and court records examined.
"Sometimes they get it right and sometimes they don't, and it seems to be arbitrary," said attorney Linda Starr with the Northern California Innocence Project.
Ramos, appointed to the board by Govs. Arnold Schwarzenegger and Jerry Brown, was considered an almost-certain "no" vote for compensation, said multiple attorneys who appeared before him. It was proof, they said, that the board was often driven more by ideology than by facts. Ramos became ineligible to serve on the board in 2018 when he lost reelection as district attorney in San Bernardino County.
"It makes me feel, I don't want to say unwanted, but alien. I am back in society, yes, but with extra worries and extra stress."
— Zavion Johnson, who was exonerated after 16 years in prison
Ramos said that as a prosecutor, he believed determining innocence was an obligation not just to the state, but to the victims of the crimes. He said he spent hours considering "every fact" for each case.
But even he has doubts about a system under which people not experienced in the law are making the final decision.
"Maybe this isn't the right place for wrongful-conviction determinations," Ramos said. "Why isn't it under the judicial arm of our government? Wouldn't that make more sense?"
Batjer, who chairs the board and has at times been the sole vote in favor of compensation, said she believes the staff attorneys who conduct initial hearings and write case summaries provide the board with the expertise they need.
The daughter of a Nevada Supreme Court judge, Batjer said the cases are "terribly emotionally difficult rather than legally difficult."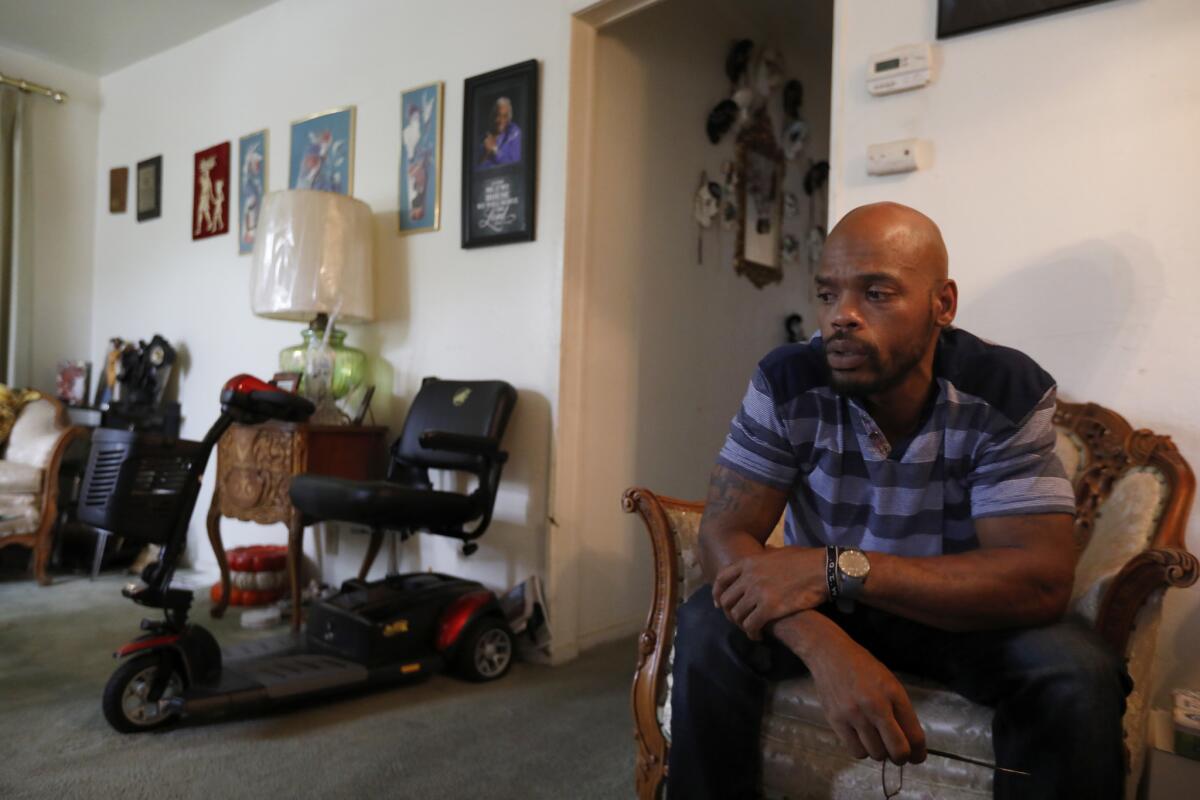 Johnson said he is awaiting the outcome of the pending legislation before filing his own claim with the board. Like Caldwell's, Johnson's case highlights the potential disparity between legal outcomes and winning compensation.
Johnson was 17 and living in Sacramento when he and his "best friend" had a daughter, Nadia Dyvine, a baby who he said inherited his eyes and was "my first piece of real joy."
When she was 4 months old, he said, he was showering in a cast-iron tub with Nadia in a plastic washbasin at his feet. He picked her up to rinse her.
"That's when she kicked off my chest, slipped and hit her head," said Johnson, rubbing his knuckles as emotion threatened to seep out.
At first Nadia seemed fine, but hours later at his great-grandmother's house, she stopped breathing, he said.
Sitting in that living room on a recent Saturday, he remembered giving Nadia CPR on the floor by the door, but it was too late. She died of brain trauma at the hospital, and Johnson was arrested the day of her funeral, still in his suit, and accused of shaking her to death.
At the time, shaken baby syndrome was a near slam-dunk conviction after medical experts testified that a trio of injuries to Nadia's brain could only have been caused in that manner. In the 16 years and four days Johnson spent in prison, science has changed dramatically. Two of the experts who testified against him recanted after being contacted by the Northern California Innocence Project, which represented Johnson, citing new research.
The Sacramento County district attorney declined to retry Johnson because there was "insufficient evidence to establish guilt beyond a reasonable doubt," said Chief Deputy Dist. Atty. Steve Grippi.
In prison, Johnson said, he often thought about the moment he dropped Nadia, plagued by what ifs. What if he had not decided to get her dressed that morning, not decided to visit his great-grandmother? He has been to Nadia's grave four times in the 17 months he's been out.
Johnson said the "chaos" of readjusting to the free world has helped distract him from those memories, but not completely.
"Yeah, she'll be 18 this year," he said.
Like Caldwell, Johnson left prison with only his clothes, the baggy orange pants of a "paper suit" issued by the state, and a gray sweatshirt his lawyer brought. He lives with a member of his legal team in Hayward and works loading trucks for a Toyota factory. A poet, he would like to find work that "engages his mind" or return to school, but "it's either this or don't eat," he said. When he was young, he dreamed of working for the parks department.
Now, he said, "life for me has not been the greatest, but it's been pretty good compared to some of my exonerated brothers."
But he too thinks California owes him something.
"They should figure out something that works better instead of basically just kicking you out with nothing. It doesn't make sense," he said. "They should just make it right."
Get our Essential Politics newsletter
The latest news, analysis and insights from our politics team.
You may occasionally receive promotional content from the Los Angeles Times.