California voters are getting to know the state's attorney general through his aggressive stance challenging Trump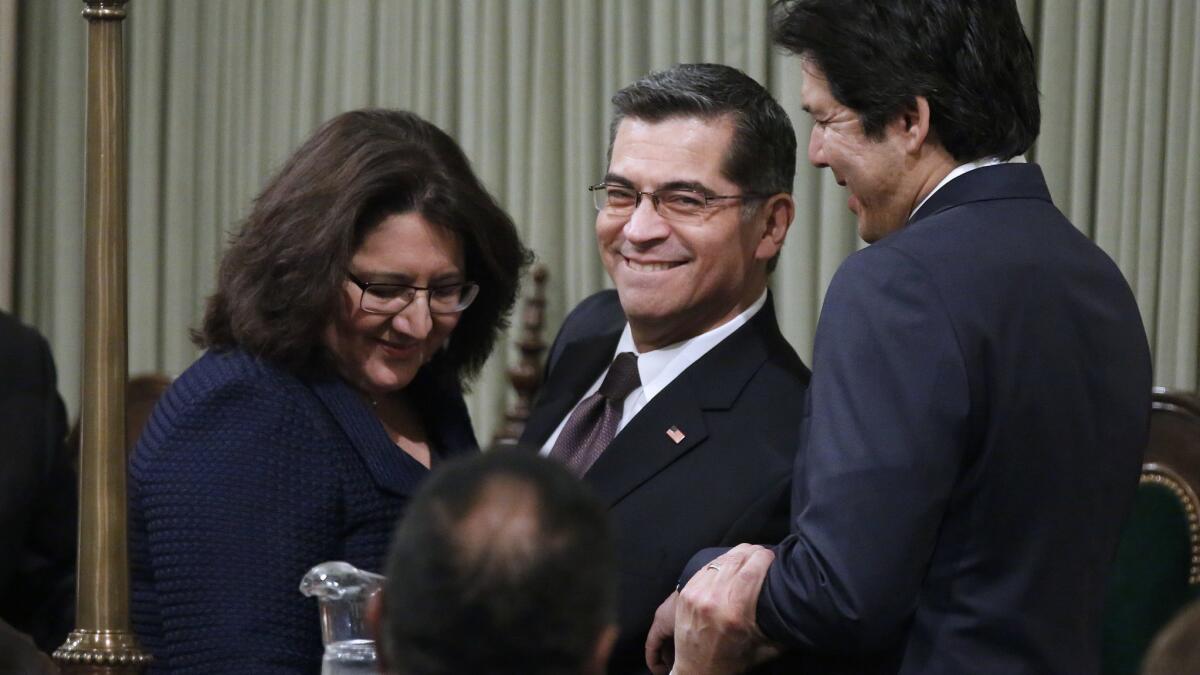 Reporting from Sacramento —
Less than two months from his first statewide election, California Atty. Gen. Xavier Becerra has become adept not only at challenging President Trump but at using the bully pulpit of his office to raise his profile with voters.
The aggressive effort may help boost the former Los Angeles congressman's chances at winning a full term in office this fall, almost two years after he was appointed to replace Sen. Kamala Harris in 2017.
Appointed by Gov. Jerry Brown, Becerra took office as attorney general four days after Trump's inauguration. That's afforded him an opportunity to get in front of Californians — and potential voters — on an array of issues including immigration, healthcare and the environment.
Becerra has sued the Trump administration 31 times in a little more than a year and has jumped into the middle of other high-profile issues, including a fatal police shooting in Sacramento and the public's focus on gun violence, keeping him in front of news cameras at a rate not seen by a California attorney general in decades.
In the first three months of this year, Becerra had 26 news conferences and personal appearances. By comparison, Harris had only eight such appearances during the first three months of her last year in office. Brown, who served as attorney general from 2006 until 2010, had very few public events that were not put on by his campaign during the same period in his last year in the post.
In the last week of March, Becerra held four news conferences and made eight public announcements, including a legal challenge to the Trump administration's proposal to ban travel from some predominantly Muslim countries and a lawsuit against Sutter Health alleging it engaged in improper, anti-competitive practices that resulted in excessive costs for consumers.
On a single day last month, Becerra held a morning news conference to reveal he would oversee the probe into the fatal Sacramento police shooting of Stephon Clark, and hours later called the media to an event where he announced he was suing the Trump administration over plans to ask a citizenship question on the U.S. census.
"He has staked out a position as the strongest defender of California's collective values," said Larry Gerston, professor emeritus of political science at San Jose State University. "On these and other issues, Becerra has emerged as a megaphone for progressive values."
Rivals accuse Becerra of grandstanding for voters and dodging debates, but the Democrat says it was the timing of his appointment to the post that put him on a collision course with Trump.
The president's effort to limit immigration and take action against those in the country illegally has been a personal issue for Becerra, the son of immigrants.
"I see myself as doing what it takes to defend a state that has opened doors, which is for me the most important thing," Becerra, 60, said in an interview. "It opened doors for a kid who never had anyone in the family go to college."
Democrat Dave Jones, currently the state insurance commissioner, is his top challenger in the race, and will appear on the June 5 primary ballot alongside two lesser-known Republicans.
The California Democratic Party opted against endorsing either man at its February state convention, although Jones won a majority of the votes of delegates.
"Becerra has a serious intraparty fight for election, and he needs to show that he is a champion of opposition to Trump," said John J. Pitney Jr., a politics professor at Claremont McKenna College. He called Becerra's level of public activity "unusually prominent" for a state attorney general.
Coverage of California politics »
Becerra, who served 12 terms in Congress representing a district stretching from downtown Los Angeles to the Eagle Rock neighborhood, has largely skipped overt campaign events. That included a Sacramento debate last month, choosing instead to communicate with the public through that extraordinary number of official appearances.
Jones has accused Becerra of being "fixated" on Trump to the detriment of other important matters. He accused Becerra of not attending to other responsibilities of the post, including public safety concerns.
"Any Democrat with a pulse would bring these lawsuits against the Trump administration," Jones said. "There is much more to the attorney general's office that is not getting done."
Jones accused Becerra of not leading on bail reform, of failing an obligation to sue Exxon Mobil over climate change issues and for not sufficiently reducing a backlog of 10,000 people who own guns but are disqualified from having them because of criminal convictions or mental illness.
Becerra responded to that claim with a list of recent actions not involving the president, including assistance in shutting down a website accused of allowing sex trafficking, and a challenge to the oil company Valero's efforts to take over a gas distributor, which he said would drive up prices.
Jones isn't the only one complaining.
"It seems California sues over every decision the president's administration makes so it is no surprise that the mostly absent A.G. rushed to the microphones to announce he's filed yet another costly lawsuit," Republican candidate retired judge Steven C. Bailey said after Becerra sued the federal government over its change to the U.S. census.
Becerra joins other states on Obamacare cost-sharing lawsuit »
All of Harris' time as attorney general and half of Brown's tenure in the post occurred while President Obama was in office, so there was little disagreement between Sacramento and Washington.
The last time a California attorney general battled as much with a president was when Democrat Bill Lockyer went toe to toe with the administration of Republican President George W. Bush over issues including medical marijuana and gun control.
At one point in 2003, the Bush administration threatened legal action against Lockyer for using mental health and criminal conviction records to hunt down illegal gun owners in California.
"Even though there was that tense moment it wasn't a time when the national administration was regularly making a target of California and its policies," Lockyer said this week. "And that was true with Kamala. It was a less adversarial time for us. I think those things make it significantly different" for Becerra.
Lockyer said that because Becerra was appointed to the job he has had to gain the familiarity of voters who might not know him from his years representing a Southern California district in Congress.
"What's different is being appointed when a campaign was imminent for election. That's different from any of the rest of us," Lockyer said. "I think that contributes to a bit of the extra effort that has gone into publicizing what the office is doing and the initiatives he is involved in."
Becerra said his large number of public appearances is a carryover from his years in Congress when he prioritized town hall meetings.
"I think the attorney general should be available to the people of the state that he's representing," Becerra said. "I represent 40 million people and it's hard to let all your clients see you, so you have to be out there as much as you can."
Twitter: @mcgreevy99
Get our Essential Politics newsletter
The latest news, analysis and insights from our politics team.
You may occasionally receive promotional content from the Los Angeles Times.